Joey Anderson – Earth Calls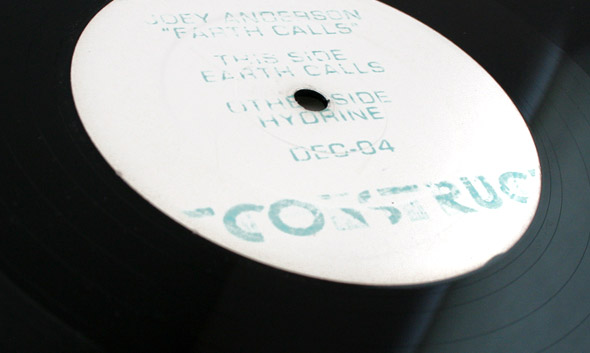 Sometimes singular talent can be enough to propel an artist to a global repute, even if they have just a few releases behind them. It's a phenomena that has seemingly applied to many members of the loose East Coast deep house network of artists that includes DJ Qu, Jus Ed, Fred P, Levon Vincent and now Joey Anderson. It's Vincent's Deconstruct imprint (which he runs alongside Anthony Parasole) that's responsible for the third single from Anderson, who has a gift for summoning alien feelings from his tracks.
It's a tricky art to nail, capturing emotions neither happy nor sad and expressing them through clearly mechanical means but contorting them until they sound organic. On "Earth Calls", a complex beast of a track, his music confounds and beguiles; the bassy pads, syncopated cymbals and electric string line may be firing off on different patterns, but their combined timbre and harmony creates a soothing hum around the ears, only for the calm to be interrupted by metallic clangs of industrial debris and scattershot piano. As further elements feed into the mix the feeling of gentle calm slides into a tense sphere of influence, and the once reassuring string line becomes eerie on a John Carpenter level through its own looping sense of infinity.
As if all these dramatic devices weren't enough, by the midway point the lead synths finally arrive in their all their degraded, analogue glory. Where the previous levels of syncopation had held together with some sense of logic, these additional notes over the top achieve maximum disorientation, free of the shackles the rest of the tune may try to impart and jettisoning your mind into that otherworldly realm that defines the vague overall feeling of listening to one of Anderson's tracks. It's only when you try and chart the progression from beginning to chaos that you fully understand how you were led to this wonderfully scary place, although to try and make such sense of it as it happens perhaps defeats the point.
"Hydrine" takes a sparser route into the murky hinterland, shearing away all melodic warmth and replacing it with insistent percussion and atmospheric noise. While a tom pinions the track, everything else splays and pirouettes into the ample space around like an abandoned power plant disassembling itself. One of the most remarkable devices in creating the three-dimensional quality in the track is the distant top-end whisper which strains to be a melody, seemingly deflecting off the subtle hi-hat but placed in a distance just far enough to be the other end of a large hall. It's not easy to create such evocation from seemingly cold sources, but it's a very tangible effect that belies Anderson's skills in sound design. It takes a special kind of music to inspire such extravagant postulations, and if this is still relatively early in Joey Anderson's production career then one can only begin to imagine where he might be headed next.
Oli Warwick
Tracklisting:
1. Earth Calls
2. Hydrine