Nick Höppner and Auntie Flo share split release on Kompakt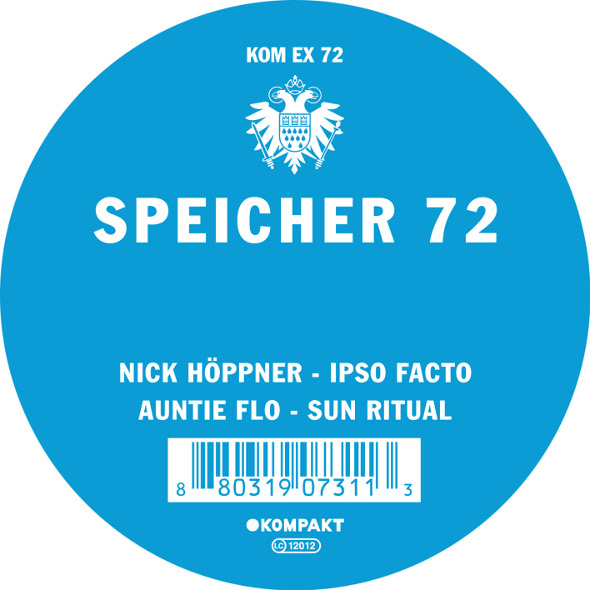 Kompakt's long running Speicher series will reach its 72nd instalment with a split 12″ featuring tracks from Ostgut Ton label chief Nick Höppner and Huntleys & Palmers affiliate Auntie Flo. 
Since it was launched in 2002, the likes of Perc, Steve Moore and DJ Koze have all appeared on the Speicher series alongside Kompakt stalwarts such as Superpitcher, Gui Boratto and Wolfgang Voigt. There has only been one release in the series this year – a low key release helmed by Glaswegian techno producer Sei A – so the signing of Höppner and Auntie Flo (real name Brian D'Souza) looks set to breathe new life into Speicher.
Both efforts are heads-down affairs, with Höppner turning in "Ipso Facto", a loopy techno cut packed with subtle, moody sonic nuances and gentle builds and drops. Auntie Flo's "Sun Ritual" is a more percussive affair, with swirling electronic pulses giving the track an air of fuzzy psychedelia. The track rounds off a conceptual trilogy for D'Souza (the first two tracks being "Mela" and "Kisumu", both of which are set for release on Mule Musiq imminently) in which the producer explores themes of ritual music, citing Ellen Dissanayake's essay on Ritual and Ritualization as inspiration.
Kompakt Extra will release Speicher 72 by Nick Höppner and Auntie Flo on November 12, 2012.
Tracklisting: 
1. Nick Höppner – Ipso Facto
2. Auntie Flo – Sun Ritual