A Juno Plus guide to the cult of Sex Tags Mania
"Small towns and suburbs, whether in Norway or Nebraska, breed the same response in a certain percentage of youth. Dissatisfied with the fare in the local video store or mall, they start bands, record labels, squat abandoned buildings and so on" – Michael Baers, 2008.
The above quote features in an essay that accompanied a 2008 exhibition entitled Deliberate-Surplus-Productions, held at a gallery in Moss, Norway – the home of Sex Tags Mania. Launched in 2004, there's no denying the lurid attraction of Sex Tags and the faintly ridiculous empire that sprawls beneath it. Baers' full text – which you can read here – serves as a manifesto of sorts and analyzes the origins of the label and the "canny distance" it maintains from its fan base, keeping a "barred door stand(ing) like an injunction against pandering".
The label appeals to vinyl collectors and music nerds for this very reason. It has the ability to play with and twist accepted norms in the production, appearance and promotion of records – its back catalogue, mostly centred around a tight knit cluster of Scandinavian producers, spans house, techno, disco, surf rock, dub reggae, funked out psychedelia, lo-fi experimentalism and more. The label family can roughly be divided thus: the main hub, Sex Tags Mania, is run by DJ Sottofett and his brother DJ Fett Burger, as is off-shoot Sex Tags Amfibia. The relatively new Wania is run by Sotofett alone and Sex Tags UFO is curated by Fett Burger; as Sotofett told Philip Sherburne in 2010: "Sex Tags itself is not a record label, it's us two".
Like all great provocative artistic ventures, Sex Tags tends to reside in a nebulous space between profundity and nonsense. It's well documented now that the Sex Tags record shop website carries the uncompromising shitfuckyou.com URL, and that the label carries the Omar S stamp of approval (his quote, from an Resident Advisor interview in 2009, still adorns the top of their website). Look closely and you'll find a treasure trove of quirks, from lesser known Todd Terje edits, CDrs produced in limited numbers of 10, accompanying academic texts and essays, flyers, stickers and art paraphernalia – or "confrontational nostalgia" – as Erlend Hammer puts it – all linked by consistently inspired artistic direction. Oli Warwick, Alex Egan and Aaron Coultate each picked their some of their favourite selections from the sprawling Sex Tags canon.
Skatebård – Conga [Sex Tags Mania, 2005]
Bård Aasen Lødemel has a history synonymous with Sex Tags, having appeared on the label and its subsidiaries since the early days in various guises, but most notably as Skatebård. He was active for some years prior, issuing forth some singles for Finnish label Keys Of Life (also responsible for Freestyle Man, Gez Varley and Tin Man among others), before joining the weird and wonderful world of Mania with this timeless belter.
It stands as one of the most coveted of Mania releases, and it's not hard to understand why. "Conga" is built from classic foundations of house music, from the beat up. The drums hurry along at a frenetic pace at odds with the slower tempos favoured these days, packing New York garage shuffle into the hats and claps with not a moment's hesitation in that most 90s, unfussy of ways. The moody DX7 bassline that follows seems like a logical next step in such rhythmic company, working three notes to devastating effect while bolstered by a harmony in a slightly higher register.
Of course this all seems a little straight up for a Sex Tags release surely? Fear not, because Bård is on hand with some suitably freaky vocals of a mildly off key nature to inject a little oddball fun into the steamy house template he has crafted. Whatever the case though, this release is a strong one because of the immediacy and undeniable club-friendliness of the track. It's also worth noting that a large portion of the Skatebård output is more infatuated with the rigid throb of Italo disco and variants on that theme such as the equally celebrated and spooky "June Nights South Of Siena". Oddities such as "Conga" and other excursions into techno have found their natural home here rather than on Bård's own Digitalo label. OW
Various – AMFIBIA 06 [Sex Tags Amfibia, 2008]
There are far, far too many good records to choose from on this strange micro-cluster of labels and sub-labels. So I'll be unapologetically self-centred and pick this curious 10″ on Amfibia simply because it was my first personal encounter with the Sex Tags universe. Scanning through the racks during a rare visit to Hard Wax a few years ago, I eyed up the bold blue/silver sleeve with its unusual titles and interesting track descriptions. Basically, it seemed like instant 'add to listening pile' material. Funnily enough, it might have even been in the discount section…crazy when you think of how much second-hand Sex Tags records demand these days.
Drop the needle on first A-side "So Nic" and try not to smile as the theme tune for a certain famous blue hedgehog is covered with unashamedly fun (and in my case, nostalgic) results, complete with in-game sound effects. Any thoughts of it being a purely quirky novelty record are dispelled immediately afterwards as the melancholic atari-techno of "Walk!" by 100Records follows. At just over two minutes, the only downside is how short it is.
Flip over and prepare to be confronted with a brief barrage of cut-up gig out-takes and radio spot samples edited by Sotofett. It's an almost entirely pointless skit but if anything it's an amusing glimpse into the minds behind the label(s). Final track "Seksi Tagit Salón Dübb" reels you in next, a long meandering adventure of gliding in/out of tune synth lines and white noise over a deep dub bassline and drum machine percussion. Truly bizarre and original. It's a proper record again! Whatever it is or isn't, this release might just be the most bonkers thing these pranksters have put out – which is saying something – after all, they also pressed up a 12″ consisting solely of a looped 909 kick in a single locked groove… AE
TR909 – Bass Drum [Sex Tags Mania, 2009]
While many labels with a DIY punk ethic may tend to keep their messages simple and direct, there's always room for discussion as to whether a Sex Tags release is more joke or cutting statement. In the case of Bass Drum, a record released in conjunction with an art exhibition in 2008, the answer is even harder to come by, with a third possible deduction that it is in fact the quintessential DJ tool. As the artist and track name might suggest, this single-sided offering is the kick drum from a 909, pounding an incessant 4/4 rhythm at around 135 bpm. It's the ultimate in techno primitivism (a phrase borrowed from the Juju & Jordash album but highly applicable here), shearing the genre of all distractions and shining the spotlight on that constant that provides the backbone to the music in its purest form.
Of course it could be seen as a ludicrous exercise; from a listening perspective, what emotional excitement is there to be drawn from the same looping unflinching kick, no matter how tonal and well-rounded a sound it is? Even as a tool its use is tenuous, leaving a question mark over how long the crowd will tolerate a dry kick on its own before you must rapidly bring something else in over the top. Then again, similar if not quite so extreme tricks have been broached in the past. Most memorably was the SOG track "SOG 2.2", which saw Wolfgang Voigt embark on the dumbest of dumb techno voyages with a kick and bass pattern that had marginally more variation than "Bass Drum". However in that release the intentional minimalism was more explicit through incredibly subtle layers of texture and miniscule shuffled hats that whispered ever so softly in between the thuds, arguably taking any sonic entertainment factor to near breaking point. In the end the stupidity of the track was its hook.
Likewise a recent reissue provided a useful reminder of Harry Pussy's Let's Build A Pussy, which tests the grounds of diversion in audio with four searing and barely changing sine wave tones that make up a side each on a double-pack vinyl. At what point does a track stop being art to be enjoyed and become art for arts sake? Of course it's all subjective; take from "Bass Drum" what you will. Some might use it as a sample library, others a scratching device. Some might place it on the wall as a curio, while the real gear fetishists might simply lose themselves in the glorious perfection of a well-nailed 909 kick drum. In some ways, the latter seems like the most plausible motive for Sotofett and co. to put the record out, but it wouldn't be half as fun if we weren't to try attaching additional meaning to it, right? OW
XI – XI  [Sex Tags Mania, 2009] 
A Sex Tags release that requires an inordinate amount of detective work just to uncover its makers? No surprises there then, but firstly, let's deal with solid fact. On this, the 16th Mania record, we're presented with four slices of deliciously deep and sparse techno. These are the kind of tracks that seem so simple upon first listen but could also somehow get away with being twice as long. It's a fine line to tread and where lesser records flounder in frankly boring waters, the melodies and grooves here are particularly adept at creeping up and getting right under your skin. Each track is a subtle gem, though A-Side "I" is possibly the most addictive (or rather C-side; this is billed as a follow up to MANIA 13, the 'U.S. Import' 12″).
What else do we know? The music was created in Berlin then mastered by renowned engineer Rick Essig and pressed in New York (on extra-curved smooth edged vinyl – you need to have this record in your hands to feel what I mean) then initially released in Japan only. The clues run a bit thin after that, though there are signs pointing to who the mysterious XI are ready to decipher on the 12″s lovely baby blue label: PE and SVN. Who? Well, they're names you'll see scattered over a fair number of other releases under the Sex Tags umbrella. PE with Kong Oscar and SVN with releases as part of AU and Dreesvn as well as a string of 12″s on SUED. Of course, their real names are less forthcoming but it doesn't matter. As with most things to do with Sex Tags, the playful hidden identities and inside jokes are just part of the fun. Dig further if you want – you'll figure it out eventually – but the music, artwork and ideas come first. AE
Krisp – Truckstomp/Lovestomp [Sex Tags UFO, 2012]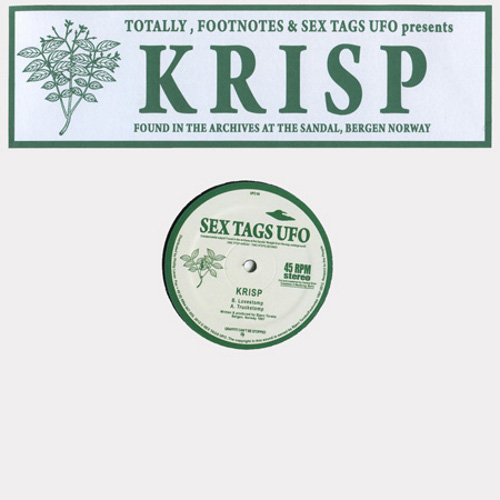 As well as being a strong addition to the Sex Tags UFO manifesto of disco-fuelled goodness, this release from Bjørn Torske (produced under his occasional Krisp alias) represents an interesting trend that crops up intermittently in the annals of Sex Tags lore. While it may not be revolutionary for labels to collaborate on putting a record out, there seems to be a trend in Norway and its neighbouring countries to club together to release certain EPs. It's purely speculation as to why these joint releases come about. It could be to do with something as dull as a business deal struck, or it could be from the noble notion of the support that joined forces brings in such actions. Whatever the case, the threads that run from the coming together of Sex Tags UFO with fellow Norwegian labels Totally and Footnotes lead to some interesting points among the Scandinavian electronic music scene.
Totally was founded by Timo Kaukolampi and Annie, the Norwegian popster who had a brush with the big time around 2009 when she first broke with her "The Greatest Hit" track. There is a sizable eight year gap between the second and third releases on Totally, but Annie manages the label herself now, seemingly issuing every release in conjunction with Sotofett's merry crew. In the instance of this Krisp record, Bjørn Torske's own Footnotes label is also involved in the scrap for catalogue number glory. As it happens, Footnotes is a sub-label of Tellé, the label that first catapulted Royksopp and Annie to fame, thus serving to highlight the support and company Sex Tags keeps among its contemporaries in a fertile and creative scene. While one might normally struggle to find quality underground house music with ties to internationally acclaimed radio invaders, in the caring and sharing world of Sex Tags there appears to be a healthy amount of linking of arms going on.
In terms of the music on this release, "Lovestomp" revolves around a sampled disco hook that comes from the much-mined "My Lady" by The Crusaders, also recently sampled by Fritz Zander, and stays locked into a furious loop that makes most filtered house sound like it gave the game away too easily. When it does break into the recognisable sample in its full glory, it of course fires off with the the relief and release that the best loop-driven tracks should do.  "Truckstomp" follows a similar path in nagging refrains, but replenishes the rolling guitar chops and bass licks with psychedelic synth touches for a moodier journey into the groove. It's as rough around the edges as any of the Sex Tags related material, but as ever among the ramshackle methods exist a pounding club-friendly heart. OW
Don Papa – Gold 2000 [Sex Tags Mania, 2009]
The nature of the cult surrounding Sex Tags is such that many records come out as limited runs due to limited demand, with certain 12"s catching a buzz and hitting the right record bags, to go on far out-stripping the forecasted numbers and leaving silly Discogs prices and plenty of hungry vinyl fiends in its wake. Paul 23's Love To/Up Track, the very first Sex Tags release, is a prime example of this, as is Bjørn Torske's Ken Jeg Slippe?, but it's rare to find the label turning back to a reissue.
In the case of this particular release, Gold 2000 has held a special place in the heart of Sotofett, not to mention followers of the label, simply for the startling impact of the of the music contained within. It was certainly an accomplished debut for a relatively unknown producer (who has seemingly emerged to solely release on Sex Tags), finding fresh breathing room in the deep house barracks by opening the window so that an ever so slightly nasty acidic tone could waft its way in, as beautifully demonstrated on "Bass Synthezise House". While the atmospheric hum rings out with a sci-fi wonder, the bass synth that gets brought in squelches in all the right places, chunky and misshapen but loaded with groove.
"Done (Piano)" is more direct, with a neat and tidy beat ticking away behind steadfast ivory-tinkled chords, but still there's a strangeness at work in the background that manifests itself in obtuse scrapings. Likewise "Zombie Bass" finds itself in a strange electro space where the good ship UR has departed, leaving interstellar debris in its wake for Don Papa to stick together in a peaceful and mysterious new form. As is so often the case, the realisation of the ideas on this release are devastatingly simple and unfussy, wielding that aforementioned weird approach with a deft touch that never veers as far as obtuse in its quest for originality. It's an essence that runs through the majority of the Sex Tags back catalogue. OW
DJ Sotofett – Pulehouse [Wania, 2012]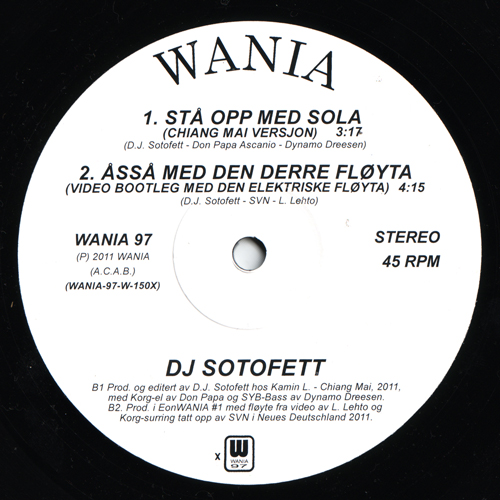 A list of essential Sex Tags wares wouldn't be compete without a contribution from DJ Sotofett and the relatively new Wania offshoot. Since it was launched, Wania has put out some storming records, most recently the split Madteo/Trance Yo Lie 12″ Cosa C'e' Sotto? / We Do. The sub-label is also home to Sotofett's 909 homage Dritfett, and the mail-order only Bhakti Crew 12″, another Sotofett production that credits Rabih Beaini – aka Morphosis – as playing the dukduk (an Armenian woodwind instruments) and the mizmar (an Egyptian flute), with Bjørn Torske on percussion and Detroit Fit Sound chief Aaron Siegel on synths. Not a bad cast for a record that was never officially released.
Although the Pulehouse 12″ is credited to Sotofett, in reality it's yet another family affair – mysterious Hardwax favourite SVN is on synth duties on the title track, a milieu of 808 snares and chirps soldered to a deep-as-fuck bassline, while Dynamo Dreesen and Don Papa appear on B-Side opener "Stå Opp Med Sola (Chiang Mai Versjon)". Someone called L. Lehto assists on "Assa Med Den Derre Floyta", a track that sees a drunken flute emerge as the centre piece around jangling percussion and barely-there kicks to form a twisting, loopy, hypnotic groove. It has emerged as one of the year's finest examples of oddball house and again highlights the "ceaseless drive to collaborate" discussed by Michael Baers in his 2008 essay for Sex Tags. "Graffiti can't be stopped", reads the Sex Tags slogan. Neither can Sex Tags Mania. AC