Emeralds return with Just To Feel Anything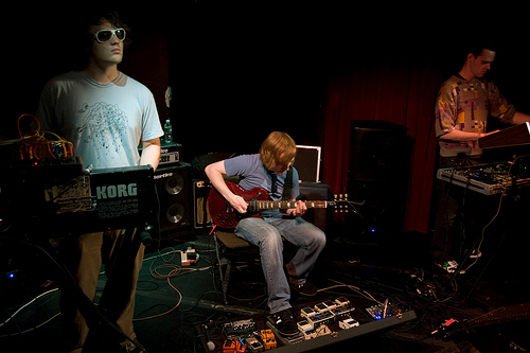 US synth outfit Emeralds will be making fans of arpeggiated kosmische everywhere very happy with the announcement of a new album for Editions Mego.
Comprised of Mark McGuire, John Elliott and Steve Hauschildt, the Cleveland trio have been performing under the Emeralds name since 2006, racking up a staggering number of recordings (primarily on hard to find cassette and CDr releases). Combining the thick drones and arpeggiated sequences of Elliott and Hauschildt with the intricate guitar work of McGuire, their music channels the likes of Tangerine Dream and Klaus Schulze and preceded much of the current wave of kosmische revivalists.
Following the release of their highest profile release to date, Does It Look Like I'm Here?, the group have been fairly quiet as a unit, concentrating on solo endeavours; Elliott has been running the prolific Editions Mego sublabel Spectrum Spools, while McGuire and Hauschildt have both been working on solo material. However, their collective silence will be broken with the release of their second album for Editions Mego, Just To Feel Anything.
According to the press release, the album sees the group strike a chord between their familiar sound and moving their signature sound forwards, with album track "Adrenochrome" supposedly providing  "a fast-paced excursion into new territory" while closer "Search For Me in the Wasteland" sees "mounting layers of brightly strummed guitar chords blossom into a storm of color and expertly crafted textures".
Editions Mego will release Just To Feel Anything on LP, CD and digital formats on November 5, 2012.
Tracklisting:
1. Before Your Eyes
2. Adrenochrome
3. Through & Through
4. Everything Is Inverted
5. The Loser Keeps America Clean
6. Just to Feel Anything
7. Search For Me in the Wasteland