Scan 7 return to Tresor with The Resistance
Shadowy Detroit techno outfit Scan 7 will return to Berlin label Tresor for the first time since 1999 with the Resistance EP, which will precede a 'best of' compilation slated for release later this year.
Scan 7, which currently consists of 'Trackmasta' Lou Robinson and William Smith but has had many different members over the past two decades, have ties to Tresor that date back to the sweaty heyday of the club's original Wertheim vault home. They released two albums (1996's Dark Territory and 1999's Resurfaced) and one EP (1998's Beyond Sound) via the record label arm of Tresor, and were an integral part of the Detroit-Berlin techno axis that blossomed in the 1990s.
Their return to the Tresor fold is welcome news; both label and artist have been undergoing a resurgence of late, with Tresor recently celebrating its 250th release with a trilogy of remix EPs celebrating the work of Juan Atkins' Infiniti project, while Scan 7 have appeared on a couple of low key releases on Awkward Movements and Tabernacle (the latter with Trackmasta Lou in solo mode) in recent times.
The Resistance sees Scan 7 in timeless mode, with the title track a Galaxy 2 Galaxy style string-led emotive techno workout. This shares the A-Side with the acid scented "In & Out Of The Groove", while "Why Not?" on the flip is a quick paced pummelling cut straight out of the 1990s no-nonsense techno textbook. Excitingly, Tresor have also let slip that they are planning a retrospective compilation that delves into 20-odd years of Scan 7 machine funk – more info on that when it comes to hand.
Tresor will release The Resistance EP by Scan 7 on September 17, 2012.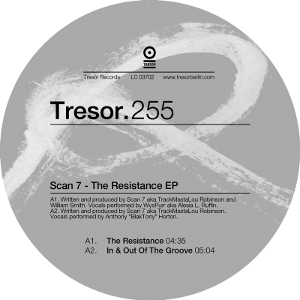 Tracklisting:
1. The Resistance
2. In & Out Of The Groove
3.  Why Not?