Bass Clef debuts on Idle Hands
Hackney based Bristolian Bass Clef will drop his first solo material since his excellent Reeling Skullways album with the 14th release on West Country house hub Idle Hands.
The aforementioned long player has remained a real office favourite at Juno Plus since its release on Punch Drunk back in April, and pleasantly it sounds like the forthcoming two track Dawn Chorus Pedal 12″ for the increasingly on point record label run out of a record shop will continue the stylistic path the producer, real name Ralph Cumbers, laid down across the nine tracks on Reeling Skullways. Cumbers' richly detailed and echo laden take on House music is steeped in the rhythmic tropes of Chicago and Detroit yet doesn't fall prey to pointless homage thanks to a penchant for idiosyncratic and experimental touches.
To use the Ron Manager style footballing cliche, it's a record of two halves, with the title track a loose, sub heavy house number that explodes with dizzying drum progamming midway through its seven minute duration. In contrast, "You Don't Know" provides a serener downbeat accompaniment, building an expansive array of freeform analogues around a pensive titular vocal sample and staccato rhythms.
Idle Hands will release Dawn Chorus Pedal by Bass Clef on September 17.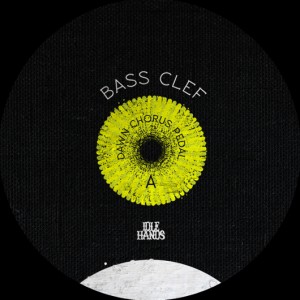 Tracklisting:
Side A. Dawn Chorus Pedal
Side B: You Don't Know