Lunar Disko set to release VC-118A album International Airlines
Irish label Lunar Disko Recordings will dip into the realm of artist albums for the first time with the debut long player from Dutch producer Samuel van Dijk under his VC-118A alias, entitled International Airlines.
Since establishing the Lunar Disko label in 2008, the Dublin operation have garnered a strong following thanks to some excellent records that veer between the stylistic realms of Italo, electro and Chicago house with releases from David Vunk, Mark Du Mosch, Raiders Of The Lost Arp and Automatic Tasty, perhaps the most regular Lunar Disko contributer.
Regular observors of the Dutch techno scene will recognise Samuel van Dijk from his previous work under the Mohlao and Multicast Dynamics aliases or the Inward Content project with Delta Funktionen. Having established the VC-188A alias with the recent grimey electro Information System 12″ on the Viennese label TRUST, van Dijk debuts on Lunar Disko with a seven track album based around "a retro-futuristic concept of aircrafts through emotive soundscapes, brooding over an array of analytic drum programming". In speaking to the label for an interview to accompany the album, the Leeuwarden based producer expands on what directly influenced the direction of International Airlines, stating that a visit to the air defense base outside his hometown was the creative spark.
"Between all the commercial selling stands I found a pile of old postcards and photographs that were for sale. I bought one colored postcard with a Japanese airplane that had a color palette that grabbed my attention. I was instantly fascinated by the design, color, typography, geometry and aerodynamics of the illustrated plane. This photograph, demonstrations of the flying airplanes, the different models and their endless variations inspired me to make a conceptual series of tracks."
While that might sound inherently nerdish, there's a nice variety at play across the seven tracks on International Airlines which demonstrates van Dijk has fully explored the concepts described above, with claustrophobic, grubby analogue techno next to crystalline, otherworldly electro and simmering, sludgey experimental electronics of the kind you might find on Modern Love.
Lunar Disko Recordings will release International Airlines by VC 118A on September 3 on double LP format.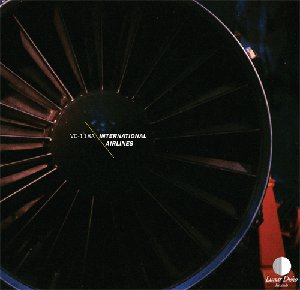 Tracklisting:
A1. Deploy
A2. Thrusters
B1. International Airlines
C1. Vaporise
C2. Cylinder
D1. Mapolar
D2. Antenna Forest