Erol Alkan & Switch team up for A Sydney Jook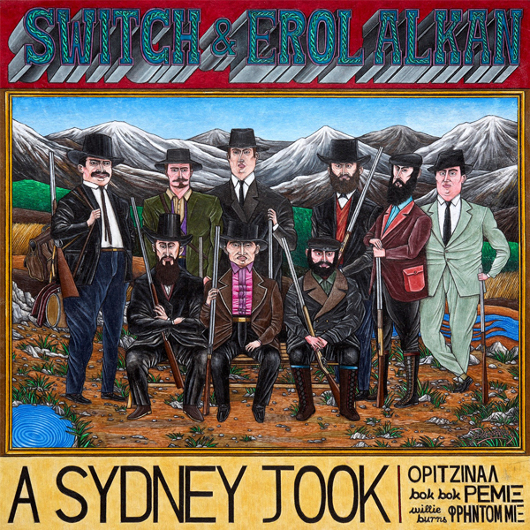 Bet you didn't see this coming: Erol Alkan and Switch have teamed up for a release on the former's Phantasy Sound imprint which comes with remixes from Bok Bok and Willie Burns.
A Sydney Jook marks the first occasion the two have collaborated, though they have been crossing musical swords for more than a decade now, and have often DJed back to back at festivals, while former Major Lazer producer Switch has remixed Alkan produced tracks for Late Of The Pier and Mystery Jets. In recent times Alkan has been working closely with Alex Ridha aka Boys Noize, with the duo putting out a number of singles on their respective labels, Phantasy Sound and Boys Noize Records.
On first listen, "A Sydney Jook" is bombastic in every way, with jackhammer kick drums, bleepy synth tones and catchy vocal and phone samples all jostling for attention. The choice of remixers is equally intriguing, with Night Slugs chief Bok Bok turning in a pumping warehouse fix that is every as bit as boisterous, if a little bit more stripped back, as the original. Willie Burns – real name William Burnett, and perhaps best known as Speculator or as head of WT Records – meanwhile turns in a raw house version that provides the release with a depth that reaches beyond peak time.
In 2012 Phantasy has seemingly been investing as much time in the presentation of its records as their sound – who can forget that excellent Erol Alkan/Boys Noize cDR 12″ – and this release will arrive pressed up on acid splash vinyl with the above distinctive artwork by Greek artist Dimitris Rokos.
It has also emerged that the label will soon be releasing a Paul Woolford Special Request remix of "Taste" from new label signing Daniel Avery – you can read Tony Poland's in-depth review of Avery's recent Need Electric EP here.
Phantasy Sounds will release Erol Alkan and Switch's A Sydney Jook on August 27.
Update: The original version of this article incorrectly stated that Alkan's only previous production partner was Alex Ridha. This has been amended.
Tracklisting:
A. A Sydney Jook
B1. A Sydney Jook (Bok Bok Remix)
B2. A Sydney Jook (Willie Burns' Freedom Remix)