Permanent Vacation ready Róisín Murphy release
Munich label Permanent Vacation have sprung a surprise with the news they are releasing a 12″ from Irish singer Róisín Murphy.
Entitled "Simulations", the classic disco track has been floating around in demo form on YouTube since the end of 2011, and has been eagerly anticipated by Murphy's army of slightly over enthusiastic fans. At the time it surfaced, the singer revealed that it was recorded with a "well-respected producer from Northern England" leading said fans to speculate over a reunion with her former Moloko partner in crime Mark Brydon.
In fact, Murphy recorded the track with Steel City legend Richard Barratt, formerly one half of the iconic Bleep Techno act Sweet Exorcist alongside Richard H. Kirk and more recently responsible for some excellent, self styled "fraudulent disco" releases under the Crooked Man banner. It's not the first time the two have worked together, with Murphy contributing vocals to the mid 90's Grace Jones cover "Feel Up" Barrat produced under the Spook alias. If you are not familiar with Barratt's story, we can heartily recommend this interview with him on the Faith: Strobelight Honey website.
Murphy is no stranger to working alongside respected producers, with Mattew Herbert and Seiji tasked with behind the board duties on the two solo albums she has released to date, while she also been found providing vocals for artists as varied as David Morales, Toddla T, Mason and Crookers in recent years.
The forthcoming 12″ is complemented with remixes from Murphy's compatriot and Permanent Vacation regular Mano Le Tough and Eric Kupper – a man with more remix credits than we've had hot dinners.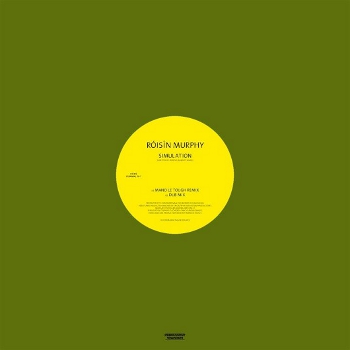 Tracklisting:
A1. Simulations
B1. Simulation (Mano Le Tough Remix)
B2. Simulation (Eric Kupper Dub Mix)