Stellar OM Source preps EP for Rush Hour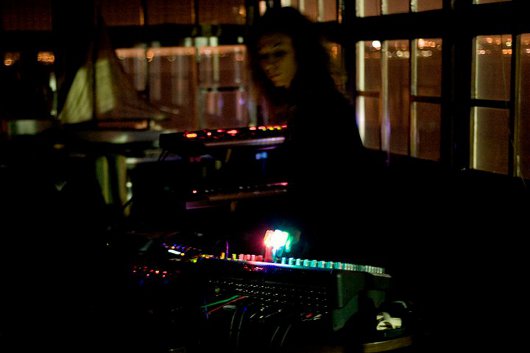 Following solo records from Hype Williams' Dean Blunt and Inga Copeland, Rush Hour will continue their travels into stranger territories with an EP from Stellar OM Source.
Otherwise known as Christelle Gualdi, the producer made waves initially with a number of self-released CD releases, though her breakthrough moment came with the release of the Trilogy Select LP on Olde English Spelling Bee which collected a selection of those early tracks, whose dense, hazy dronescapes had much in common with the work of fellow underground synth artist Oneohtrix Point Never.
However, a remix of Harald Grosskopf's "1847 – Earth" for the remix disc that accompanied RVNG's reissue of Synthsist last year showed the producer moving in a proto-house direction, and it's this direction that Gualdi's forthcoming Rush Hour release takes. Entitled Image Over Image, the four tracks take a cosmic approach to house that sits somewhere between Gavin Russom's arcane techno and 100% Silk's revivalist take. Gualdi has uploaded clips of the release onto her Soundcloud page, which can be heard below.
As well as the Stellar OM Source record, Rush Hour also have a release in the pipeline from Heatsick (who just released a brilliant EP of leftfield house on PAN), clips of which can be heard at the Rush Hour website.
Rush Hour will release Image Over Image by Stellar OM Source on September 15.
Tracklisting:
A1. New Look
A2. Club 5-7
B1. Heatwave
B2. Innergy