Mode Machines Xoxbox2 review
The extinct classic bass synth/sequencer known as the TB303 is lovingly brought back to life with a few minor adjustments. How does this second incarnation of the Xoxbox shape up?
Roland stopped making their TB303 bass sequencer and synthesizer in 1984 due to a lack of support from the general public. It was first thought that the 303 would be useful to help accompany solo guitarists, but it only really found its true calling a few years later when its screaming resonance over dissonant arpeggios became the backdrop for acid house raves that spawned the second dance music revolution. The other two machines that can also claim responsibility for this new sound are the 303's cousins – the 808 and 909 (also from Roland). So the question of why Roland never reissued this iconic piece of hardware remains, especially as there has been a resurge of interest in all things house and proto house of late. This is where German based company Mode Machines come into the picture. After reverse engineering an original machine, they set about sourcing the original circuitry and parts. Of course, being nearly 30 years later a lot of the original parts couldn't be found anymore, so they had to recreate and redesign a machine they claim is a "true clone", with all the original features. It's no mean feat, and, genetic engineering debates aside, the fact it's a clone won't appease those out there unwilling to settle for anything less than a perfectly working original machine.
The Xoxbox2 (pronounced "socks box") doesn't look exactly like the 303. It's a good deal larger, with a tough black plastic slanted box with a metal and plastic face that presents a well-spaced battery of encoders, LEDs and buttons. Around the back there is a healthy mix of modern connection ports including MIDI in, out and thru, CV and Gate, DinSync, mono audio output, mono audio input and a USB port. This is an expansion on the original's singleMIDI, CV, Gate, headphone and audio out and (surprisingly) audio input. The original machine didn't allow the audio input access to the 303's filters and the Xoxbox2 stays true to this design. Mode Machines have kindly placed the wave selector switch on the front panel instead of hidden away on the back like the original. A single square wave or saw tooth wave are the order of the day here, with encoders to control the pitch (tuning), cut off, resonance, envelope modulation, decay, accent volume and master volume. A push/step encoder can control the tempo with one notch being equal to one beat per minute. Pushing the encoder down allows you to tap the tempo in, a very efficient use of the space, which is one of the plus points of this machine – there is loads of room on the front panel and the spaces between each control are a vast improvement on the original's slightly cramped working environment.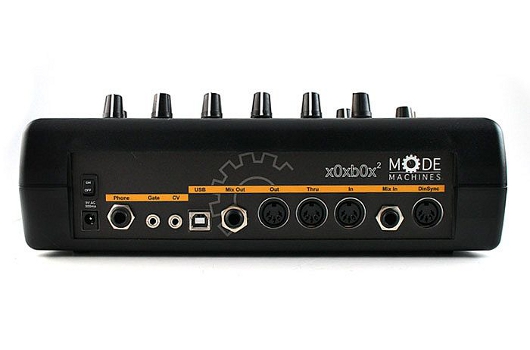 The sequencer input section looks like the original 303 with its one chromatic octave that's transposable up or down one octave. The sequencer itself allows anything up to sixteen steps and the note input information is clearly marked by the subdivided LEDs on the front panel above the chromatic octave. Creating patterns in the pattern edit mode is fairly self-explanatory and the transport buttons to facilitate this are easily found (if a little strangely labelled). The "save" function is labelled "done" and the "play" button is marked as "run". It's all obvious but a little off-putting at first. You can save 128 patterns and 64 sequences on this machine and access them via the unlabelled bank encoder. One of the other nice things about this cloned 303 is that you can effect the patterns rests, accents and slides live while the pattern is running, or simply step record them in if you like to do it the old way.
Perhaps due to its expanded connectivity, the Xoxbox2 has a large amount of different modes and this writer found it tricky to get to grips with the various different sync and MIDI functions. Also the instruction manual only cam in German and be prepared to buy a plug adaptor if you don't live in continental Europe. But when all is said and done the sound of the Xoxbox2 is as close to the sound of a TB303 as you are going to hear (point of fact being that no two 303s sound exactly alike). In no time at all it's possible to recreate those screaming filtered acid lines with swooping portamento, via the slide control, and accented offbeats. If sixteen steps aren't enough then it's possible to chain your sequences together and create complex variations. You can hook your machine up to other groove boxes via the Din Sync MIDI port and sync their MIDI clocks to the Xoxbox, giving you some tantalising live use options. It's also possible to link your machine to a PC or Mac via USB and use third party firmware to 'mod' your machine. Mode Machines make it clear they can't offer any support for third party firmware queries, as they don't create the software themselves.  They also pride themselves on the attention to detail their engineers place on every individual machine that is manufactured by hand in Germany.
It's very hard to find good working 303s in this day and age and most of the other cloned machines are either out of production or have failed to impress the mass of 303 aficionados. There are some soft synth clones such as Audio Realism's Bass Line, but then again part of the fun of these machines is the live, tactile experience, and the fact that you are not sequencing in a computer but rather using the limitations provided by the instrument itself. This update of the original Xoxbox claims to have better pots, encoders, switches and buttons with a more detailed quality control regime behind it. Its full and flexible sound is evident and this version of Roland's classic is arguably the best and most authentic to date.
Robin Lee

Specifications:
| | |
| --- | --- |
| Dimensions | 275mm x 195mm x 90mm |
| Weight | 1kg |
| Features | All analogue 303 circuitry, added sequencer functions, 128 patterns with 64 banks of tracks |
| Controls | 9 encoders, one push/step encoder, 22 buttons, one switch, LED's |
| Connections | Midiin, out, thru. Din Sync, CV, Gate, Mix input, Audio out, Headphone out, USB. |
| Power | 9V AC 500 mA |