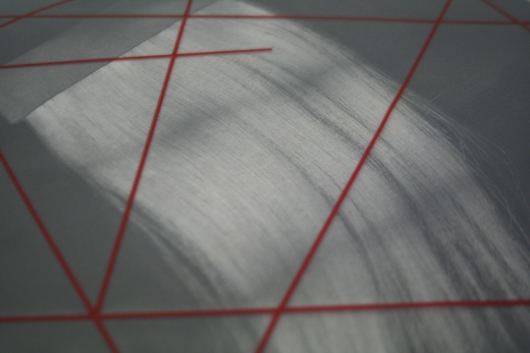 Perhaps this week's most eagerly anticipated release was the posthumous J Dilla collection Dillatroit, arriving courtesy of Moodymann's Mahogani label and Dilla's family foundations some six years after the legendary producer's premature demise at the age of 32. It runs the gamut of the Dilla style palette, with dusty head nodders next to sweetly soulful jams  and jazzier instro cuts propped up against rowdy posse cuts and is a worthy posthumous addition to the Dilla canon.
Our love for Sex Tags Mania will be obvious to regular readers, and this week offshoot imprint Wania come through with the goods once again, blessing Trance Yo Lie and Madteo (in Sotofett remixed form) a side each on a special US Edition release. Individually Madteo and Sotofett have both enjoyed fine 2012s so far, and the mouth watering prospect of the latter remixing the former lives up to expectations with his NYC dub mix of "We Do" a proper rumbling 90s NYC refix in the vein of vintage Kenny Dope. Meanwhile modern day NYC legend Jason Letkiewicz added the ever excellent Construction Paper label to his increasingly bustling discography with the aptly titled Analogous Desires EP under his familiar Steve Summers alias, a Chicago-inspired journey through chimerical strings and crispy 707 drums. Further house picks were delivered by rising star Leon Vynehall's Gold Language EP for ManMakeMusic delivering another two tracks of bass infused deep house, and Juno Plus favourite Kevin Reynolds with an understated house chugger for Pittsburgh imprint Love What You Feel alongside tracks from Disco Nihilist, Anaxander and PTA.
"He'd rob his own gran" says Ten Thousand Yen in the press release for the long awaited drop from Mickey Pearce, our pick of this week's bass releases. Although we can't verify on the sociopathic tendencies (or otherwise) of Mr Pearce, we can say that "Tempted (F+ck Tonto edit)" is even ruder than his recent Swamp81 missive, hitting hard in the rhythm department and coming complete with one of the best one note melodies of the year so far. Similarly big was the second instalment of the Night Slugs Club Constructions series, from the unlikely candidate of Lil Silva. Unlike L-Vis 1990's starkly functional jackers in volume 1, it's not quite apparent what sets these tracks apart as specific "club constructions", but no matter, they hit where it counts. "The 3rd" is the real standout track, grating on a maddening groove programmed from way out in leftfield, keeping things sparse and angular but most noticeably twitchy.
Meanwhile those of a techno persuasion should check the second round of Planetary Assault Systems "Function 4" remixes on Mote Evolver. Following last year's efforts from Marcel Dettmann and Chris Liebling, Dettmann returns for more with a "Base dub" remix, a more stripped back affair than his more full bodied first attempt, concentrating instead on subtle rhythmic nuances. Stroboscopic Artefacts' Lucy provides two remixes – one utilising a minimal breakbeat over shrill pads, and one that piles on the atmosphere with its swathes of reverb. Our pick however is Shifted's slickly executed revision, with a rolling rhythm that's packed densely around abstract tones. Also recommended was the Node EP from Dutch electro outfit The Exaltics, complete with a punchy remix from Delta Funktionen. Those who still like to indulge in optical media should also check Mr Funktionen's album Traces, released on CD this week.
Meanwhile those with an experimental inclination should check out PAN's latest release, on which the ensemble of Mika Vainio, Kevin Drumm, Axel Dörner and Lucio Capece provided us with the dark, microtonal delights of Venexia, a live performance of electronics and acoustic instruments with a daring interplay between searing, industrial sonics and delicate textures. Arriving in a beautifully screenprinted PVC sleeve (pictured above) it wins our award for artwork of the week. Meanwhile the hard-working Spectrum Spools came through with another essential, Akashic Record – from Emeralds member John Elliott's Outer Space – delivered music that both ripples with the hypnotic pulse of the universe's unseen workings and resembles the best synth based soundtrack work of the 80s and early 90s.
At Juno Download the first EP in John Convex's Idoru project entered the digital realm, combining a synth-pop sensibility with a heavy dose of bass and 2-step rhythms. Also highly recommended is San Francisco produce Eprom's debut album, Metahuman. There's a manic energy that positively leaps off his tracks, as the hype of juke drum programming meets the flat-footed funk of hip hop, while the rest of the sonic matter comes zapping in from a realm inhabited by dead Game Boys (check "Prototype") and decaying DAWs. Fans of Machinedrum should take note. Segueing nicely is the latest EP from A Made Up Sound for the ever on-point 50 Weapons, with "Malfunction" proving a dense roller, its heavy drums and offbeat rhythm inhabiting the same bass-meets-techno space as Martyn.
Our digital house must-have is Martin Van Der Vleuten's excellent record for Andy Blake's In Plain Sight, which this week made it into the binary domain, with two boisterous house cuts; "Summer Of 909" is tough, foundation shaking body music deftly using full potential the Roland kit with hypnotizing results, whilst "Magick" is a relentlessly jacking drum track poised with full on early 90s rave energy at its core. Also big was the first release from Julio Bashmore on his own Broadwalk Records, with "Au Seve" slipping carnival ready melodic touches and simple vocal loops over a dusted house mainframe dominated by rasping kicks and a killer rising bass line. Digital release of the week however is The Surgeon General on Sandwell District associate Rrose's freshly minted Eaux imprint. Featuring contributions from Rrose and synth artist Bob Ostertag, it explores a multitude of textures, both industrial and dreamy.