Allen & Heath Xone:K2 DJ controller review
Allen & Heath have updated their Xone family of DJ controllers: here's how the Xone:K2 measures up.
After giving us the Xone 1D USB MIDI controller a few years ago and the Xone 2D, which incorporates soundcard technology, the latest USB controller from Allen & Heath arrives in the shape of the Xone:K2. Its slim look boasts an impressive build quality, with a four channel soundcard and a plethora of controls fully mapable to the user's needs, with plenty of scope for comprehensive control using a colour coded layered system in keeping with Allen & Heath's promise of flexibility. The unit itself ships with a sturdy foam case which unzips all the way around, allowing you to turn it upside down and sit the K2 on top. This effectively doubles as a stand and will lie flush against mixers or CD players of a standard height. One of the first things that differentiates the Xone:K2 from the 1D and 2D is the height. TheK2is slimmer than its predecessors and to achieve this, Allen & Heath have gone back to the drawing board and redesigned the circuitry so the boards no longer stand vertically in the case. It's not just slimmer, either; it's also been built into a hard plastic shell with a metal faceplate, which has brought the weight down, making this an easily portable piece of equipment that can be flung into your gig bag or hand luggage with ease.
The layout of the K2 sees four channel lines in a row with a switch matrix below. With endless push encoders along the top with status indicators, and three rows of analogue pots underlined with a switch each, the knobs have been mounted with screw nuts to the top plate, making them feel secure (with just enough wobble) and a very smooth action. The linear faders, directly beneath, also have a reassuring feel about them and seem to have just enough resistance to keep you safe from mistakenly pulling up a fader when trying to reach for one of the pots or switches. There is a switch matrix at the bottom (labelled A-P) with a pair of endless push encoders flanked by two larger utility switches; one of these is generally used in set-up mode and the other helps you navigate through the various layers of control known as latched layers. All of the rubber switches have a very satisfying click when they are pushed, with three backlit colours representing the different layers of control being accessed. As the entire control surface can be programmed simultaneously in three different ways to get maximum control of your software, effectively giving you three K2 units in one, the switches offer different back lighting (green, red or amber) depending on which layer of your mapping you are accessing at any one time. This makes it considerably easier to recognise where you're at in the heat of battle.
Around the back we're given a pair of RCA outputs and on the front side there is a 3.5mm headphone jack. This writer prefers XLR or ¼" jack outputs, but in this case, because the size of this machine is quite key, the RCAs are sufficient to deliver a more than satisfactory sound. It's understood these days that most headphones are built with 3.5mm jacks as standard with unscrewable 6.3mm adapters already fitted. One of the advantages of this controller/soundcard hybrid is that you can link together various devices – such as another K2 unit or a DB series mixer – using Allen & Heath's X link Ethernet networking technology. This allows you to link together and distribute power to various devices using a single USB port on your computer.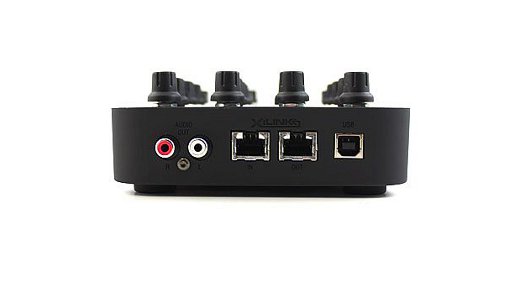 The spacious layout of this controller lends itself to use with popular DJ software products like Traktor and sequencing software such as Ableton. The way you interact with your software is completely up to you, and that's one of the reasons why this controller is not pre-mapped to any one particular package. You can download tsi files to import settings into Traktor; for example there is a Kontrol X1 emulator, and a quick search on the internet will allow you to find a variety of different mappings. Put simply, it's possible to find a set up that, if not perfect, is at least close to how you perceive this instrument being used. This controller/soundcard is not for complete beginners, as understanding what controls you would like to access is not something you're going to know until you have established a work flow in your software of choice. This unit is really for DJs who need a flexible piece of hardware that is easy to set up and can be used in a variety of different ways in any club with any set up. As it's a MIDI controller, it also stands to reason that it's not just DJs who can benefit from this control surface; lighting operators or VJs could also use this equipment as long as they have mapped the MIDI commands to their software. The lack of jog wheels seems to reflect their redundancy in the new age of beat syncing and quantizing, although it's possible to assign the faders to the pitch function of your software or some of the buttons as pitch shifters. Perhaps the most annoying feature of this controller is that to access its set-up mode you have to continually unplug and plug it into the USB port.
The Native Instruments Kontrol X1 is the most similar USB controller on the market to the K2, and a lot has been made of this. They both have similar dimensions (although the K2 is slightly larger) and both work from a USB connection to interact with Traktor and other pieces of software. But the Xone:K2 has more connectivity options due to the X link, more encoders, knobs and faders and, of course, the four channel soundcard, which is not present in the X1. The X1 though comes pre mapped and labelled to Traktor, while another competitor, the Native Instruments F1 controller, ships with the latest version of Traktor Pro 2.5. The build quality of the Xone:K2 is very high, and although there has been some quibbling over the gap in the casing between the sides and faceplate, its flexibility and connectivity give it a real edge. As long as you have the time and energy to find a mapping that works for you and you can keep a cool head in the heat of the moment, then this controller could be for you.
Robin Lee   

Specifications:
| | |
| --- | --- |
| Dimensions | 13.5 cms x 35.8 cms x 3 cms |
| Weight | 1 kg (1.5 kgs with case) |
| Power | USB powered |
| System Requirements (Mac) | Class Compliant Midi/4channel audio device. 1 x USB port required |
| System Requirements (PC) | Class Compliant Midi/2channel audio device for Windows. 1 x USB port required. 4 channel operation requires installation of ASIO drivers for Windows2000/XP/Vista/Windows7. |
| Controls | 6 x endless rotary push encoders, 12 x analogue pots, 4 x linear faders, 30 x backlit switches, 171 midi control commands over three layers |
| Connections | USB, X link in, X link out |
| Software | Allen & Heath Xone:K2resources disk (including drivers and mappings) |
| Compatability | Traktor, Ableton, (virtually any DJ software or DAW) |
| Output | 2 x RCA outs. 1 x 3.5mm headphone out. |
| Sample/Bit rate | 44.1/48kHz , 16 bit |
| Audio Interface | 4 channels |
| Ships with | Hard foam case (doubles as a stand) |