Space travel, foie gras poutine and church bass: MUTEK 2012 in review
MUTEK, the premiere festival of digital creativity and electronic music kicked off its 13th edition with a carefully curated programme including 130 performers including 3 world premieres and 15 North American Premieres.  We sent Toronto native Steve Phillips on a road trip to Montreal to witness, among other things, Jeff Mills' new project, Minilogue and Mathew Jonson's live show, Clark's unpredictable mayhem and memorable DJ sets galore.

Thursday May 31
Nocturne 2
Shackleton, Monolake, Jeff Mills
The six hour drive from Toronto to Montreal is always a fun one, especially when you know the final destination is the beautiful Metropolis club, hosting three heavyweights of sound exploration banging out their craft.  Having missed the opening night of MUTEK with the Apparat Band, my photographer Roland and I were even more keen to get things started.  This year two events were happening simultaneously, so we had to forgo the hip-hop infused bass antics of Shlohmo, Salva and Paul White in favour of the main event.
Shackleton's return to Mutek after five years got things started with dark, percussive madness similar to the vibe of Badawi's set last year, but with 10 times the energy. Sam Shackleton exuded pure energy behind his laptop as he broke things down and reset the atmosphere mid-set. His big finish perfectly set the tone for the bass rumblings to come from a legend in this game. Multi-disciplinary artist Robert Henke presented his project Ghosts in Surround Sound with stunning visuals to an enthusiastic crowd.  Precise, relentless 4/4 beats and dub-tinged metallic echoes later gave way to Photek-style drum and bass beats with piercing bass. It was good to see Henke's ear-to-ear grin and hands in the air acknowledging the crowd; seeing the artist enjoy the set just as much as the crowd, especially at a festival where it's all too easy to remain po-faced, truly added to the experience.
We all know that Jeff Mills is a space traveling alien who makes techno soundtracks for the whole universe, right? With a lunar themed backdrop, Mills presented his Messenger/Sleeperwakes show crouched on the floor before a semi-circle of five Pioneer CDJS, a mixer and a 909 drum machine.  Mills' intricate repetitive tones still have this uncanny ability to seduce his audience and sending the MUTEKers into a frenzy.  Having seen Mills play many times – as far back as the second Sonar Festival in '98, I must say this was probably the most captivating performance yet.  On several occasions, Mills took us back to the infamous 909 and banged out some stompy beats synonymous with his earlier productions. However, what makes Mills so great is that he is a risk taker – always exploring new terrain like the intrepid space traveler he is.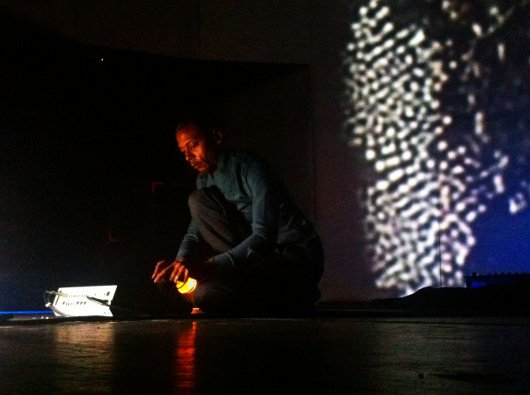 Friday, June 1
Nocturne 03
Deniz Kurtel, Nicolas Jaar, Jimmy Edgar, BNJMN, Kode9 
After attending a creepy, dark audio/visual performance earlier in the evening by Roly Porter, one half of Vex'd, we were more than enthused to get back on the dancefloor. Back at the club Metropolis, we walked into a slow, sultry synth pop set by Deniz Kurtel. Since I had only known Kurtel's work with Crosstown Rebels and Wolf + Lamb, I was expecting something more upbeat and tech-housey.  However, the crowd up front were head nodding along to her set which as a opener was paced well to prepare the crowd for MUTEK darling Nicolas Jaar.
Having performed at past MUTEK events in Montreal, Chile and Spain, Jaar this time debuted his three piece band of keyboardist/electronics, guitarist and saxophonist. Opening with a dramatic abstract number, Jaar and crew kept slowly building things up and letting it pop to a crescendo as the jam-packed dancefloor hopped in unison.  The sombre guitars and playful sax were held together by the conductor Jaar, who slowed down and sped the pace up on the fly. This sense of musicianship in electronic music is a welcome path, and his heart throbbing style had many glued to his every move on stage, phone cameras steadily in hand.
As much as I would have liked to have seen the Canadian premiere of synthpop electro don Jimmy Edgar (who apparently played a non-MUTEK afterhours party til dawn), it was off the the Societe des Arts Technologiques (SAT) around the corner to catch one of my all time favourties, Kode9. Having sacrificed seeing BNJMN for Nicolas Jaar, I was able to catch the phenomenally crunchy, funky, bassy anything-goes set that Kode9 pummeled us with for two hours.  Kode 9 played MUTEK five years ago and introduced many festival goers to that exciting dubstep/bass sound brewing in the UK.  I view Kode9 DJ sets as a barometer for what is what in the murky waters where bass, house and techno converge. The dance floor was loving every minute of it, even when he pushed the tempo higher and higher before bringing it down with some reggae inspired bass. Mr. 9 set had the crowd calling out for encores as he closed out the club.
Saturday, June 2
Experience,  A/Visions 4 and Nocturne 4
Basic Soul Unit, KiNK, Tim Hecker vs. Stehen O'Malley, Slowpitch, Roll The Dice, A Guy Called Gerald, Minilogue VS. Matthew Jonson, Krause Duo, Keith Fullerton Whitman, Clark, Container
Saturday at MUTEK is where things completely let loose from day 'til dawn. Knowing the scale of what's to come, we had proper meals of the best pork, coriander and shrimp dumplings in Montreal as well as foie gras poutine (french fries with gravy, cheese curds and foie gras). In the late afternoon, we enjoyed the live show of Basic Soul Unit who brought his Detroit inspired warm sounds and acid squelches. BSU has been honing his live show, which has been well received in Berlin and other European cities this year.
The most beautiful venue award without a doubt went to St. James United Church, a towering site with a stunning interior and enormous pipe organ. Canadian ambient/experimental sensation Tim Hecker performed with Stephen O' Malley of the experimental wizards, SUNN O))).  While packed in the church pews, Hecker's thunderous electronic discordant drones rose and erupted before the alter like the second coming of sound. These sounds were amplified even more by O'Malley's treated rock guitar strums. Ironically, the room's largest structure- the organ – emitted the most quiet sounds as Hecker and O' Malley's sonic blast caused many to leave during their set – not out of displeasure with the sound, but more out of human aural tolerance and safety.
Next up was the final Nocturne event back at Metropolis, where Toronto based improv beatologist/turntablist, Slowpitch won over the crowd with improvised beat scratching, general swagger and banter between songs.  Definitely a Mutek highlight, Slowpitch is like a version of live Flying Lotus minus the excessive "one too many beats" craziness. Swedish Analogue electonics duo Roll the Dice came on stage looking like dirty coal miners with grease on their arms and face and scruffy beards. Their dark narrated intro exploded into reverberated wails of guitar –electronic riffing, which reminded me of the Weatherall produced band Fuck Buttons but with more wires and knobs.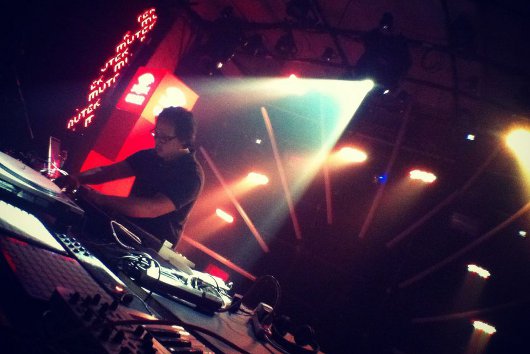 A Guy Called Gerald, legendary 808 co-founder and acid king extraordinaire started his live set with some funky house rhythms before gradually getting harder and taking us into a drum and bass journey. Although technically, his set was fine and had a groove, personally I was in the mood for hearing music a little more adventurous and boundary pushing.  So off I was around the corner to catch Warp veteran Clark. Playing several tracks from his latest album, Clark's full- on ravey, wonky set was perfect for the venue under a planetarium-style dome with projected moving visuals only adding to the psychedelic experience. Clark's set was the first set where I saw a portion of the dancefloor totally let loose like mad peeps ingesting bath salts – but in a positive "this is my sound" kind of way. I was told by several friends that Nashville-based Lo-Fi texture crusher Container followed with an intense, over the top set which to some bettered Clark. There was only so much heaviness I could take, so I had to shuffle back over to Metropolis to catch Minilogue vs. Mathew Jonson. Their set was a deep, deep tech-house affair that tugged at MUTEK's heart stings from beginning to end.  The chugging sound and lush synth washes totally hit the spot; a collaboration not to be missed if they take this show on the road this summer.
Krasue Duo from Jena, Germany – same town as my heroes, Wighnomy Brothers – capped off the night with a three hour DJ set that kept us dancing til dawn. Their booming basslines in their vinyl selections all had an undeniable funk to it that kept the place packed until the end. Having released on such fine labels as Sonar Kollektiv, Compost and Philpot, you just knew they would have the proper 3am groove to keep things going. Without sacrificing anything, Krause Duo even slowed down the pace for the last 30 minutes so the MUTEK revelers would properly be able to walk home or to their hotels without the exploding eardrums/aching feet feeling we all know and hate. Krause Duo definitely emerged as my winner of "the surprise non-stop dancing, they rock" award at this year's MUTEK (last year's winner was Electro Guzzi).
Sunday, June 3
MUTEK Piknic
Benoit & Sergio, Wolf + Lamb, Nicolas Jaar, The Mole, Mathew Jonson
Every year, MUTEK co-hosts an outdoor picnic on an island south of downtown Montreal. Surprise guest Nicolas Jaar played some heady electic sounds from Brian Eno to Beach House to warm the crowd up, while Benoit & Sergio were truly feeding off the crowd and enjoying the open air vibe as they vocalized live over many of their quirky tracks. Wolf + Lamb came on next starting with Stevie Wonder's "Last Time Paradise" before mixing in Little Dragon's "Chrystalfilm".  Perhaps the most fun moment was when they played the mash-up of Whitney Houston's "I Wanna Dance With Somebody" accentuated with "Numbers" by Kraftwerk. Perfect Sunday afternoon music.
Nocturne 05
No UFOs, Farben, Alex Smoke presents Wraetlic, Public Lover, Dave Aju
The Grand Finale at MUTEK saw Farben (Jan Jelinek) add funk to his micro house induced live set. Fun stuff from a serious looking guy. Alex Smoke presented his new live moniker, Wraetlic – a dark, synthy affair with live mutated Burial-esque vocals. Public Lover – the husband wife duo of American techno chameleon Bruno Pronosato and French Singer Songwriter Nica Leece – charmed Mutek with their romantic tech love songs that had the crowd truly dancing one last time to end the 13th edition of MUTEK feet in motion and all smiles.
Review: Steve Phillips
Photos: Roland Gonzales