Comprehending the Cult with Capracara
Hype and expectation have warped how we appreciate music, with far too much analysis placed on the quantity (or lack thereof) of musical content from any particular artist. This is of course required to some degree to provide context, but the creation of music is not necessarily something that can done to a regimented schedule; the disciplines involved vary from artist to artist, and besides, sometimes the number of releases is the least interesting element to an artist.
This much is certainly true of Jonathan Burnip, an understated London-based producer who trades under the eminently tropical alias Capracara. The stark fact that releases from Capracara have been few and far between since he emerged with Opal Rush on the Soul Jazz imprint back in 2006 is overshadowed by the impressive labels he has worked with – ranging from original material on DFA, Fine Art and Unknown To The Unknown to remix commissions for Rush Hour, Warp and ThisIsNotAnExit. But dig deeper and the network of links between various labels and artists that surround Burnip casts him as one of many producers out there for whom a sense of community is just as important as the tangible product upon which they are judged.
The motivation to contact Burnip originated with discussing the History Clock label he runs with fashion set DJ Nathan Gregory Wilkins. Since its establishment back in 2008, History Clock has grown from a largely edit-based output into a label that focuses more on original music, without any genre specific remit and accompanied by distinctive artwork from Susumu Mukai aka the seemingly Missing In Action producer Zongamin.
Quizzing him about the establishment of the label, Burnip reveals the two met while working at London record shop Sounds Of The Universe, drawn to "each other through sharing a similar, cynical outlook on life".  "We started making tracks together, and after amassing a reasonable amount of productions – of varying quality, might I add – thought it would make sense to release some of our favourites."
Those first few releases as Fitzcarraldo Variations were followed by further edit-based vinyl only output from It's A Fine Line (described by Burnip as "something that sounded like Basic Channel remixing Elton John"), Hardway Brothers and Phoreski under the Tarnished Thighs alias, though the label's most recent output has seen them move towards original productions from DJ Parejas and Raudive, as well as embracing digital releases. When it was put to him whether the former freed them of copyright concerns to adopt the latter, Burnip responds with a most interesting explanation, stating "it was important for the DJs Pareja release being available on all formats. As part of Matias Aguayo's extended Cómeme family, DJs Pareja's music would get played globally at the BumBumBox parties – this meant that, for logistical purposes, it was important for their music to be available in digital formats."
The connection to Cómeme is a long-running one which also dates back to Burnip's time at Soul Jazz: "I've known Matias for a long time now. When I was working at Soul Jazz records, we put a single out by him just after his album Are You Really Lost; our friendship was established from this point." He goes on to explain the two share a love of similar music, while Aguayo has also opened Burnip's eyes to the multitude of music indigenous to Central and South American. For this writer, Cómeme has been one of the best labels to emerge in recent years, focusing on a distinctive sonic approach, despite the broad reach of the artists involved, and it's something that Burnip feels too, stating that Aguayo "has a totally unique aesthetic and dogma to releasing stuff on the label".
Burnip's involvement with Cómeme was originally focused on helping out at Aguayo's parties throughout Europe and South America, including taking the BumBumBox street party ethos to Newcastle as part of the Vamos! Festival. That has changed recently, with a Capracara collaboration with the label's District Union collective on a soon-to-drop compilation EP, alongside DJ Pareja and Cowboy Rhythmbox, the intriguing combination of Nathan Gregory Wilkins and Richard X. There is further Capracara material planned for release on Cómeme in the future as well, dovetailing with another emergent label force with its own distinctive approach in Unknown to the Unknown.
Overseen by Hot City's DJ Haus, Unknown to the Unknown has taken on the appearance of a unstoppable juggernaut since its foundation some time last year – so much so that Discogs can't keep up with it. Burnip reveals the two have been acquainted for some time and admires Haus's tireless approach. "The label is very prolific, but he works his arse off on each release, making sure that promo gets done.  He also wants to get the tunes out there instead of sitting on them for months." This is an approach that obviously appeals to Burnip, stating he's more than "happy to put stuff out through UTTU and I plan to continue doing this". While "House Of Dolls" remains the one original Capracara release to emerge on Unknown To The Unknown, it has been complemented by perhaps the most idiosyncratic of remixes in recent times by Trunk Records proprietor Johnny Trunk. And there is apparently plenty more material in the pipeline, including the intriguing prospect of a collaborative project with another underrated talent, Brassica. While still very much under wraps, their debut release together is due soon on the label with the promise of more to follow.
Alongside this, there is Churchill's Leopards – a collaborative project that Burnip's been working on with Joel Martin of Quiet Village fame, and talked about in vague tones for several years now with little actual music to show for it. Given the musical heritage of both Burnip and Martin, the exact nature of their work together is intriguing and to date, the only output from Churchill's Leopards has been "Hokushin", a contribution to Astigmatic Inspired By Chopin, an obscure compilation from Polish label 4everMUSIC that listed all manner of producers (Daniel Wang, The Glimmers and Krikor also feature) to switch up Chopin in a contemporary fashion.
There is new material from Churchill's Leopards on the horizon and it's this moniker, taken from an obscure 1970 Italian film of the same name, that leads us to another of Burnip's passions: genre-based cinema curiosities. If you follow Capracara on Twitter then it's likely you will have seen him discussing some of the more obscure horror films that have surfaced since the dawn of cinema, and while he portrays himself as anything but an expert on the matter (freely crediting the video collections of individuals Cherrystones and Iron Triangle's Lovely Jon for inspiration), we thought it would be interesting to get Burnip to run through his ten favourite films that, for one reason or another, remain the vanguard of the cult fan.
Freaks, cannibals and lost souls – Capracara's top 10 horror classics:
Freaks (1932):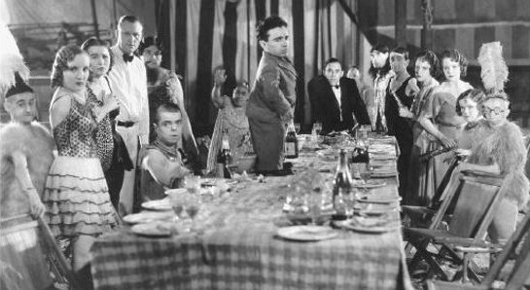 "Jaw-dropping horror from the pre-code era of Hollywood; also banned in the UK for 30 years after its release. Freaks tells the tale of the unfortunate affair between a beautiful trapeze artist and a midget while working in a sideshow. Most notably, the director, Tod Browning actually cast people with deformities over using prosthetics and make-up. The film ends in a shocking (even by today's standards) finale."
Island of Lost Souls (1932):
"Another shocker from Hollywood's pre-code era. Discovered after I was recommended the deluxe Criterion DVD issue, this film tells the tale of Dr Moreau (Charles Laughton) and his attempts to change human evolution via hideous human experiments – Bela Lugosi appears in this as one of the human abominations. Needless to say, things don't end well for the doctor in the film's violent and horrific climax."
The Innocents (1961):
"Jack Clayton's thoroughly disturbing masterpiece shows why you don't need gore to shock in horror. The Innocents is the perfect 'chiller', employing atmosphere and suspense in the place of special effects. Deborah Kerr masterfully plays out her character's paranoia aroused by a dark secret held by the two central child characters – both equally well-acted. Sophisticated and enhanced by sepia-toned, black and white filming, a subtle level of fear is maintained throughout until its shocking and revealing climax. Cult TV and cinema figure, Peter Wyngarde, is also cast very well in this."
Witchfinder General (1968):
"The legendary Vincent Price plays the sadistic Matthew Hopkins, who, in the time of England's civil war, took great pleasure in persecuting so-called 'witches'. Notably, this was released as the same year as Hammer's The Devil Rides Out, marking a new, more progressive era of horror in the West (the likes of Teruo Ishii's absolutely shocking Shogun's Joys Of Torture of 1968 must also get a mention alongside Polanski's Rosemary's Baby of the same year). Hammer stuck their familiar formula, but Michael Reeves' (who directed The Sorcerers with Boris Karloff a year before) Witchfinder General employs a much more sinister tone for this absolute masterpiece, setting a precedent for the future of horror film."
The Last House On The Left (1972):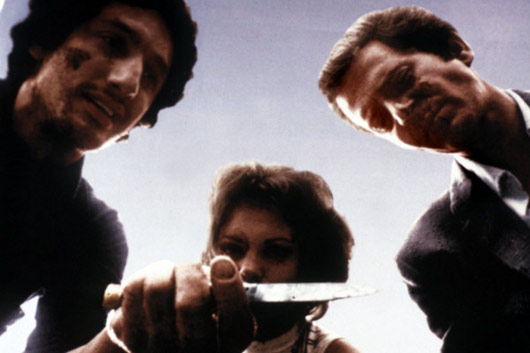 "As much as I love this film, I've also included it in memoriam to the film's lead and soundtrack composer, David Hess, who sadly died last year. Maybe not as controversial as one of the titles to follow, but Wes Craven's directorial debut still shocks now as much as it would have the grindhouses of 70s Time Square.  The plot centres on two teenage girls from upstate NYC who decide to celebrate one of the girls' 17th birthday, downtown. Oh dear. While trying to score some grass, the girls fall into the unfortunate company of Krug (Hess) and his thoroughly unpleasant associates. The violence, sleaze and horror ensue, and the girls are subjected to a thoroughly grim time."
Prey (1978):
"For me to write about ten of some of my favourite horror films, then I must acknowledge two very good friends of mine. Both, 'Lovely' Jon Casbard and Neil Sceeny must have, between them, the most definitive and vast, genre-based film collections in the UK, and knowledge too. They have introduced me to a wealth of obscurities over the years including the works of Norman J. Warren, a British director who worked on this title, Prey, in 1978. The plot: a shape-shifting alien character, played by cult British actor, Barry Stokes, stumbles upon the lives of two women holidaying in rural UK while carrying out his mission, instructed by a 'higher command'. The film plays out to a brilliant electronic score by Ivor Slaney (re-issued on Moscovitch Music with the score to another Norman Warren classic, Terror) with excellent characters; Sally Faulkner plays the bitchy, obsessive and confused Josephine, while lesser-known Glory Annen plays Jessica, the more naïve, submissive presence. Prey has some brilliantly unusual scenes, great dialogue, an awesome score and a particularly nasty finale."
Cannibal Holocaust (1980):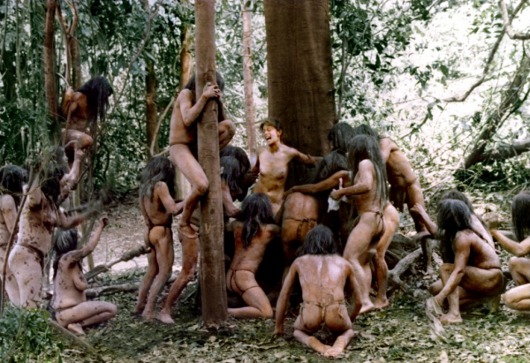 "This list would not be complete without the inclusion of this controversial 'video nasty'; having the accolade of being one of the 39 films banned in the UK by Director of Public Prosecutions. Famously mistaken for being an actual 'snuff' movie, director Ruggero Deodato landed himself in further trouble by filming scenes of appalling animal cruelty. Only the likes of Fred Vogel's infamous August Underground series spring to mind when considering other films that have come close to equalling the original, unsullied horror of this quite remarkable film. Lest we forget Riz Ortolani's superb electronic/'uneasy' listening score being an integral part."
Razorback (1984):
"I saw this film initially as part of Alex Cox's lamented Moviedrome series on BBC 2 when I was quite young. I loved the imagery, especially the incredible cinematography and the whole dreamy atmosphere that this film seemed to conjure, set in what seems to be an eternal twilight in the Australian outback. The film concerns itself a giant pig on a killing spree and its pursuit – not the most inspired sounding plot – but the dazzling imagery and memorable performances (especially the two maniac Baker brothers who work in a local dog food factory by day and are kangaroo poachers by night) make for a highly entertaining 90 minutes."
Society (1989):
"I have fond memories of being repulsed by Screaming Mad George's special effects in this film, and others by Brian Yuzna/Stuart Gordon such as Re-animator, From Beyond and Society – the latter being a particular favourite. A clever satire starring a pre-Baywatch Billy Warlock playing 'Bill' who has concerns about his increasingly strange family mixing with LA's upper class. His fears are realised at a party one night that ends in utter chaos and the most bizarre mayhem."
The Mist (2007):
"I love a downbeat ending, and this film certainly has that. Frank Darabont's ambitious adaptation of the Stephen King short failed to impress the studio (hampered further by Darabont insisting that it was shot in black and white – to which the studio refused funding), thus being poorly distributed and becoming a flop. However, this horror has now gained cult status with its grim finale and cool Lovecraft references. Personally, I think it's one of the best horror films of this millennium."
Interview: Tony Poland