Morphine prep Upperground Orchestra live album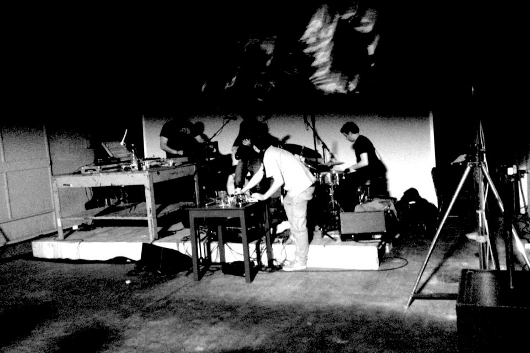 Venetian imprint Morphine are preparing a new series of live releases with an album from Upperground Orchestra, the cosmic jazz outfit spearheaded by Rabih Beaini aka Morphosis.
From his Venice base, the Lebanese producer has developed into one of the most consistently interesting artists working within the electronic spectrum, gracing labels such as Delsin, M>O>S Recordings and Dekmantel with some fine material in the past 18 months; "Impulse", his contribution to the latter's Anniversary Series, was a particularly well executed exercise in jittering techno paranoia, while 2011's What Have We Learned LP was one of the year's finest techno long players.
The Upperground Orchestra collective, established back in 2002, is perhaps Beaini's most intriguing project. Set up alongside Alvise Seggi and Max Bustreo, the Orchestra is a fluid collective of self titled "formidable Jazz nomads" whose line-up changes from session to session, and to date have only released one 12″,  the Solaris Emerit EP which dropped on Morphine back in 2008. The forthcoming six track album entitled The Eupen Takes follows on from the release of an excellent 12″ by Morphine which saw Donato Dozzy and Hieroglyphic Being rework material from the label's back catalogue with compelling results.
Tracklisting:
1. Born Again
2. Memory Shark
3. Distorted Spread
4. Into The Dust
5. We Travel The Lands Of Stars And Dust
6. Kamanja