RBMA launches festival series with film premiere at Land Of Kings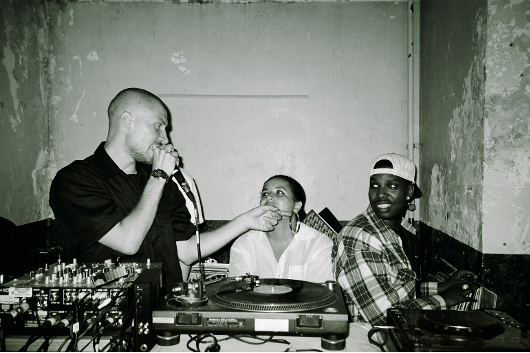 The Red Bull Music Academy recently announced a series of London festival appearances which will launch with the premiere of Let Us Be Golden, a film shot during the 2010 Red Bull Music Academy, at the Land Of Kings festival in Dalston this weekend.

Directed by Colin O'Toole with production from music journalist Miranda Sawyer, Let Us Be Golden hones in on the daily struggles of a budding musician and features Eglo duo Alexander Nut and Fatima. The film airs on Friday, May 4 at the Arcola Theatre, complemented by a director and producer Q&A, DJ set from Alex Nut and a full live set from the Eglo Live Band featuring Fatima and Oliver Day Soul.
In anticipation of the event, we grabbed a few minutes with Alex Nut to discuss his (inadvertent) role in the film, how it reflects life in London for a budding musician and what the coming months have in store for all at Eglo Records. Those eager to catch the film premiere and everything else at Land of Kings should head over here for a chance to win a pair of weekend passes.
Hi Alex, tell us a bit about your involvement with Let Us Be Golden – how did it come about?
I was inadvertently involved, it was all about Fatima, but obviously she's signed to our label and at the time of it being filmed (about two years ago) we were living together. (At the time) our house got flooded, and then it was all drama, and they got it on tape. It was a pretty tough time, but trust me, it was over two years ago and a lot has changed.
How successful is the film in showing a honest portrayal of the daily struggles a budding musician has to undergo in London?
I don't know, I guess everyone's experience is different. But as you'll see in the film, me and Fatima have had to grind hard. We've been through some hard times. But we've been though amazing times too, our music is loved in many different countries and we are fortunate enough to travel around the word as a result of that. Musicians are mostly lazy anyway, and a lot of them don't really know what it's like to graft in the real world. So I can't say the hardships of being a musician are in any way close to the hardships and struggle or the 9-5 real world. I've been on both sides of the fence, and I know which one is easiest and most rewarding. I can't live a life without creativity,  so really this is the only line of work I can, and I am grateful of everything I've been doing, the support and the appreciation for the label and the artists on it. I count my blessings every day.
You celebrated Eglo's 3rd birthday party at Fabric in March. The music that night connected the dots between everything Eglo stands for – jazz, soul, house, techno and hip-hop – it must have been a pretty proud evening for you and the artists?

I loved it, super happy! And yeah I agree, having so many of our artists perform and DJ on the same stage and having our guest and one of our inspirations on the set – DJ Dez Andres – really put everything into perspective. I haven't been to a night like that in a while. There was definitely a lot of vibes and spirit floating around the room. It was a pretty special night. I can't wait to do it all again.
You guys just dropped a stonking three tracker of analogue soul from Gifted & Blessed – how did this relationship start and will he be releasing more stuff on Eglo in the future?
I hope so, fingers crossed. Well, GB has always been an huge inspiration to a lot of us on the label. I had intended to have a GB track on my Rinse CD but for whatever reasons it didn't happen. We got chatting online, and my friend Femi from NTS/Nonsense had brought him over to play at Plastic People before so we had a connection there. When he came over for his recent European tour we booked him for an Eglo night and got him on my Rinse FM show… the rest is history. He's definitely one most amazing producers out there and just a great person all round.
Speaking of Eglo's future there's been hints that Eglo are working on a compilation for release later this year, what else do you have planned?
Well if I told you everything that wouldn't be much fun would it, but yeah, we have a double CD compilation coming soon. We have a joint EP with FunkinEven and Fatima, more from Mizz Beats, loads of shows with the Eglo Live Band, all the festivals over the summer… plenty of parties and jams coming up. A tour later in the year too – guess you'll just have to keep your eyes peeled and your ears to the ground.
Tickets and more info on Land Of Kings can be found here.