Juno Plus Podcast 33: Kevin Reynolds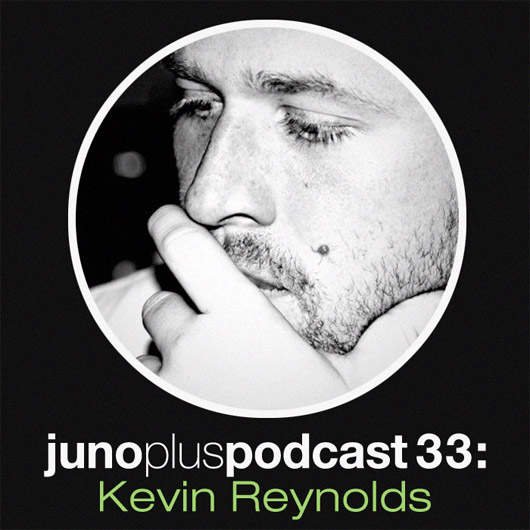 "Techno is jazz." Juno Plus Podcast 33 is a storming live set from Detroit-based producer Kevin Reynolds.
Reynolds swooped onto our radar last year with the crunching machine soul of his Liaisons EP, released on the fledgling Nsyde imprint and a high ranker in our Best Tracks Of 2011 list. The effusive tones adopted for that feature remain true today, with the twelve inch a mainstay in our respective record boxes. Wanting to know more about this obviously talented producer, we were naturally delighted when Reynolds accepted the offer to join our podcast series, more so when he revealed a preference for recording a live set instead of a mere mix.
In addition to treating us to a live set that ebbs and flows its way through filtered house, funk and disco, Reynolds engaged us with a series of answers drenched in illuminating detail, revealing this year to be filled with exciting material from him on labels as excellent as Future Times, L.I.E.S., Boe, Creme and more, as well as shedding some light on life in Detroit, that most fabled but troubled musical city, in 2012.
Thank you for recording this set for us – can you tell us a bit about some of the equipment and material used over the course of its duration?
I recently changed from using a strictly analog setup to using Ableton Live. I used to use an Ensuing EPS-16+, then a MPC, then a Yamaha RS7000. I was touring in Holland seven years ago and I had my gear strapped to my chest and back looking like some dude from Special Operations, and I looked down at my $2700 Mac and say "what the hell is this for, checking (back then) Myspace?" After that I purchased Ableton. It sat on my computer for years. Then back in 2011 I decided I needed to switch over for many reasons, the main was power supply issues. I played in London back in 2008 and my TR-808 caused the power converter to fail. I didn't want that to happen again. I had a conversation with Brendan Gillen and he convinced me to get an APC40. "It;s like using analog shit" – sold. Then the Maschine came out; I pretty much compose all my music in Maschine and then dump it into Ableton. I also love Arturia, that shit sounds so real. And all the U-he stuff is straight.
How are things in Detroit these days?
Sometimes, when you are in Detroit you forget that people outside the city actually care what you are doing. Detroit is going through a hard time – more than usual – as the state is taking over our city in a dictator-like fashion. Now, more than ever my music reflects the hardship we are dealing with. My democratic vote is worthless and I'm frustrated, so forgive me if my music comes at the people in a harsh way but that is just my environment coming through. I live in a city where I pay ridiculous taxes on par with the richest suburb, yet I receive nothing in return. I call 911 and the police show up seven hours later. But on the other hand, we are a resilient people here and have nothing but hope and love on our minds. There is a full on farm behind my house with turkeys, chickens and ducks. Things will pan out in the end. People tend to believe that we are a hyper post-capitalism society. We already spent through industrialism in the 1980s and now, some say Detroit is once again the model for the future.
Let's discuss what convinced us to get in touch with you, last year's Favis reissue on your own label and the Liaisons 12" on Nsyde, which was your first new material to surface in several years. What made you decide to return to the art of releasing music and what had you been up to in the interim?
I make music every day. What did KDJ say? "I go home and fuck that MPC all night long." Words to live by. Richard Zepenzauer of Nsyde was extremely influential in getting this music out of me. He kept on coaching me about the tracks, to a point of he was driving me crazy, in a good German way. He would ask for so and so changes and I was like, "what is he talking about?" It got so bad at one point that I lied and said I made changes when I didn't just to see if he was paying attention. Never do that to a German! He totally called my bluff. I love Richard for that, his patience is incredible. When I was younger I used to make music and beats and then at the end of the day I would simply turn off my Ensoniq in a Buddhist type Samsara thing. Didn't save anything. It taught me how to compose on the spot. I am my hardest critic. I think all my music sucks until I have that magic moment in the club where it just makes sense. Detroit is a practice ground, people will say you suck to your face and I love that. I did a lot of work in the interim, a lot of listening. I mean I had guys like Gilles Peterson telling me he liked my music; that alone blew my mind. I feel blessed that I had the unique opportunity to have Osunlade guide me. He has taught me to stop being so technical and focus on the feeling at the end. Derrick May taught me to not listen to the rules, in fact run against them. So between them I feel like I'm reaching somewhere special.
We should add we are very glad you did, as "Liaisons" is an amazing track, the way the harsh textures sit with the chords is enchanting, were you surprised at the response it has garnered?
Again, I thought it was 'whatever'. I did make that song based off a neighbour kid coming by the house. Now he was a straight Lil' Wayne Jeezy kinda dude at 17 years old. I was on some "you youngins don't know shit" vibe and showed him Liaisons Dangereous. He took two steps back and was like "what is this?" Yeah that's how I felt the first time I heard it. I was inspired by that to make "Liaisons" and "Port". I feel it's so important to focus on young people to carry our tradition on – look at what Mike Huckaby is doing with Youthville.
There's a definite improvisational feel to "Liaisons" – is your recording process based around an idea which you then expand on sat in front of your equipment?
Always improv. Techno is jazz. Don't get it twisted, this music that we do is inherently from Africa and what happens when music gets to the US shores, it turns into gospel, then blues, then jazz, then Motown, then funk, then hip-hop and techno. I might be Irish American but African influences are all around me, and I'm adding my Irish funk to this stew. That's how the Jazz guys did it and that is how I'm going to do it. Again I was just trying to emulate what Liaisons Dangerous did before me. Next to Kraftwerk those cats are untouchable. I'll never forget Derrick May playing that album for us up above Transmat in his loft. I could hear how Carl Craig freaked that sample. It just gave me inspiration.
"Techno is jazz. I might be Irish American but African influences are all around me, and I'm adding my Irish funk to this stew"
That is obviously the prelude to a number of releases from you this year across an array of labels, can you discuss these with us or do they need to remain under wraps?
Well I have something coming out on Love What You Feel, and then BOE, Future Times, L.I.E.S., D Records, Transmat and an album on Yoruba. I've never been this busy.
You did vocals on a track by Alex Israel – how did that come about?
Alex asked me to do some lyrics about my life in Detroit. Alex is a full on Detroiter, he has been involved the Detroit hip-hop scene for a while. He approached me to talk about the happenings in my hood and I said yes. The song was about all the damn plastic bags in my neighbourhood and about some crackhead peeing on my fence. Just a song about frustration – everybody can relate to that right?
From doing some research I found out you used to read Jockey Slut (a personal inspiration) and actually used a copy to persuade your liaison officer of the necessity to undertake a studio internship in Detroit – it sort of blows my mind that you could get Jockey Slut in Arizona!
Jockey Slut was the bible in my opinion. I remember not having shit and me and my roommate Sam Courtney sitting in the living room with a Jeff Mills tape flipping through Jockey Slut going: "Man how do we get to this level." This is before the internet. I used to read The Source, the hip-hop magazine like, it was a bible, but when Jockey Slut came out that was my shit. So when I graduated Audio Engineering school at the Conservatory, I told them I wanted to go to Detroit. Pauses, lots of pauses. I was like "you don't understand, this music is changing the world." Again this is before the internet. "Kevin, don't you want to go to L.A. or NYC? Nope. Detroit. I tried for Planet E and then Metroplex. No dice. Derrick was willing to take me in. One day while playing basketball with him he goes in his high-pitched voiced "Kevin, we know why you are here".
I gather you've worked as a live technician at the Movement festival or DEMF as it was then called, for someone on the other side of the Atlantic what' the festival like?
I'm a stage manager. Real Detroit stage, go figure. And I'm damn good at it. In fact if I could do this for a living I would almost as much as music. The man who taught me everything I know is Michael Fotias. Mike is the man in Detroit – he taught me, above anything else, how to stand your ground. Back in the Richie Hawtin rave days, Mike (Foton) was the sound guy at all the parties. Now he is the main guy when it comes to sound at Movement. Nothing at that Festival doesn't pass through his ears. That guy is a genius.
The line up for this year's edition is pretty eclectic – is that indicative of how open Detroit is to new music these days ?
Detroit has always been eclectic. We grew up on Mojo. I don't need to say it here but Mojo was so important to us in Detroit. I have spent nights recoding him in my grandma's basement. There where no bounds. I think that rubbed off on me when I moved to East Lansing while my mom went to Medical School. I was surrounded by people from Sudan, Mexico, Kenya, Sweden… As a whole, people in Detroit have no idea about what Detroit techno is, you say "I play techno" to Cherise Stevenson and she will look at you cross-eyed. If you say I DJ down at the Tech Fest then she understands. DJ culture is huge in Detroit but Techno/House is not. Everybody in this city has a cousin or a brother that DJs, just like in the Motown days everybody had a cousin or brother that played a bass. But on another note, the cats I'm most excited to see are Actress and Lil' Louis. You know Paxahau, they caught a lot of shit in the beginning of taking over the festival, but these guys are doing it for the love. These guys transformed a haphazard festival into a full on production. They are professionals in every way. For that alone I could hug every each one of those guys. Paxahau has made Movement a beautiful thing.
(This mix has now been archived. You can still stream it via the Mixcloud player above)
Length: 1:01:25