Gatekeeper ready debut album for Hippos In Tanks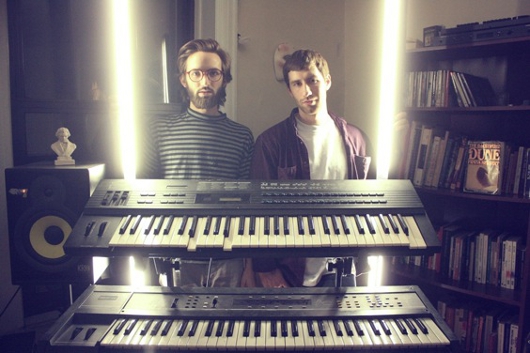 Hippos In Tanks will release Exo, the debut album from New York based duo Gatekeeper this summer which will apparently be complemented by a "first-person gaming environment" (via Pitchfork).

Formed of Aaron David Ross and Matthew Arkell, Gatekeeper's potent combination of EBM, Industrial and Giallo strains first surfaced on the Optimus Maximus EP, the debut release from Michael Mayer's Fright Records.
Gatekeeper then released Giza on the slightly more prolific Merok imprint, a six track EP (reviewed here) that first revealed the duo's desire to be viewed not as a band but an immersive audiovisual experience. The release was accompanied by a VHS tape containing each of the six tracks on the album, rendered in 3D by their visual comrades-in-arms Thunderhorse Video.
Those who enjoyed that Merok release will be pleased to hear Gatekeeper will be exploring those ideas further on Exo, with the Hippos In Tanks press release stating the duo "takes the exotic, outlandish after-hours of Giza to an entirely higher setting". Keen to expand on the immersive A/V themes, Ross and Arkell have commissioned Portland based visual artist Tabor Robak to design the aforementioned gaming environment in which one explores various worlds inspired by the album's tracks.
Hippos In Tanks will release Exo by Gatekeeper on July 17.
Tracklisting:
1. Imax
2. Exolift
3. Visitor
4. Bog
5. Vengier
6. Hydrus
7. Pre – Gen
8. Tree Drum
9. Dromos
10. Aero
11. Re – Gen
12. Encarta