Musikmesse 2012: The highlights
The annual gear-fest known as Musikmesse took place in Frankfurt last week, with a number of the industry's leading names revealing their big products for 2012.
Perhaps one of the biggest hardware debuts was from Roland, who showed off their brand new Jupiter-50 synthesiser (pictured above). Billed as a more portable version of its Jupiter-80 released last year, it features Roland's SuperNATURAL engine, which, in layman's terms means you can recreate anything from classic synth brass to classical instruments. Those still hanging on for a full analogue recreation of the JUNO will be disappointed, but those looking for a portable kitchen sink keyboard will be interested in checking out how it fares against its bigger brother. According to Roland, the unit will be available in June. No price has been announced but with the JUPITER-80 costing £2,700 we'd be surprised if it came in under £2,000.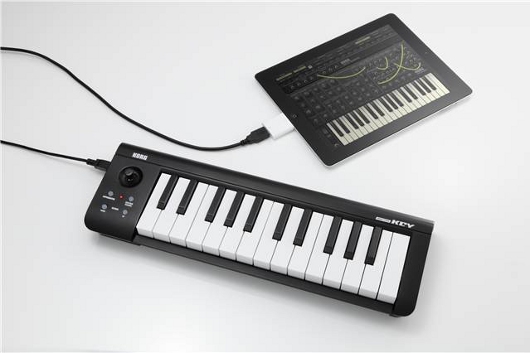 Although the JUPITER-50 would also be great for pretending you're piloting the Starship Enterprise, those who just want a basic, ultra-portable MIDI keyboard will be interested to hear that Korg have expanded their popular range of microKEY controllers. Previously only available in a 37-key model, there are now 25 and 61-key options, the keyboards are velocity sensitive, and can now be connected directly to an iPad (with the help of a camera connection kit). No firm date or price have been announced, but the 37-key version costs £69.00, so a sub £100 price point is expected for the other versions.
Those who are joining the increasing numbers of people making music with their iPads may also be enticed by the Alesis iO Mix 4 – touted by the company as the first device to allow a user to record four channels of audio directly into an iPad running GarageBand or another compatible CoreAudio app. The unit incorporates onboard connections, including four combo XLR-1/4″ input channels and balanced, stereo 1/4″ outputs, as well as a video output, opening up new visualisation possibilities during live performances. Again, no price or release date has been announced just yet.
Finally, Pioneer demoed their brand new RMX-1000 unit, something the company are describing as a "Remix Station". Essentially a hardware unit with effects and rhythmic sampling capabilities that can be incorporated into any DJ setup, it comes with a VST plug-in which allows further customisation of the unit's capabilities. If you're the kind of DJ who already uses effects, you'll probably have a mixer or software solution with capabilities built-in, but the RMX-1000 does look like it's a lot more fun to use (as demonstrated in the video below), as well as having the obvious advantage of resembling something salvaged from an alien spacecraft. It comes with a hefty price tag too –  it will land in June costing $999.