Scratching The Surface Pt. 2
Aaron Coultate explores some of Europe's far-flung electronic music outposts in the latest instalment of Scratching The Surface. Artists and labels from Norway, Greece, Estonia and Russia all feature.
In electronic music terms, Norway is probably best known for the clutch of producers irrevocably tarred with the 'nu-disco' brush sometime around 2006 – Lindstrom, Prins Thomas, Bjørn Torske, the Smalltown Supersound imprint – but one can't help feeling the deranged output of Sex Tags Mania is a more fitting torchbearer for a country where the sun drops in late November and doesn't reappear for two months.
Everything about the Sex Tags Mania is deliciously quirky and exotic. For starters, the track titles are superb; they're either refreshingly descriptive ("Distortion Buzz Funk", "Bass Drum"), succinct and memorable ("Afro Rat") or, best of all, in Norwegian. After all, what's more interesting to the casual English-speaking listener, a track entitled "I Feel Love" or "Assa Med Den Derre Floyta"? Precisely. Each record deserves to be read, re-read, analysed, sniffed inquisitively and held up at different angles many times before the vinyl hits the turntable. The label has a militant pro-vinyl, anti-digital ethos that's offset, vitally, by a sense of humour, and their affiliated webshop carries the uncompromising www.shitfuckyou.com URL. All of which says in a roundabout way that these guys are quite intent on doing their own thing.
It's unsurprising that labels like Sex Tags are adored by many who are regularly exposed to the inner workings of the music industry. Its subversive, guerrilla-like existence and anti-PR stance is frankly irresistible to a music writer, like the scent of out-of-reach human blood for a thirsty vampire, providing a counterpoint to the daily deluge of copy+paste PR emails and half-heard promos. The latest missive from the Sex Tags crew came from the label's enigmatic frontman DJ Sotofett. Pulehouse was released on the Wania imprint, another affiliated sub-label, although the precise link between Wania and Sex Tags remains hazy. The title track was a milieu of 808 snares, chirps and chirrups soldered to a deep-as-fuck bassline, although it's the B-Side track (the aforementioned "Assa Med Den Derre Floyta") that lingered most: a drunken flute formed the centre piece around which all manner of jangling percussion and barely-there kicks form a twisting, loopy, hypnotic groove.
A leaflet in the previous Wania 12" (see picture above) described Pulehouse in endearingly broken English as "killer 909 hip-hop crisp" and "new psychedelic flute house". If you're the kind of person who gets excited by such things as printed paper inserts then you'll know full well the feeling of glee that occurs the moment it drops out of the record sleeve, and it was even more pleasing to discover these predictions were on-point.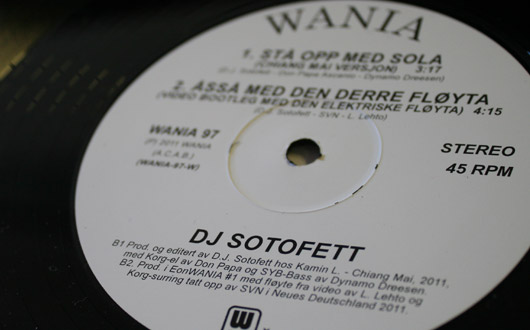 Equally impressive this month was the latest release from Greek label Echovolt. If the US-based L.I.E.S imprint had a European sister label it would have to be Echovolt, run by Ilias Pitsios. The two labels have already shared a lot of production talent between them (Legowelt, Steve Summers and Jorge Velez have all released music on both labels), and Ilias even invited L.I.E.S. chief Ron Morelli to release a 12" on Echovolt last year. The latest release came from Italian producer Simoncino, one of those guys who honours the sounds and attitudes of Chicagoan jack with something approaching a religious fervour. His latest missive, WereHouse, contained two subtly jacking cuts ("Chicago" and "Ocean"), but the real standouts were the title track (a raw but snaking groove) and the subsequent remix from Legowelt, both of which were awash with colour and charm. There are plenty of producers whose reverence for what's come before them borders on nauseating, but the Italian producer's devotion to the cause – not dissimilar to that of countryman Marcello Napoletano – can only be applauded.
From Greece, let us now make a grand sweep east to Moscow, where Anton Zap's Ethereal Sound label has long been adept at putting out consistency intriguing music from a small family of Russian artists. The latest release, 777XXX from Eject Project (aka Moscow-based producer Arkady Marto), contained a mixture of modern classical compositions and windswept, desolate soundscapes pockmarked with electronic craters. (It's so good this writer spent the best part of five minutes nodding gravely at the beauty of the record before realising it was playing at the wrong speed.) Context and location are key here; it's safe to assume this music was made in Moscow, which for heightens the intrigue considerably. What exactly was Marto looking at when he composed these pieces? What is the view from his studio like? Is it humble or grand?
The fact such an avant-garde release has been released on an imprint with a deep house focus is equally admirable. It's nice to see Zap indulging his more adventurous side; he's already introduced our ears to the decidedly UK-influenced sounds of another Russian, Myown, who has an EP on the way for left_blank. It's always nice to see labels give a platform to a local pool of talent – Barcelona's Hivern Disc and Dresden's Uncanny Valley spring to mind – and Zap is providing an excellent home for a growing stable of artists.
To Estonia now, where Andrew Morgan's US-based People's Potential Unlimited label continued doing what it does best and reissued some mid 80s exotica, this time from the wonderfully named Uku Kuut. PPU converts will know what to expect – lovingly presented and repackaged obscurities – and Visions Of Estonia carries with it a naivety and rawness to both music and artwork (an old photograph of a shaggy haired Utu adorns the sleeve) that is instantly appealing. Tracks like "Dream Lover" have an almost folky charm, although it's the title track "Visions Of Estonia" that impresses most, its languid flute and gentle moog flourishes evoking dreamy, sepia-tinted images of Uku's home country.
Aaron Coultate