Gabriel from The Rapture unveils primate project
The Rapture's Gabriel Andruzzi has revealed a solo moniker in the bizarre form of DJ Druzz vs Omega Mus and will release an EP of what can only be described as Ape House on the Throne Of Blood he co-runs.
Having initially been founded as a label shaped conduit for material from The Rapture back in 2006, Throne of Blood has since grown steadily, releasing material from a transatlantic selection of Juno Plus favourites that include Bicep, Mugwump, Harkin & Raney and Populette to name but a few. More recently, Throne Of Blood have been instrumental in establishing the Let's Play House imprint along with Jacques Renault and sometime Juno Plus scribe Nick Mercer.
Andruzzi's debut as DJ Druzz vs Omega Mus is entitled Apeman and includes both the title track and the amusingly titled "More Fucking Apes" as well as remixes  of the title track from Black Catalogue boss Monty Luke and Bohemian Groove, the new collaborative project between Toronto based duo Jokers Of The Scene and Ville Haimala, one half of Finnish act Renaissance Man. In case you were wondering, we can confirm that both original tracks feature plenty of primate grunting.
Throne Of Blood will release Apeman by DJ Druzz vs Omega Mus on March 19.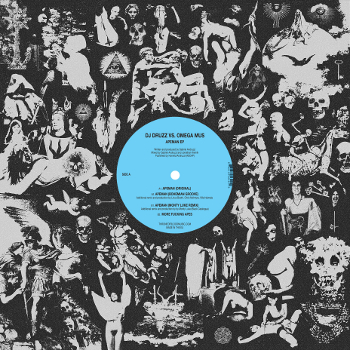 Tracklisting:
1. Apeman
2. Apeman (Bohemian Groove Remix)
3. Apeman (Monty Luke Remix)
4. More Fucking Apes