MPC Fly completes Akai's trinity of new controllers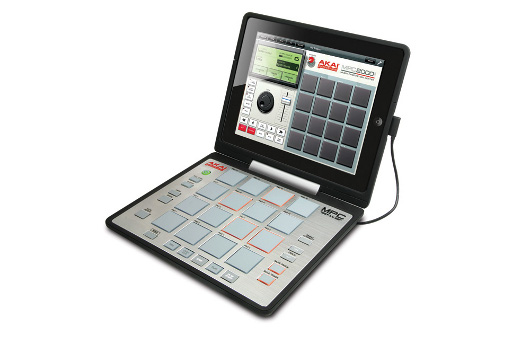 Akai have completed their trio of updates to the MPC lineage with the announcement of the MPC Fly, a hardware controller specifically designed for Apple's iPad 2.
Sporting a multifunctional, double-hinged design, the Fly features real backlit MPC pads, MPC Note Repeat and MPC Swing, as well as acting as a protective clamshell case for the iPad 2. The unit itself features its own rechargeable lithium-ion battery, and utilises Akai's MPC App, although Akai claim that it is compatible with virtually any Core MIDI app.
The app itself allows sequencing of four tracks simultaneously, and comes with a built in library of samples and drum kits, as well as built in effects including delay, bit crusher and master compressor/limiter. Perhaps most interesting is the ability to sample from the iPad's library using a turntable interface, as well as record samples using the iPad's internal microphone.
Portability seems to be key here – the video below shows the system in a variety of tight spots, and will no doubt find favour with those who want the ability to work on beats on the move. The video also promises the ability to export projects from the MPC App to Akai's other new products the MPC Renaissance and MPC Studio. The iPad is becoming an increasingly viable production tool, but Akai's offering seems to be the best solution to the lack of tactile control issue that many critics cite as a reason why tablets can't compete on the same level as laptops.
No release date has been confirmed as yet, but as always, keep an eye on Juno for updates.