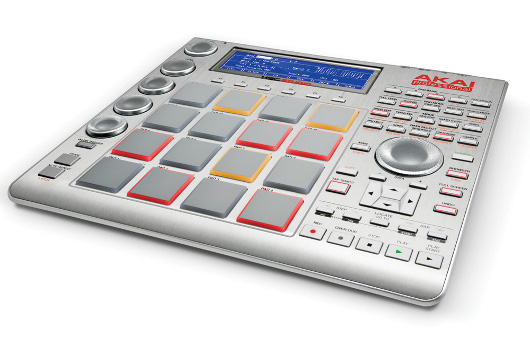 Hot on the heels of the announcement of the MPC Renaissance, Akai have announced details of another new production controller, the MPC Studio.
Whilst the design of the MPC Renaissance is more or less a recreation of the classic MPC design, the MPC Studio is a leaner affair, losing the exhaustive control options and connectivity options of the Renaissance, but featuring 16 backlit MPC pads, as well as a whole host of buttons and four touch-sensitive knobs in a slimmer profile, showcased in the video below.
In terms of design, it looks to be going more directly head-to-head with Native Instruments' Maschine than the Renaissance, and at less than 1″ thin, shaves a whopping 1.4″ off the Maschine's height profile. Of course it remains to be seen how Akai's proprietary MPC software, which the Studio controller uses, will compare against Native Instruments' formidable suite of solutions, but the increased portability of the MPC Studio may just be enough to entice some users to exchange their cash for Akai's offering.
Akai's website is also teasing a third addition to their updated MPC family, a hitherto unrevealed controller for the iPad 2. As always, keep an eye on Juno Plus for details of this and the release date for the MPS Studio as they're announced.