5 Best: Recording Software
One thing that unites an otherwise disparate range of musicians – from guitarists and techno heads to drummers and vocalists – is the fact that, at some stage during the creative process, recording software will doubtless be called upon. For the uninitiated, DAW stands for Desktop Audio Workstation, which, as the name suggests, deals with a lot more than the once standardized job of sequencing audio and MIDI. In this feature we take a look at our five favourite DAWs – in no particular order – and outline the key features that will determine which of these heavy hitters becomes your weapon of choice.
Ableton Live was launched in 2001 and completely revolutionized the way we interact with our computer when composing and arranging music. This forced us to think away from the technicalities of the linear based DAWs or musical notation systems that had previously been standard, and jam with our machines in much the same way as musicians throughout the ages have. This is due first and foremost to the session view window, which enables you to collect, sketch, record and experiment with your sonic arsenal in real-time. You can capture, then edit or tweak your efforts in the equally versatile arrangement view, which tips it hat to the more traditional approach to sequencing and editing. One of the things that put Ableton on the map was its ability to warp or sync audio loops of different tempos to the same master BPM without huge sound degradation in an 'on the fly' manner, making the software equally attractive to DJs and live performers. The warp engine is at the heart of the system and it's at its most effective in Suite 8, allowing you to adjust events actually on the timeline as opposed to stretching it around the events as before. There is a newly enhanced "Beats" warp mode for improved warping of percussive material and new control options with the "Pro Complex" mode for warping intricate, polyphonic material with fewer artifacts. In addition to this are the existing modes, which'll take care of  re-pitch, tones (stretches vocals, monophonic instruments and basslines with a clear pitch structure) and textures.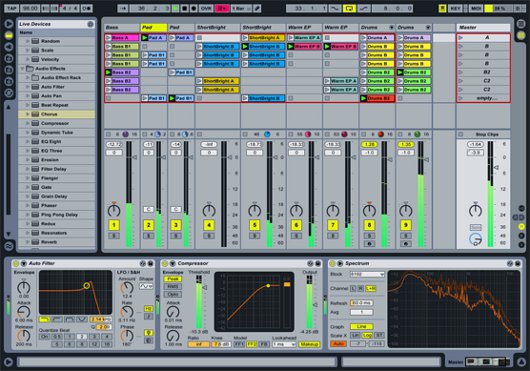 The included instruments are equally as innovative, many of which have been with the package for some years; others are brand spanking new. Operator is possibly the best known, an FM synthesizer designed by Robert Henke (aka Monolake) with lots of excellent features. Sampler, as its name suggests, will take care of all your multi-sampling needs. Not only will it handle sound libraries such as AKAI S1000, S3000, GigaStudio, EXS, SoundFont and (non-encrypted) Kontakt, but is also a very powerful wave-shaping tool featuring a dedicated modulation oscillator which allows samples to be frequency or amplitude-modulated. There are also three LFOs, five multimode envelopes and MIDI inputs to wreak havoc with. Analog tips its hat to classic analogue synths, with two oscillators featuring sine, square, saw and white noise, plus a sub oscillator with hard-sync and self oscillate. Filters are well catered for, with 2 and 4 pole lowpass, highpass, bandpass, notch and formant modes with flexible routing. You've also got Collision, a physical modeling synth for mallets, Tension for strings and Electric, which takes care of classic electric pianos. Amp completes the instrument line-up, recreating all kinds of amplifiers and cabinets. There's also enough built-in audio and MIDI effects, not to mention pre-set instrument racks for jobs like mastering and drum racks. You also get enough samples to sink a battle ship with the likes of  the Essential Instruments Selection 2, Session Drums, Drum Machines and Latin Percussion. DJs can use it with The Bridge, which communicates directly with Serato. [Find out more at Juno]
| | |
| --- | --- |
| Ableton Live Suite 8: Key Features | Nondestructive editing with unlimited undo |
| | MIDI sequencing of software and hardware instruments |
| | Warping and real-time time-stretching |
| | Library with over 1600 expressive sounds, each with versatile control options |
| | A comprehensive selection of built-in audio and MIDI effects |
| | A wide range of software instruments |
| | Instrument Racks for simple management of complex instrument setups |
| | Drum Racks for intuitive and responsive beat-making |
| | Effect Racks for professional-grade mastering, mixing and creative sound processing |
| | New groove engine – apply and extract grooves in real time |
| | Construction kits containing loops and phrases in a number of styles |
| | 1000s of single-device presets: simple components for making new sounds and exploring synthesis |
| | Song templates with pre-configured tracks and routing |
| | VST and AU support; automatic plug-in delay compensation |
| | REX file support plus built-in audio to MIDI slicing |
| | Supports AIFF, WAV, MP3, Ogg Vorbis and FLAC files |
| | Video import and export for scoring, video warping |
| | Full ReWire support; runs as Slave or Master |
| | Support for The Bridge, Ableton's collaboration with Serato |
| System Requirements | Mac: 1.8 GHz G4/G5 or faster (Intel® Mac recommended) |
| | 2 GB RAM (4 GB recommended, if supported by your computer) |
| | Mac OS X 10.4.11 (10.5 or later recommended) |
| | DVD-ROM drive |
| | Windows: 2 GHz Pentium® 4 or Celeron® compatible CPU or faster (multicore CPU recommended) |
| | 2 GB RAM (4 GB recommended on Windows Vista and Windows 7) |
| | Windows XP (home or Pro), Windows Vista or Windows 7, sound card (ASIO driver |
| | support recommended) DVD-ROM drive, QuickTime recommended |
| Boxed Editions Content | Printed reference manual in English, French, German or Japanese (box only) |
| | Built-in interactive lessons |
| | Localized software menus, tutorials and PDF reference manuals in English, Spanish, French, German, Japanese and Italian. |
This product used to be known as Fruity Loops and its first incarnation was as a four channel MIDI drum machine for Belgian company Image Line in 1997/8. Over the years it has progressed through the ranks, and is now a key player in the pro DAW marketplace. (One of the programmers responsible for the development of this software was the late, great Arguru.) Like Ableton, FL Studio has taken a unique path to create a more hands-on and interactive workspace. It works by means of a step sequencer, which allows you to jam with the immense factory content (more on that later) or your favourite VSTi's and hardware synths, then arrange in a more traditional manner using combinations of the arrange window with unlimited audio recordings, time-stretching, pitch-shifting, beat-slicing, cropping, editing, slip-editing and the re-arranging of audio. You can also work in conjunction with the newly designed piano roll which, unlike Logic, allows you to access and view other parameters such as waveforms for note on alignment with audio, plus there's that click-free lasso, and you can export your creations as a PDF-based score. Then there's the Edison audio editor, which is optimised for sampling and looping audio with a cool spectral analysis display and quick drag and drop between the host sequencer. (It will also work in standalone mode and can be slaved to the transport functions in FL).
The mixer won't let you down either, coming replete with 99 Insert and 4 Send Tracks with 8 FX channels each, with post effects Parametric EQ, Volume, Pan, VU meter and full effects re-routing. Included in the box is the Slimsynth Live, a three or six oscillator synth described as Moog meets Oberheim. The DX10 is an FM synth that doffs it cap to the Yamaha DX range, whilst the DrumSynth Live module creates sound with two noise generators with juicy filters and support for 24 programmable real-time drum patches. Then there's the much loved analogue emulation WASP synth, with the money shot being the Direct Wave – a 32-bit VSTi sampler which'll handle pretty much every conceivable type of file format. It boasts built-in browsing, drag & drop and automatable loop points, plus a built-in VSTi host to easily sample your VSI instruments directly. Other highlights include Synthmaker, which, as the title suggests, allows you to custom-build your own synths. There are 34 effects plug-ins which will take care of every day tasks right up to creating visual displays of your music (even responding to MIDI). There's also the all new Pitcher real-time pitch-correction device plus Newtone, a pitch-correction and time manipulation editor which is particularly useful for fixing vocals. The signature package contains the extra components that are not available in other FL bundles, including the Maximus multiband maximizer, Hardcore guitar effects and Syrus premium synthesizer. On top of the usual vaults of royalty free content it comes with the promise of lifetime of free updates. Fruity! [Find out more at Juno]
| | |
| --- | --- |
| FL 10 Signature Edition Key Features: | Audio editing and manipulation including pitch correction, pitch shifting, harmonization, time-stretching, beat-detection & slicing, audio warping and standard audio manipulation (cut/paste etc). |
| | Automate most interface and all plugin parameters by recording, drawing, spline-based automation curves, automation generators with formula based control of links |
| | Can be hosted in other DAWs as a VST or connected through ReWire. |
| | Live music performance including video effect visualization. |
| | Mix and remix audio including apply realtime audio effects including delay, reverb & filtering. |
| | Multi-track audio recording. |
| | Record & play MIDI input recording from keyboards, drum pads and controllers. |
| | Sequencing and arranging. |
| | Synthesizer & effect plugin hosting (VST 32 & 64 bit, DX and FL Native format) |
| | FL10 will fit easily within your current software supporting VST/VSTi/VST2, DXi, DXi2, MP3, WAV, OGG, MIDI, ASIO, ASIO 2, REWIRE, REX 1 & 2. |
| System Requirements | 2Ghz AMD or Intel Pentium 3 compatible CPU with full SSE1 support. The faster your CPU and more cores it has the more you will be able to do simultaneously. |
| | Windows 7, Vista, XP & 2000 (32 & 64 Bit) |
| | Intel Mac with Boot Camp (running XP, Vista or Windows 7, 32 or 64 Bit) |
| | 1 Gb or more RAM recommended |
| | 1 Gb free disk space |
| | Soundcard with DirectSound drivers. ASIO/ASIO2 compatible required for audio recording (FL Studio installs with generic ASIO4ALL drivers) |
| Boxed Editions Content | Starter manual |
| | Sample CD |
| | Installer CD |
One of the institutional DAW systems, Steinberg's first outings were in the form of Pro 16 & Pro 24 on the Commodore 64 and Atari ST. Since then it has been bought by Yamaha and regularly updated, and is responsible for some of the major technological advances within the digital workstation world (including VSTi's). Cubase 6 is the sum of two decades' work, a linear based king, boxed ready for all of your recording, editing, sound design and mixing needs. As you'd expect from a package of this size, you are loaded with all manor of instruments, making expensive third party plugs irrelevant. There are, of course, the Monologue and Embracer mono and poly synths and the weird and wonderful Spector, which features two spectrum filters that can utilize up to six oscillators per voice with two different waveforms each. Then there's Mystic, which uses a combination of physical modeling and comb filtering based on three parallel comb filters with feedback; Prologue is also a great virtual analogue synthesizer. Things start getting exciting when look at plugs such as the Loopmash, which analyses source material, matching similar elements then generating new mash ups with seemingly limitless variations (you can then edit or implement the numerous MIDI-controllable live and slice-based effects including scratches, stutters and tape stops). Then we've got family favourites such as the Groove Agent One drum machine, which gives you MPC style flexibility with professional kits, drum sampling and sound shaping.
The recently refurbished Halion Sonic SE contains immense amounts of content designed by Yamaha, plus an array of synths, hybrid and acoustic instruments, representing almost every conceivable style. It supports VST 3.5 and benefits from the newly developed VST Expression 2 technology. Steinberg are (quite rightly) proud of this feature, which essentially lets you create and edit multiple controller values (breath, foot, volume, balance, pan, expression, pitchbend, aftertouch) directly on single note-level within the key editor by means of drawing the value onto the note itself. This really makes your productions sound alive, rather than flat and electronic – it's particularly useful for big choral and orchestral sample libraries. To save time you can always transfer the articulation setup of each individual instrument sound to a VST Expression Map which does a lot of the work for you! The transient detection function is another USP which is particularly effective, with drums enabling you to detect single hits and rolls for grouping and duplicating by characteristic and enabling further editing. The hit-point to MIDI feature is also very smart, as you can play in your drums then detect the transients and turn it into MIDI, allowing you to then replace or tweak sounds and samples. On top of this you've got a myriad of effects, including four different types of EQ ranging from studio through to 30 band, plus a further four independent filters. The dynamics effects are obscenely good, offering multiple compressors plus maximisers/limiters, VST dynamics, dEesser, gate and more. Other categories include modulation, delay, distortion, reverbs, mastering and more, all of which give Logic's arsenal a run for its money. [Find out more at Juno]
| | |
| --- | --- |
| Steinberg Cubase 6: Key Features | Record audio sources in 192 kHz / 24-bit |
| | 32 Bit Floating Point Steinberg Audio Engine |
| | Unlimited audio tracks |
| | Unlimited MIDI tracks |
| | Unlimited instrument tracks |
| | VST instrument rack with 64 instrument slots |
| | Drum editing deluxe |
| | VariAudio |
| | VST Expression 2 |
| | Music notation and score printing |
| | Control Room |
| | External effects and instruments |
| | Channel Batch Export |
| | Professional format support |
| System Requirements | Mac OS: Mac OS X Version 10.6 |
| | Intel dual core CPU |
| | 2 GB RAM |
| | Display resolution of 1280 x 800 recommended |
| | CoreAudio compatible audio hardware |
| | 8 GB of free HD space |
| | DVD-ROM dual-layer drive |
| | USB port for USB-eLicenser |
| | Internet connection for license activation |
| | Windows: Windows 7 |
| | Intel or AMD dual core CPU |
| | 2 GB RAM |
| | Display resolution of 1280 x 800 recommended |
| | Windows compatible audio hardware (ASIO compatible audio hardware recommended for low-latency performance) |
| | 8 GB of free HD space8 GB of free HD space |
| | DVD-ROM dual-layer drive |
| | USB port for USB-eLicenser  (license management (Cubase 6 and Cubase Artist 6 only)) |
| | Internet connection for license activation |
| Boxed Editions Content | Manual |
| | Install & Content DVD's |
| | Dongle |
Another highly innovative entry to the 5 Best canon comes from Stockholm's Propellerhead. This software brings back the excitement of creating your own rack of instruments and effects, effectively allowing the user to construct a virtual studio and then arrange, edit and fine tune creations in a more traditional linear manner. The rack itself looks and sounds exactly as it should (right down to the screws) and with the help of the tab key you can view either the front or the back panel. You build the rack as you construct your composition, routing and patching the instruments exactly how you wish – either in a conventional or experimental manner with the cables (which can be greyed out) wobbling as you flip the rack around. Highlights include the Thor, a beast of a synth that has three oscillators with analogue, wavetable, phase modulation, FM pair, multi oscillator and noise variations on each. The filters are excellent, and the fact that the step sequencer has a variety of uses (including triggering and modulation) is definitely a bonus. The Maelstrom uses the exclusive Graintable Synthesis – a combination of granular and wavetable synthesis – yielding very wild yet highly useable results. No self respecting DAW would be complete without its resident analogue-styled poly-synth, and the Subtractor certainly doesn't disappoint. As its name would suggest this is a dual oscillator (with phase offset) subtractive synth with two filters, three envelope generators and two LFOs, which will surely impress even the hardiest of purists. Neptune, meanwhile, is a tool that would once have only inhabited the air conditioned studios of the major labels. It's a pitch adjuster that will correct a shoddy performance, perfect a near faultless rendition or pitch your vox up to sound like a 90's UK hardcore 12", or down for that Marc Houle Minus effect. You can select the root key and scale that you want the adjuster to use, or create a scale that fits your song. For key changes there is a transpose function and Neptune also boasts a voice synth for endless possibilities. Finally, the ID8 bares similarities to a sample-based sound module with 36 presets split into nine categories, with four sounds in each.
We're spoilt for choice when it comes to samplers too, with the much loved NN19 and its big brother, the NN XT, which features deeper editing capabilities. As you'd expect from Reason, the effects are not to be sneered at either, with everyday EQ, delays, reverbs, filters and compressors alongside impressive Mclass mastering plugs, plus Line 8 guitar and bass amps. The BV515 digital vocoder is a 4 to 5 12-band vocoder capable of modulating sound in analogue style and digital FFT (1024-point) fashion. You can keep this rabble in order with the Mixer, which has been modelled on the Solid State Logic 9000 series console with faithfully reproduced EQ and that all-important master buss compressor. On top of all this (soft) hardware, Propellerhead have graced us with a shed load of content in the form of thousands of instrument patches, mixing mastering effects and loops (and you can buy more refill packs from their online store). If you're already a dedicated user of another DAW but can't resist the charm of Reason's workflow, why not try using it in Rewire mode. This protocol was developed by Propellerhead and enables the simultaneous transfer of Audio and MIDI channel between the host sequencer in 32 or 64 bit. For example, you could use Ableton in mixer/sequencer mode with modules from Reason providing the sounds (0r vice versa) with most of the key manufacturers implementing this system into their product lines. If you're looking for the ideal audio interface to power Reason, look no further than the Balance desktop unit and keep your eyes peeled for the forthcoming Nektar Technologies Panorama one stop keyboard/controller solution. There's no good reason why you shouldn't give this a go – no matter what your ability is – level as it puts the fun back into sequencing! [Find out more at Juno]
| | |
| --- | --- |
| Propellerhead Reason 6: Key Features | Graphically correct virtual studio rack |
| | Unlimited audio multitracking |
| | Record software consolidated into Reason 6 |
| | Conventional sequencer capabilities |
| | SSL 9000K modelled main mixer with The "radio ready" master bus compressor, 8 send effects, inserts, gate, lo/high pass filters |
| | New audio engine |
| | Perfect quality time stretching |
| | MClass mastering suite |
| | 10 included instruments |
| | 18 included effects |
| | 6 utility devices |
| | Soundbanks –  Factory Sound Bank (1.7GB) / Orkester Sound Banks (600MB) |
| | Rewire |
| | Compatible with all ReFills |
| | Compatible with Reason legacy and Record song files |
| | Excellent value upgrade paths. |
| System Requirements | Mac OS X: Intel Mac (multiple cores highly recommended) |
| | 1 GB RAM or more |
| | Mac OS X 10.5.8 or later |
| | 3 GB free hard disk space (program may use up to 20 GB scratch disk space) |
| | Monitor with 1024×768 resolution or larger |
| | A MIDI interface and a MIDI keyboard recommended |
| | Internet connection for registration |
| | Free USB port for Ignition Key |
| | CoreAudio compliant audio interface or built-in audio hardware |
| | Windows: Intel Pentium 4 / AMD Opteron or better (multiple cores highly recommended) |
| | 1GB RAM |
| | Windows XP SP3, Vista or Windows 7 (Vista or Windows 7 required for 64-bit) |
| | 3 GB free hard disk space |
| | Monitor with 1024×768 resolution or larger |
| | A 16 bit Windows compatible audio card, preferably with an ASIO driver |
| | Internet connection for registration |
| | Free USB port for Ignition Key |
| | A MIDI interface and a MIDI keyboard recommended |
| Boxed Editions Content | Manual |
| | Install & Content discs |
| | Ignition Key dongle |
Logic Studio
An old school sequencer institution with its roots going back to the early days of C Lab, then Germany's Emagic – this software was once called Notator Logic and had existed in various guises at pro and consumer level before Apple bought it in 2002. It's now Mac-only and is one of the world's best selling DAWs. Like all Apple products, they've streamlined the user interface so that it's a very smooth, contoured one-screen operating system that fits in with their general product design policy. This makes it easier for the pros to go about their daily business and helps amateurs to tighten up their skills (Garage Band users can open up projects in Logic and get stuck in). For those of you who aren't familiar with Logic, it's primarily a linear MIDI/audio sequencer featuring Flex Time. This is a  non-exclusive tool (based on what's known as "elastic" audio) that allows manipulation of audio files by dragging parts of the waveform, not to mention timing, tempo and quantisation adjustments with the correction of bad workmanship at the stroke of the mouse. There's also Drum Replacer, which replaces drum tracks with actual triggered samples; Convert To Sampler Track, which turns an audio region into a sampler instrument adding a MIDI track to trigger it; Bounce In Place, which makes effects-rendering much quicker, and Selective Track Import for transferring setups and track content between different projects.
All Logic users will agree that the best things about the package are the included instruments and effects, with once expensive add-ons now consolidated in one package. There are six synthesizers, from the deeply complex Sculpture physical modelling synth, to the ES 2, which uses subtractive synthesis plus elements of FM and wavetable synthesis, through to the humble ES M mono synth. Look out for the vintage collection, which includes modelled versions of the Hammond B3 organ, the Hohner Clavinet D6, Fender Rhodes, Wurlitzer, and Hohner electric pianos. Then there's the mighty Ultrabeat drum module, plus the ever reliable ESX24 sampler. Effects wise you're well catered for, with options ranging from the seemingly limitless Space Designer reverb (which has more than 900 acoustic space variations) right through to the delay designer, which will produce everything from the most subtle echoes through to melodic and randomized tail formats. For guitar players there's the Amp Designer and Pedal Board, and there's enough dynamics processing to cater for all your everyday EQ needs right up to near–professional mastering plug-ins. There's also 20,000 royalty-free loops, more than 1700 sampled instruments and 4500 presets for plug-ins – once scorned by the purists but not widely appreciated for their time-saving merits. It also ships with Mainstage 2, the live performance end of Logic which allows the user to bring all their favourite Logic instruments and effects to the stage in an organized manner. Waveburner is the included mastering and CD burning software, plus there's Soundtrack Pro 3, which packs much of the same power as Apple's Final Cut. And now that Apple have sorted out the audio editor (this was always a bit of an afterthought up to version 9) you can't really fault this package at £417.
| | |
| --- | --- |
| Logic Studio: Key Features | Logic Pro 9 192 kHz / 24-bit DAW sequencer |
| | MainStage 2 |
| | Soundtrack Pro 3 |
| | Compressor 3.5 |
| | Waveburner 1.6 |
| | Impulse Response Utility |
| | Apple Loops Utility |
| | 85 Effect Plug-ins |
| | 41Instrument Plug-ins |
| | 50GB Content |
| | 6 Jam Pack collections |
| | 20,000 Apple Loops |
| | 1700 Sampler Instruments |
| System Requirements | Mac computer with an Intel processor |
| | 1GB of RAM (2GB or more highly recommended) |
| | Display with 1280-by-800 or higher resolution |
| | Mac OS X v10.5.7 or later |
| | QuickTime 7.6 or later |
| | DVD drive for installation |
| | 9GB to install all applications and required content |
| | Additional 38GB to install all optional content |
| Boxed Editions Content | Six content DVD's |
| | 1 Demo DVD |
| | Printed and electronic documentation |