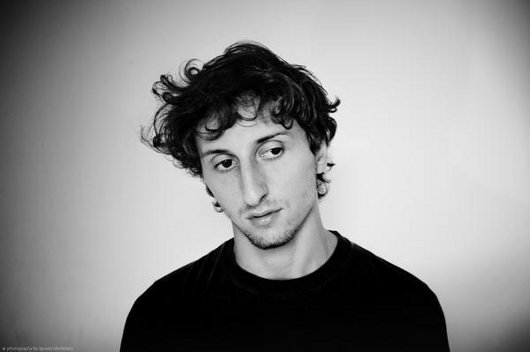 Techno has always been a medium that, in the right hands, offers both cerebral and visceral thrills. There is a long and distinguished list – the names Mills, Mike Banks, Drexciya and Regis immediately spring to mind – of artists who have imbued a deep sense of artistry into the brutalist leanings of concrete funk. At the coalface of the recent resurgence in abstract, concept-driven techno stands Luca Mortellaro – aka Lucy – and his Stroboscopic Artefacts imprint.
Since launching in 2009, the Berlin-based label has released material from the likes of Xhin, Dadub, Perc, Aoki Takamasa and Luca himself (who was also responsible for the label's first full-length album, Wordplay For Working Bees, released earlier this year), and in the process has developed a formidable reputation. Wordplay For Working Bees stands as one of the finest techno LPs in a year seemingly flooded with them, and set a new benchmark in the fledgling label's discography.
Mortellaro's curatorial eye has been just as impressive as his studio nous – the digital-only Monad series has allowed a range of artists to explore their more esoteric side, with routinely jaw dropping results, and his open-mined approach to working with the label's core artists is admirable. Juno Plus contributor James Manning caught up with Luca during his recent Australian tour for a lengthy chat about the inner workings of his label, his new live show, sampling koalas and much more.
You are a published author, is that right?
Yes – when I was 19 I was given the opportunity to publish a small collection of my work. Getting my writing published happened before my first music release, so that was the first time something of mine reached the public sphere. It was a big stepping stone and learning experience to have something that you had previously only shared with yourself enter the public domain.
What were your books about?
They were dark short stories, half metaphysical and half realistic.
Where you making music at the time of your books being published?
Yeah, but it wasn't the same as the music I make now. It was more experiments in sound and synthesis with no borders or structure.
Do you plan to write some more?
I still write, but not as much as before. Now when I feel something inside me, I prefer to make music. I'm still writing but there are no plans of publishing. Writing is now something I keep for myself.
This was your first visit to Australia, how have you found it and what did you get up to?
I actually added ten days to the trip so I could see more of the country, and fell in love with the coastline along the Great Ocean Rd. I came in contact with some amazing wildlife.
How much does being able to escape the city and explore places like Australia's coastline not only effect you, but your work in the studio?
Nature-wise in Australia, things are so strong that it changes the way you perceive life and the world. If you constantly live in a metropolis you tend to forget who dictates the rules – mother nature. So when I sit back in the studio, thoughts like this are always going to enter my mind –  my thoughts of that place are so strong at the moment that when I close my eyes I still see the forest, waterfalls and native animals staring back at me. I actually named one of my upcoming tracks after a place I stayed at along the Great Ocean Rd. A studio and a forest are two very different things, and in a way can be a paradox, but both impose a sense of silence and concentration that put you in a mystical mood. The difference between is that in one you are very contemplative, and in the other you are very active; you just try and imitate what you have seen.
So is it the sounds you hear that influence you or is the feeling of being outdoors?
I've been sampling a lot of sounds from the Australian outback, and when I get back to Berlin I'm going to renew my sound bank with some field recordings. I've mostly sampled sounds from forests, waterfalls and other things I encountered – although not the sea as it's a bit cheesy, overused and new age. One of the most interesting sounds I heard was a koala – it was very surreal as they look cute and innocent, but when you hear them they sound like a tiger or something terrifying hiding in the bushes.
"We aren't being nostalgic about the early 90s or getting to caught up in the hype sound of the moment. If I'm signing you as an artist on Stroboscopic Artefacts, it's because I know you have a lot to say about what the dance floor can do and how it can change"
You are reasonably new to the DJ circuit and have been very busy touring since your album dropped. How are you finding it?
Yeah of course you enjoy it, but it's a stressful life. You need to be focused and centred with yourself, otherwise you get smashed from one airport to the other, constantly meeting strangers. Like Jim Morrison said, people are strange when you are a stranger. Sometimes that feeling is overwhelming, and it becomes a big exercise in concentration and meditation to keep fresh when you play. The crazy part is even with all the alienation and being surrounded by these so called non-places such as airports, hotels and taxis, when you get on it's like you are in the same place doing the same thing, but in new ways. It always feels familiar when you are behind the decks, and things kick-start within your mind. It's like constantly playing at a super long party, but with different faces in front of you. The real challenge is to keep it fresh and maintain the right mood by taking risks and challenging yourself.
Your label is moving very fast. Do you ever get time to take a step back and think, how did it get to this?
In this respect, I'm a doomed soul; I'm never happy where I am and I always feel like I'm in the wrong place, but I guess that's a good thing as it means I'll always have fuel to power my engine. As long as you feel like you have to move, you move, the machine goes on. My approach to the label has been developing a lot over the past two years. I'm a control freak but at the same time I'm placing more faith in my artists. This means I'm getting more and more confident with what they are going to deliver. Sometimes, if I'm not on the same wavelength as one of my artists at a given moment, instead of asking them to change this and change that, I'll discuss things with them. In the end the final decision is always with the artist – that's the only way a platform can develop. I try and give the label direction, but after that it's up to the artist to produce the music, and often they end up teaching me something. I've found that sometimes, months down the track, I realise what they were initially getting at.
Do you consider Stroboscopic Artefacts to be more of a platform than a label?
Yes, and this is something I wanted from the beginning. I always pushed Stroboscopic Artefacts to not just be a means of releasing music, but an artistic platform where different entities and people can communicate a universal vision through different points of view. It's not just about the music and artists involved, it's also about the graphics with Oblivious Artefacts, it's about the post production with Artefacts Mastering, it's even about the showcases with Apelago. The parties and festivals you play are very important – they are the moments when people move from knowing the label from listening to the music in their homes or headphones to connecting with the real person behind the productions. Choosing the right places to showcase our music is paramount.
So venues play a very important role for the label?
Personally, I'm not a gig machine and I feel that if you play too much you lose that freshness. Playing at the right places adds to my artistic inspiration and I can't disconnect the events I play with the rest of my artistic identity.
Do you have any new concepts you would like to incorporate into Stroboscopic Artefacts?
Yes, there is something quite big coming in 2012. I don't want to talk too much about it now, but it's going to be more focused on the experimental side of things and renewing the dance floor sound, which is something I've always tried to do. This new project is going to be very interesting because we're trying to bring people who are very much connected to the dance floor scene and show what they are able to do outside the dance floor. Dance floors come in many shapes and sizes but it is still a box, so it's interesting to see how an artist is going to act when you give them the possibility to go much further than just body music. It gives them the chance to produce something evergreen.
I have found that Stroboscopic Artefacts is doing a lot to encourage IDM and experimental styles. How far do you want to push theses styles and how far removed from the dance floor do you want to get?
I've never had a focus on not wanting to be 'dance floor'. It was more about Stroboscopic Artefacts being innovative and honest with music. We are making dance floor and club orientated music of course, but I hope the message is clear that we are trying to make it in a new and fresh way. We aren't being nostalgic about the early 90s or getting to caught up in the hype sound of the moment. If I'm signing you as an artist on Stroboscopic Artefacts, it's because I know you have a lot to say about what the dance floor can do and how it can change. I like to ask my artists, what is your power and what is your role in changing the way people approach the dance floor. It's a slow process but it's the only process I know when it comes to how to innovate things.
Xhin and Dadub are two artists who have grown and developed most with the label. How influential do you think these two have been to the label and how influential do you think Stroboscopic Artefacts have been on them?
Dadub's contribution has been huge, and not just with their productions – they are also the guys behind Artefacts Mastering and take care of everything in the mastering and post-production phase. They've been hugely influential in moulding the Stroboscopic Artefacts sound with what they call 'creative mastering'. They've also released some amazing music along the way with their Monad and Metropolis EP and are remixers for Xhin's upcoming album, Sword. As for Xhin, he was the first outside artist to contribute to the label. His debut release was one of the first steps the label took in expanding, so it was really important in that respect. Xhin has been hugely important in shaping Stroboscopic Artefacts as we know it and has given us some evergreen techno such as Link. For me, Xhin's album is going to be revolutionary.
Artist like Pfirter, Jonas Kopp and Markus Suckut are starting to come through on the label. Is culturing younger and less established artists something you factor in to Stroboscopic Artefacts ?
Yeah, completely. I often get excited by artists who are new to the scene. Young minds are often fresh, they have nothing to lose. Stroboscopic Artefacts are not just signing artists that can produce cool tracks, we are finding artists that can show what they are capable of in the future through their music.
So does this make you feel like a grandfather looking over his children?
Maybe you should ask the artists if I'm like a grandfather or a dictator (laughs) – hopefully it's the former.
"Dance floors come in many shapes and sizes but it is still a box, so it's interesting to see how an artist is going to act when you give them the possibility to go much further than just body music"
Xhin's album Sword is about to drop. How long has he been working on it and how involved have you and Stroboscopic Artefacts been in making it happen?
Things come naturally and spontaneously. Together with Xhin, we thought it was the right time for him produce an album and make a huge step with the label. This is very important for Stroboscopic Artefacts as this is the second album we've released, we're still new when it comes to full lengths and very much learning how to go about it. It's taken Xhin about a year to finish the album.
We just saw the release of your Monad X, your first solo work since Wordplay for Working Bees. How has it been returning to the EP format?
It was quite tough, there was a period when I missed working on the album. I found it so beautiful to work on something that is so involved. Coming back to the EP format or dance floor was hard, but the more I think about words and phrases like dancefloor, experimental or non-dancefloor, the less sense they make. So for me, where Monad X sits depends on the day or mood of when I listen to it. One day it can be a dancefloor tool, on another it can be an experimental track, and another it can just simply be music. They way I worked on the sounds for Monad X was very similar to the way I worked on my album – the production method was different though as there were eight months of different experiences separating the two.
So are bigger scale projects planned for the future or will you focus on EPs and remixing?
Right now I'm working on a big project for 2012 and at the same time I am remixing some interesting pieces. It's always nice to challenge yourself with a remix as it ends up being more about your interpretation rather than a pure creation. I have also been working on a track that is coming out on a new Ann Aimee compilation – the compilation is looking huge. The track I contributed is named after where I stayed along the Great Ocean Rd.
You have just wrapped up Monad's second season, what do you have planned for season three?
We have plans but it is too far away to talk about now.
One of the less club-orientated names to take part in the Monad series was Aoki Takamasa. How did his contribution come about?
With Aoki the whole process was very different. I have followed his output for years and his releases on Rastor Noton are just insanely good. I thought he would be a great development for the Monad series, because his style is quite different playing to what you would expect to hear in a techno club. At the same time he has a very contemporary dancefloor aesthetic which I really like. I got in touch and explained the Monad concept and asked if he was interested in contributing. When he sent me his finished tracks I really had nothing to say – they were exactly what I was looking for.
Is that something you are looking to do more often, work with artists that aren't associated with the dancefloor?
At the moment I am interested in working with people who have a different background to myself, or artists with a similar background but different output. It keeps things interesting. Same goes with my remixes – I like to accept remixes that are far from my own sensibilities, because you can really learn something through remixing a track that you would or could never make yourself.
Xhin's album launch in London is approaching. Over the past few years London's techno scene seems to have been injected with a new buzz, is this why Corsica Studios is the backdrop for Xhin's launch?
I am seeing this excitement in general, not just in London. As a city, London acts like a mirror of what is happening everywhere else, that's the magic of a big city. Personally I have seen a big change in the techno public over the past few years. I'm not sure if that change originates from the public or the artist. Some producers are releasing music that challenges the way we approach techno. Xhin's album launch will be our second label night in London. I have the feeling that Corsica Studios is half way between a club and a contemporary arts centre, so for the sound that Xhin is pushing I don't think there is a better place to do it. If you were to ask me what club I think about when I listening to Xhin's album, it would have to be Corsica Studios.
You are about to debut your first live show at Club To Club in Turin. How long have you been working on your live show and what does it consist of?
I've been asked several times to play live but have always refused. I'm very happy with what I am doing with my DJ sets as they are dancefloor-orientated and refined for the club. This time around it was a bit different as the Club To Club festival in Italy asked for a performance that wasn't focused on the club sound – they were very interested in the sound associated with most of my album. So I checked out the festival to see if it would be appropriate for a live show, and it's being held in Turin at a beautiful Asian theatre. I thought the atmosphere surrounding the location and the way the promoters are presenting this performance would be ideal to showcase my first live show. (The live show) will not be something that I will repeat very often.
Will you be playing Lucy material exclusively?
Yes. Part of it will be reworkings of material from my album and EPs. The rest will come from some new synthesis and projects I have been working on.
Following what you were saying about your removal from the dancefloor, is that something that we should expect from your live show?
My live show is going to be everything but dancefloor, but then again it is always tough to say something like that. It will have to do with the dancefloor in the sense of basic sound, ambience and mood inspirations that I use to make club tracks, but at their early stages in terms of the direction and shape you give to a production when thinking of the dancefloor. It's a far away from the dancefloor as you can think but for me it is still part of the same mass.