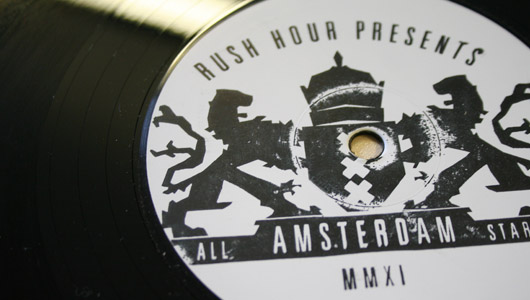 Next week the Juno Plus editorial team will be decamping to the Dutch capital as part of the annual industry throng that is Amsterdam Dance Event, and in anticipation Rush Hour served up a timely reminder of just how much good music is bubbling to the fore in Holland with a sampler for their forthcoming Amsterdam All Stars compilation.
Arriving with the nice hand-stamped art you see hanging off the top of this page, the record featured yet more classic house dynamism from honourary Amsterdammers Juju & Jordash, as well more signs of the budding production talent that is Young Marco on the B Side deep house stealth mission that is "Hoodoo". It's a near perfect teaser for the full compilation due for release next month, and was complemented by a rather fine ten inch from D'Marc Cantu for fellow Dutch imprint M.O.S. Deep. A prelude to the American's forthcoming album not album, How Are We Doing demonstrates Cantu's ease for producing both vintage, driving Chicago house rhythms and more emotive, utopian visions of machine made sounds.
One of the most impressive records this week came courtesy of Kevin Reynolds, an unsung producer from Detroit who seems to be belatedly finding his release groove. Having emerged from hibernation earlier this year with a twelve inch on his own Todchai imprint, Reynolds surfaced on the fledgling Nsyde label with the quite stunning Liaisons – the title track alone is worth investigating thanks to the way it unfurls from industrially charged and finely sculpted rhythms into an expansive realm of vintage Motor City atmospherics. A more well-known Detroit native in Theo Parrish hogged our attentions once again this week with perhaps the best remix yet in Honest Jon's Shangaan Electro remix series – thirteen minutes of mind boggling brilliance.
A mere fraction of the size physically, but just as big musically was Danger by Eglo's Floating Points, a seven inch that's been eagerly anticipated here at Juno Plus since Benji B premiered it some weeks ago. The lead track is a rippling, techno-leaning Floating Points production that brings to mind his stunning (and slept on) remix of Sebastien Tellier. It's not a peak time throbber though, so those craving something of this nature should switch attentions to the incendiary delights of WK7's The Avalanche, which the Hardwax affiliated Power House imprint finally made available to Shed fans for wider consumption.
Special remix mentions across the board to the BNJMN twelve on Stolen Kisses that featured a rather fine reimagination from Andy Stott that expertly squeezed all the brightness out of the original; the Soft Rocks twelve on ESP Institute that hid an epic goth disco revision from Sir Weatherall on the B Side; Morning Blues, the album preceding twelve inch from Ruskin and Broom under their moniker The Fear Ratio that lead with a typically tempo swerving take by Plaid, and the self explanatory Wicker & Steel Remixed, a punIshing twelve featuring excellent remixes of Perc from Tommy47, Sigha & Truss and Sheffield types The Black Dog.

At Juno Download, one of the year's best techno albums arrived in the shape of Radiotherapy, from industrial veterans Richard Oddie and Christina Sealey, aka Orphx. Meanwhile, Radiohead's TKOL RMX 1234567 package arrived, which placed Thom Yorke's finger bang on the pulse of what is good right now in electronic music. The 19-track release boasted contributions from some forward-thinking contemporary talents including Pearson Sound, Shed, Modeselektor, Caribou, Mark Pritchard, Jamie XX and SBTRKT (whose anthemic version of "Lotus Flower" provided a fitting finale).
Elsewhere, a wonderfully mixed bag of remixes of Ital Tek landed via Atom River, the Dixon and Tensnake remixes/edits of Mark E entered the digital domain, Elan stepped up to deliver some flavoursome electro stylings for Modeselektor's Monkeytown imprint and Water Borders conjured up an unusual cocktail of artsy expression, club dynamics and heartfelt pop on his third album, Harbored Mantras. D&B fans of a certain vintage would have got all misty-eyed at the sight of this Peshay release, while Soulphiction's ode to one of the UK's best festivals arrived on Philpot Recordings.
CD-wise, the aforementioned Radiohead remix package arrived, as did Scuba's entry into the DJ-Kicks mix canon. The Hotflush bossdecided to go for an all-out dancefloor assault which touched on all strains of bass music with moments that take in juke, techno, dubstep, wonky, future garage, acid, broken beat and more. As bass music mixes go, you'll find few better.