The Pathway to Tiraquon6 with Space Dimension Controller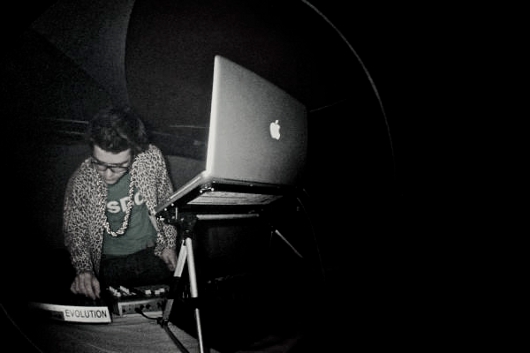 R&S have announced some much awaited new material from the Northern Irish Sun Ra, more commonly known as Space Dimension Controller, in the shape of The Pathway to Tiraquon6, due for release next month.
Intriguingly the eleven track set is described as a prequel to a forthcoming full length debut album entitled Welcome To Mikrosector-50 and pencilled in for release next year. Furthermore, the release comes with one of this year's most enjoyable press releases that affords you a peak into the mind of Space Dimension Controller, though its a tad too long to replicate here.
The producer is surely one of the finest eccentrics currently operating in electronic music – the sight of him parading around Boiler Room wearing an R&S flag as a cape remains a highpoint of 2011 – and the talent for production shown on previous releases, especially the Clone Royal Oak EP, is further demonstrated here. Streams of Utopian analogue detail abound throughout, and there's at least one certified jam present in the shape of "Usurper".
R & S will release The Pathway to Tiraquon6 by Space Dimension Controller across 2 x 12″ and digital formats on October 12.
Tracklisting:
1. Feature Presentation
2. 2257 AD
3. Pulsovian Invasion
4. Last Sunset On Planet Earth
5. Usurper
6. Flight Of The Escape Vessels
7. Confined To Deep Space
8. Max Tiraquon
9. Floating Blind Through Blue Trails
10. Tiraquon's Return (A New Home)
11. Closing Titles