World Unknown prep third emission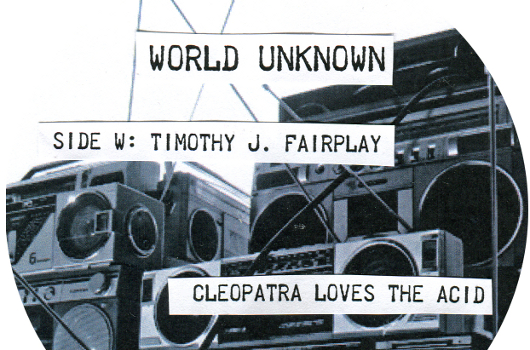 Good news from the South London headquarters of World Unknown: the third EP in their fledgling vinyl-only imprint, described in typically amusing fashion by the label itself as a "very meaty affair", will be released next month.
Borne out of the Brixton club night of the same name overseen by Andy Blake and Joe Hart, the label launched in fine style with two twelve inches released simultaneously in July that featured productions from Naum Gabo, Neville Watson, Apiento and the ever excellently named Franz Underwear.
The third twelve continues the World Unknown ethos of releasing music that focuses on the lesser celebrated underground names in the network with Andrew Weatherall's close ally Timothy J Fairplay present and correct on the W Side with "Cleopatra Loves The Acid". Fairplay has already scored one of our favourite twelve inches of the year with John Carpenter's Sound (reviewed here) and his debut on World Unknown is just as fine, described quite adroitly as a "monolithic techno beast" by Blake and Hart.
Complementing this, World Unknown have turned to Kalidasa, the production alter ego of Fairplay's near namesake Tim Rivers, responsible for the excellent Acid House website. His track "Bursting Through" shifts the tempo down a few gears for a slice of psychedelic throbbing gristle. We've got exclusive snippets of both tracks, which can be streamed below, with the twelve inch set to arrive in mid October.
Meanwhile World Unknown will be decamping north of the river and holding a free launch party ahead of the release at the suitably dingy Dalston venue The Alibi next Thursday, September 29 with residents Hart and Blake manning the decks for six hours of customary throbbers, bangers and psyche-outs.