Xaver Von Treyer readies The Torino Scale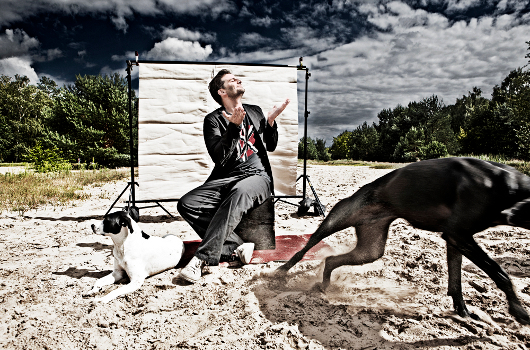 Supersoul Recordings boss Xaver Von Treyer has announced details of his long overdue debut solo album The Torino Scale, an eleven track set which features contributions from Wolfram amongst others.
The Berlin based label Supersoul Recordings is perhaps best known for Nobody Knows Anything, the double CD compilation it released in cahoots with DFA offshoot Death From Abroad back in 2008, and has releases from the likes of Black Strobe, Walter Jones and Den Haan in their back catalogue. Von Treyer himself has an enviable discography across a surfeit of aliases, stretching back to a stint in Terranova and including several productions alongside Paul Mogg of The Psychonauts as both Moon Unit and Mogg & Naudascher (Ewan Pearson delivered a particularly memorable remix of the former).
With a title that references the official way of gauging the potential damage an inbound meteor storm would have on the earth, it's clear that Von Treyer's debut LP will be all about impact. The Torino Scale is supposedly a concoction of astral pop that references the sonic connections that form the Supersoul manifesto in krautrock, Italo and the nascent forms of thump from Detroit and Chicago.
Alongside the aforementioned Wolfram, whose chopped up vocals feature on "Love Is A Drum", the album also calls on the talents of Arthur Horing, first cellist for the Deutsche Staatoper, former Terranova cohort Jayney Klimek and London based folk singer Nana Kay. Long time collaborator Yuko Matsuyama also features on the album described as a "futuristic opera" by Von Treyer.
The Torino Scale also features the sort of audio visual high concept that is difficult to dissect and reassemble on a Monday afternoon, and thus is perhaps best described in the press release that surfaced today:
"The most significant contribution comes from Marek Polewski, creative director at Supersoul Recordings with his input into the visual accompaniment for the album. Images in motion form the conceptual basis, the underlying principle being a fine balance struck between the images and sounds – no hierarchy.
"We didn't just want a music video for each song, or pretty pictures with soundscapes. The Torino Scale resembles a futuristic opera using modern technology to enhance the audiovisual experience (without the sickening cheesiness of acted drama and despair, and not simply focusing on individual anecdotes alone but touching universal and cosmic themes.
"This concept will be extended with seamless live visuals centering on a showcase event at the uberhip No.74 store in Berlin, with support from the Art Berlin Contemporary. Expect to be transported to another world populated with ink, lasers and hypnotic live music."
Supersoul Recordings will release The Torino Scale by Xaver Von Treyer on CD and a limited edition vinyl boxset on October 24.
Tracklisting:
01. Electric Mist
02. We Are Alien
03. Jerusalem Syndrome
04. Spit From The Sun
05. Lunar Rovar (Utao Okami)
06. Lex Parsimoniae
07. Love Is A Drum
08. Solar Fire
09. For A Fistful Of Acid
10. She Is My Virgo Supercluster
11. The Torino Scale