Juno Plus Podcast 14: DJ Skirt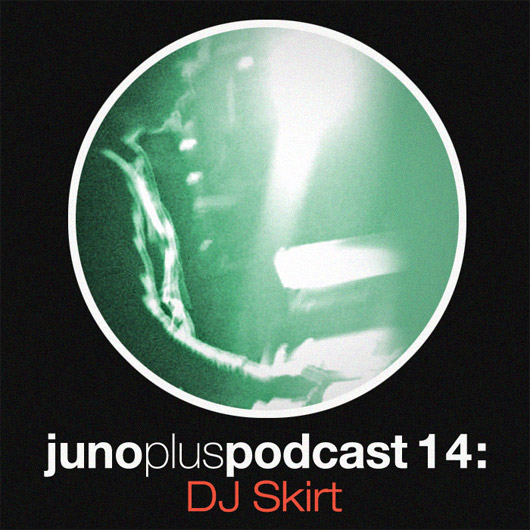 Birmingham-based producer DJ Skirt serves up an expertly mixed selection of brooding, industrial techno on her Juno Plus podcast.
The producer, originally from Texas, this week released her second missive on Frozen Border sub-label Horizontal Ground, replete with a wonderfully swampy remix from German beat scientist T++ (working as 20 16 12 21 19 16 12 21 19 ).

Her debut release for the label, "In The Meadow Under The Stars", struck a chord here at Juno Plus towers. The title track seemed unsure whether it was delicate or strong, brittle or robust, with droning atmospherics and ethereal vocal sweeps giving the track a menacing sheen. "Six Hours", meanwhile, sounded like the soundtrack to one of those Japanese horror movies you watched through veiled fingers. Skirt's new release – which hit the shelves this week – has an equally murky things-that-go-bump-in-the-night vibe; a stunning reminder of how emotive, moving and frankly terrifying techno can be.
Her vinyl-only mix for Juno Plus weaves between the work of her contemporaries, with nods to fellow Midlands techno dons Surgeon and Regis alongside a cut from Juno Plus podcast alumni Charlton and material from on-it imprints including M_Rec, Perc Trax and Idle Hands.

(This mix has now been archived. You can still stream it via the Mixcloud player above)
Length: 58:36
Tracklisting:
1.  O/V/R – Post Traumatic Son [Robert Hood remix] (Blueprint Records)
2.  Surgeon – The Power Of Doubt (Dynamic Tension Records)
3.  Sleeparchive – Ronan Point Four (Tresor)
4.  Charlton – Basterd (M_Rec Ltd)
5.  Forward Strategy Group – Arcnet (Perc Trax)
6.  Go Hiyama – M (Maracas)
7.  Sawf – Unrhythm (Perc Trax)
8.  Tommy Four Seven – G [Regis remix] (CLR)
9.  Szare – Action Five (Idle Hands)
10. Oscar Mulero – Nothing To Prove (Warm Up Recordings)
11. Michaelangelo – Transmission 696 (Labrynth)
12. Abelde – The Progress Principle (Subsist)
13. Nick Dunton – Between Worlds [Sandwell District's for Rich mix] (Surface)
14. Coefficient – Scale Invariant Spectrum (M_Rec Ltd)
15. O/V/R – Post Traumatic Son (Blueprint Records)
16. The End Of All Existence – The End Of All Existence (The End Of All Existence)
17. The KVB – Into The Night (Downwards)