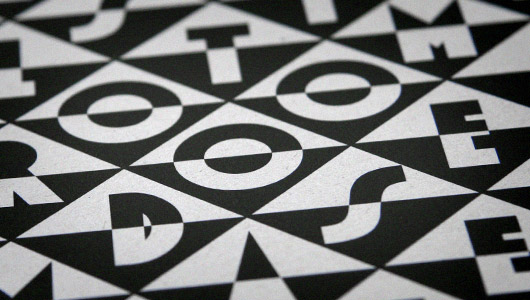 With the News International phone hacking scandal seemingly never ending, it's tempting to wonder if their nefarious endeavours have ever been replicated by the electronic music press.
Picture the scene when it's revealed ** have been checking the voice mail of a certain Ritchie Hawtin to get the scoop on the M_nus release schedule for 2012, or Thom Yorke's email getting infiltrated by a private investigator working on behalf of **** so they can break news of the latest round of Radiohead remixes. These are the mischievous thoughts that run through our heads at the end of a week that's been filled with excellent new arrivals.
The onset of a new record label from the brains behind World Unknown (Andy Blake & Joe Hart for the uninitiated) arrived in style with not one but two twelve inches, with perhaps the inaugural one containing tracks from Naum Gabo and the excellently named Franz Underwear just shading it by virtue of the press release nugget of gold that describes the latter as a "stunning piece of slamming European muscle beat".
Equal in style and musical excellence was the fresh batch of jams from Antipodes dwelling Recloose, which we have Rush Hour to thank for releasing on the smart art you can see above. His first new material in three years, the four tracks on Saturday Night are more than worth such a wait and prove he's still a master of subtly alternating moods with the B Side abrasive techno leanings of "Tecumseh" our favourite of the set. Rush Hour also plopped out some material from Hacienda resident Jon Dasilva on their try and say it fast six times off shoot, Hour House Is Your Rush, which is worth checking for the Braille remix alone!
The latest release from the increasingly impressive Long Island Electrical Systems label dovetailed nicely with the Juno Plus editorial social endeavours with Legowelt serving up a trio of his own unique cross city house pollinations just days after we saw him brutalise XOYO with a live set. Mr Wolfers also made a remix appearance on the reissue of a Dutch electro classic  – Solid Session from Format#1 aka Orlando Voorn – that also features heavyweight revisions from Vince Watson and Voorn himself.
In the disco stratosphere Nico Jaar dropped his surname for his trio of Bluewave Edits – possibly to avoid any costly lawsuits from Missy Elliot's representatives, and Golf Channel served up the latest round of Try To Find Me brilliance from TBD's Justin Vandervolgen and IFeel Studio returned with some kraut rock leaning endeavours assisted by a skype contribution from Richard Hawley's band.
Whilst Mount Kimbie are sunning themselves in the Mediterranean in preparation for a second album, Hotflush served up a luxurious stop gap on the shape of the double twelve Carbonated EP which surrounds the album favourite with plenty of unreleased material and remixes from Peter Van Hoesen and recent R&S signee Klaus. Occupying a vaguely similar sonic space was the excellent Luckyme white label from Machinedrum that essentially applied a demented approach to all aspects of track structure.
Entering the digital domain, the aforementioned Recloose EP on Rush Hour arrived alongside a slew of new Planet E heat – from Reference, Ezana Harris, Monty Luke and – our favourite – Oliverwho Factory.  Zomby's stunning album for 4AD arrived after CD and vinyl releases last week, while the Dikso imprint entered the digital fray for the first time, with the excellent split release from Nicholas and Daniel Solar – the former's reimagination of Garfield Fleming's "Don't Send Me Away" being a particular highlight here at Juno Plus HQ. The second Objekt record entered the world of WAV, with another two tracks of techno-dubstep fusion goodness – it's not often you find floor-ready bangers that also boast such dynamism. Soma meanwhile dug up on old gem from that man Surgeon, enlisting Perc, Alex Smoke and The Black Dog to remix the politically charged "Muggerscum Out".
On the CD front, The Best Of John Beltran: Ambient Selections 1995-2011 gathered together the cream of Beltran's ambient works so far, including tracks previously released by Peacefrog and R&S. It's a brilliant, life-affirming set, encompassing 15 beautiful pieces that joyously move between glistening IDM, bubbling soundscapes and chiming electronica. At the other end of the raucous scale, Modeselektor rounded up their recent Weapons Of Choice alumni into a single collection, with FaltyDL, Cosmin TRG and the label chiefs themselves among the names involved.