Daniel Lopatin, Laurel Halo and more feature on new FRKWYS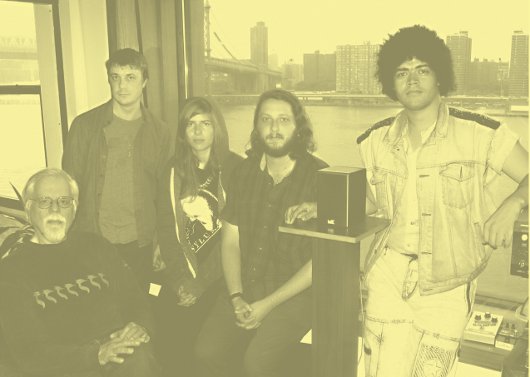 The seventh edition of RVNG's essential FRKWYS series sees a collaboration between synth botherers David Borden, James Ferraro, Samuel Godin, Laurel Halo and Daniel Lopatin.
Whilst discussing plans for an album, Lopatin – aka Oneohtrix Point Never – and the powers that be at RVNG towers quickly discovered a mutual appreciation of Borden's work in Mother Mallard's Portable Masterpiece Co. and his Music For Amplified Keyboard Instruments album. The revered US composer accepted an invitation to collaborate, and soon afterwards the talents of Ferraro, Godin and Halo were called upon. They began meeting at the Atlantic Sound Studio in Brooklyn, NY, and the improvised performances that took place in the studio in August 2010 form the backbone of their FRKWYS LP, with the results edited down only for time restrictions.
The FRKWYS series aims to pair contemporary artists with established underground legends: the likes of Juan Atkins, ARP, Anthony Moore, Carter Tutti, and, most recently, Julianna Barwick and Ikue Mori have all taken part. The limited edition vinyl version of FRKWYS Vol. 7 will arrived packaged in thick black jackets. Both LP and CD versions of the album will be available on July 17, with the digital version dropping on July 30.
Tracklisting:
Side A
1. People of the Wind Pt. 1
2. Internet Gospel Pt. 1
Side B
1. People of the Wind Pt. 2
2. Internet Gospel Pt. 2
3. Twilight Pacific