Juno Plus Podcast 11: Vakula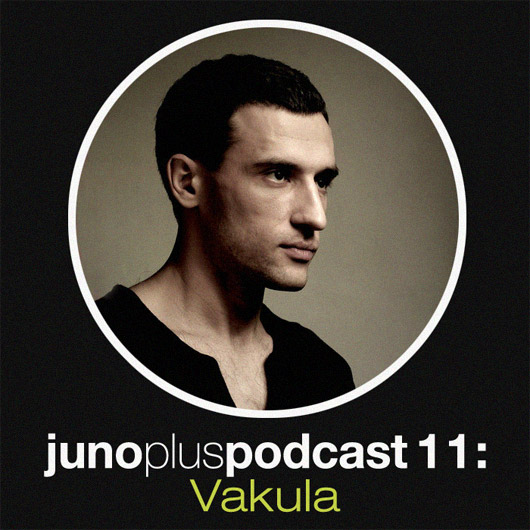 This week Ukrainian producer extraordinaire Vakula takes the reins for an hour long mix consisting entirely of his own productions – many of which can be heard here for the very first time.

The name Vakula was first mentioned breathlessly at Juno Plus HQ in mid 2010 – yes we slept on the Uzuri release – following his appearance on Firecracker's highly collectible EP series. It was the first time the imprint had reached outside its tight knit family of Scottish producers, and it sparked a relentless procession of releases for the likes of Dekmantel, 3rd Strike, Best Works, and, most recently, Firecracker's Unthank sub-label.
We now regard Vakula as our favourite Ukrainian since Mila Kunis, and his Juno Plus mix showcases the full breadth of his production nous, from glorious stuttering piano lines to bubbling acid and Detroit style chord movements.
(This mix has now been archived. You can still stream it via the Mixcloud player above)
Length: 01:08:34
Tracklisting:
1. Steve Reich ­ 2×5: Movement 3 Fast (Vakula remix) (white label)
2. Fudge Fingas – Mass X (Vakula dub mix) (forthcoming on Firecracker Recordings)
3. Vakula – Picture Of You (Dekmantel)
4. Vakula – Music (Dekmantel)
5. Vakula – Acid Release (Dekmantel)
6. Vakula – Johnny (Dekmantel)
7. Vakula – Track 3 (Unthank)
8. Vakula – Sso (forthcoming on Firecracker Recordings)
9. Vakula – JLady (forthcoming on White Leleka)
10. Vakula – Dub As Always (unreleased)
11. Vakula – No Name (unreleased)
12. Vakula – Only Deep (unreleased)
13. Vakula – N (forthcoming on Firecracker Recordings)