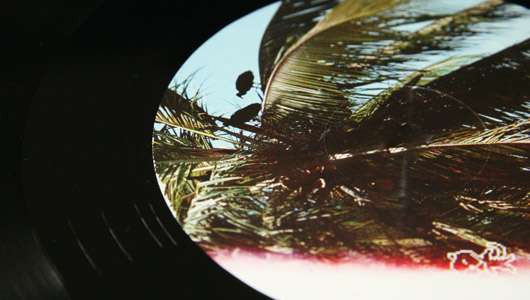 Somewhere along the line we coined the phrase Mosse Is Bosse in reference to the all round house brilliance of Kassem Mosse so naturally two releases in the same week from Gunnar Wendel can only described as a good week here at Juno HQ.
Believe us when we say they fully demonstrate the variety of Wendel's production swagger with Northern Rae, his Mule Music twelve introducing another alias in the shape of the Seltene Erden moniker and serving up four deviations into the more relaxing side of his sonic palette – which still covers slo mo dub, Theo style riddims, crackly ambience and beatless soundscapes. In addition the highly collectable and conceptual Mikrodisco seven inch arrived with "7pm" and "7am" demonstrating the opposing ends of his production arsenal – do check the latter for some tense, growling wigout in the manner of Koze's classic "Mrs Bojangles."
All in all it was a week of heavy hitting house music that ran the gamut of the genre with disco infused offerings from Carter Brothers and Edward – the former featuring an essential Nebraska remix and the latter a belated addition in the Merc canon of pressurised house rhythms from anonymous producers. There was some essential stateside heat in the form of a Big Strick twelve that was marinated in Detroit grit and Domino also dropped a rather tasty Theo Parrish remix of About Group. Flipping things Tom Trago and Steven Rednose Distrikt presented a second edition of their Chicago leaning Alfabet project and the UK was represented with aplomb by the eighth Wolf Music EP.
It was an equally varied week for techno releases, with another serving of  primal machine funk from the mysterious Shifted on Luke Slater's imperious Mute Evolver label complemented by the staple analogue sounds of Jared Wilson courtesy of Steffi's Dolly imprint. Those wanting something a bit more experimental in flavour can consider themselves spoilt with the Kritical Audio twelve on Detroit Underground that veers between minimal, house, techno and electro whilst also dipping into low slung dubstep and breaks. The final edition of Golden Years Classic Cuts from Unit Moebius filled the requisite weekly allowance of Clone shaped brilliance.
After a delay supposedly caused by a Uruguayan cargo ship drifting into the Bermuda Triangle, the hotly anticipated double 180gm vinyl drop of  remixes of disco dandy Harvey finally arrived from International Feel's Punta Del Esta HQ with the much vaunted Linny & Prinny remix notable for using a brassy refrain that will be familiar to fans of ladies shaving products. If you like "I Want It" then we suggest you investigate the new Eskimo twelve from Bottion, Francisco and Rodion, whose self explanatory "BFR" matches the Harvey track in the incendiary call and response disco stakes. The trio of Sun Sound twelves should interest those disco fans who like it original, remastered and presented in lavish sleeves.
Sitting all alone in this paragraph and the newly crowned tropical electro dementia genre is the far too fun debut sounds of Yes Wizard! on Joakim's consistently brilliant Tigersushi imprint. Not only does it contain two original productions from the mystical Brazilian urban legend and a magical remix from the lesser spotted Duke Dumont, it is also covered in some delightful artwork as modelled at the top of your screen there.
Over at the towering fortress known as Juno Download HQ, Ostgut Ton dropped a remix package featuring tracks from Steffi's recent long player Yours & Mine. On remix duty was Juno Plus favourite Lone, The Analogue Cops and the annoyingly difficult to spell Staffan Lindberg. Jacob Korn meanwhile released his first full solo outing on the Dresden based Uncanny Valley label he helps to run – our initial review angle which ran along the lines of "unheralded underground success" being quashed by the bumper Resident Advisor feature on the imprint which went live this week (how dare they!) The other finest house releases of the week belonged to Laid (taking out the best compilation category) and Rush Hour (best single).
Meanwhile LV, who recently teamed up with Joshua Idehen for the excellent Routes album, unveiled another collaboration with Oxford band Message to Bears and South African vocalist Zaki Ibrahim. "Explode" is characterised by light, shimmering beats which sit respectfully beneath Ibrahim's dulcet tones, a neat contrast to the urban feel of Routes – the accompanying remixes aren't too shabby either!
Ada's release on DJ Koze's Pampa imprint sounded like "Bryter Later" period Nick Drake getting comfortable with Jose Padilla's DJ sets, with the German producer delivering a clutch of jaw-droppingly beautiful songs. Equally excellent but decidedly more rough around the edges was the EP from Austin, Texas based producer Disco Nihilist, who brought his raw and uncompromising style of analogue house to Gerd Janson's Running Back stable.
In the land of shiny circular slabs of music the Wolf  Music double CD mix and compilation arrived just before we signed off on the day's duties and is the pick of albums which also includes the much anticipated Crowdpleaser album on Tiga's Turbo Recordings and Trentemoller's introduction to the horizontally poised Late Night Tales series.