Skudge: Ghosts In The Machine
Last year, a series of records appeared simply bearing the artist name Skudge. Nothing was known about the person or people behind the alias, other than the fact that they had released a record on Alphahouse the previous year. What was clear from early on however was Skudge's dense, looped tracks were causing a stir, with support from everyone from Ben Sims, Luke Slater and Ben Klock to Shakir, Deetron and Efdemin as well as Marcel Fengler, 2562, Rolando and Aardvarck lining up to do remixes.
The four Skudge EPs in 2010 had clearly struck a nerve. The combination of tight loops, tempos that sat in the middle of the house/techno range and subtle references to Basic Channel's cavernous dub, the hypnotic tribalisms of Octave One and dense, loopy techno, all suited an audience who had grown tired of grey scale minimalism and whose appetite for interpretations of classic 90s sounds seemed insatiable.
That the releases were available on anonymous-looking vinyl simply bearing the act's logo, coupled with the fact that the authors remained in the shadows, further endeared them to a mindset attuned to facelessness. When asked about why they chose anonymity, one of the members of Skudge told this writer late last year: "We choose to be anonymous because we want the listeners to put focus on our music and not our personalities. For us, the music speaks for itself."
Skudge's reputation as one of the premier 90s-inspired contemporary techno acts is enhanced by the recent release of their aptly named debut album, Phantom.  Like the supernatural being that the title refers to, they seem to have snuck in unannounced and have stealthily become defining authors in post-noughties techno. However, such an assessment does not tell the full story behind Skudge, neglecting their admittedly patchy back-story and ignores some of the key factors that birthed their raw, crunching rhythms.
Skudge are two Swedish guys, Elias and Gustaf.
When this writer puts it to them that their artist name sounds very like sludge, and whether or not this as intentional, they reply that Skudge was "a cool word and it means something like dirtiness. A friend of ours used that word in a conversation and we thought it fitted our sound and artwork that are based on photos of dirty walls."
They also purport not to be following the anonymous trend. This claim is borne out on their website, which has pictures of them playing live, without a sign of masks, balaclavas or PLO scarves: "We don't try to hide and we don't try to be superstars," they explain.
But is the shady image part of a political belief system, in the mould of Underground Resistance? "No it's not political in any way, it's dance music. Techno should not have any 'shoulds'," they claim. As to their background, they say that they are "inspired mostly by the sound of 90s techno and house and also by what's happening in our lives".
"We come from two different backgrounds. We have broad taste when it comes to music" they add. "Elias started to go to rave parties in the 90s and got hooked to the scene and started to collect vinyl. He got into music making around 1997 and had some few releases before Skudge started. Gustaf mostly discovered electronic music through the internet and started to go to these kinds of parties in 2004/2005. He is following the new sounds, with a big interest in the past sounds of electronic music."
That they are influenced by 90s dance music is hardly a revelation, as anyone who has heard or spun their records will attest. Indeed, the title track on the album sounds like Basic Channel chords mixed with a Rolando bassline, but they merely deflect this by saying, "we like Basic Channel and Rolando of course, but how big influence they have had on us is hard to say".
Given their nationality, were they influenced by the techno that came out of Sweden during the start of the 90s from artists like Joel Mull, Adam Beyer, Cari Lekebusch? While there are traces of a heavier, drummy sound on the album, most notably on the jarring "Downtown" and the distorted drums of "Pressure Drop" and "Shivers", the duo are again quick to downplay a specific influence.
"We like loopy techno from the 90s and we have big respect for these guys and what they have done for the techno scene in Sweden, but for us it hasn't been necessary where the music comes from," they say. Despite this, there is no doubt that their surroundings had a bearing on their music, and unfortunately in Sweden during the 90s, that meant draconian policing and a relentless crackdown on techno parties.
"In the late 90s the authorities kind of destroyed the techno-scene in Sweden because of moral panic reasons," they say. However, these repressive measures did not work in the long term and one of the main launch parties for Skudge's album was The Office in Stockholm. "The underground scene in Sweden is growing again and a lot of younger people are going out to the these kind of private parties, The Office is one of them. We hope history won't repeat itself," they add.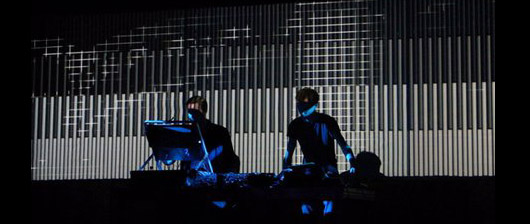 Despite working in an environment that still that does not openly embrace electronic music, Elias and Gustaf feel that being at a geographical remove from Berlin and London is conducive to music making. The Swedish climate also plays a role: in a country with one of the highest percentages of home studios in the world, there is little else to do during the long, dark winters than make music or sit in a sauna.
"In Berlin there are nice parties 24/7 and in Sweden it's more about the weekends, and it's not a good party every weekend here – but it's growing," they explain. "Yes, Sweden is dark and cold for about five months every year, and that has an impact of the mentality we believe. We spend more time in the studio than in the sauna, but it's really nice to sit in the sauna," they say.
The other advantage for Skudge is that they don't make music full-time and aren't relying on it to pay the bills. Although they hope that this situation changes, they say that their day jobs mean that "it's a relief not to have think about money while making music. If that becomes possible it would be nice, but we try to focus on the present time and just see what happens".
In the meantime, they continue to drop killer looped tracks that they say have by default rather than design, caught the attention of many big names in techno. Skudge insist that there was no game plan, no blueprint when they started releasing the series last year, and add that they were surprised at the reaction.
"The response that the first two records got was very surprising, we could not imagine that. It's really nice. This is a good, healthy time for techno music right now and there is an old school trend for good reasons, and that might have caused the fast recognition of our music" they say, but quickly add that "we are both kind of tired of trends and we don't think in that way when we make music. We have got more confident with our sound and always try to develop it in the best way".
That development is audible on Phantom, which features the eerie ambience of "Ursa Major" and "Modular Storm" and rougher workouts like the aforementioned "Pressure Drop" and "Shivers" book-ending by now trademark Skudge arrangements like the dubby chords, sweeping filters and dense drums of "Real Time". The same predilection for sampling also pervades the album as it did on tracks like "Mirage" or "Melodrama" from last year's EPs.
"We like loopy techno from the 90s and we have big respect for these guys and what they have done for the techno scene in Sweden, but for us it hasn't been necessary where the music comes from"
There are traces of vocals, riffs and sounds, snippets that that seem to float in and out of Skudge's tracks. Surely this is intentional for the tracks to be littered with 'ghostly' elements that appear and disappear at will? "We try not to describe our own music, but if you feel it's ghostly we think that is a nice thing, everyone listens to music in different ways" comes the curt reply.
Let's try this another way: apart from the samples, the album's track titles contains references to the supernatural and the heavens – Ursa Major, In Between, Vanisher, Realtime, Blackout, Phantom, Modular Storm – so are they interested in 'other worlds' or have they ever seen ghosts?
"We used to like movies, computer games – 'other worlds' – but now we like the real world more.  After we finish a track, we listen to it and then we find a name that we think suits it, where ever it comes from," they explain. "We believed in ghosts when we were kids, and we have watched a lot of horror movies, so it might be so, we haven't thought about that. In general, superstition belongs to the past when people believed in trolls and things like that. Unfortunately we don't believe in trolls. Sweden is a modern rational country – this can be very boring sometimes."
Maybe the references to the heavens and outer space has something to do with the fact that the stars are easier to see up in Sweden than in most other places in the world? "We like old sci-fi movies so they might have had an impact on us, but yeah, the stars are beautiful up here!"
Meanwhile, back on terra firma, Skudge are gearing up for more action. Apart from touring to promote the album, there will be more high-profile remixers, more releases and the prospect of other artists releasing on Skudge. It sounds like these techno phantoms will be with us for some time.
Interview: Richard Brophy