Cosmin Nicolae is a producer who debunks the notion that musical styles are specific to certain locations. Cosmin's breakthrough single "Put You Down"/"Broken Hearts" launched Ben UFO, Ramadanman and Pangaea's Hessle Audio imprint in 2007, an outlet that has since become inextricably linked with contemporary UK bass music. That release, particularly the ethereal, post–hardcore vocals of "Broken Hearts", sound like they were inspired by the early morning vista from a council tower block in Hackney rather than downtown Bucharest.
Meanwhile, on Decisions, Cosmin's 2008 release for Tempa, the links to the UK are strengthened thanks to Burial vocals being merged with a swinging rhythm and a bass so heavy that it couldn't be from anywhere but London or Bristol –  or could it?  The reality is somewhat different. At the time, Nicolae was still residing in his native Romania, which despite having been presided over for more than 40 years by Nicolae Ceaucescu, the most brutal of the post-war communist leaders, had an electronic music scene that largely resembled those in most other European countries.
"It did get a bit North Korean in the last decade before 1989, but I think Romanians are a genuinely outgoing people," Cosmin says.
"The regime did hinder the development of a 'scene', and even now some things are quite fractured and odd. There is no real discrepancy between the party scene there and others in countries more famous for it. Having said that, there is a bit of struggle lately in terms of venues, and cracking new trends and artists. Some people seem quite happy to see the same names every month. But really it's just club politics and they're the same everywhere I go."
It is impossible however to hinder the use and spread of technology, and around the start of the last decade, Cosmin began to mess about with music-making programs. Technology also allowed him to contact labels like Tempa, Hessle and [Naked Lunch], who were among the labels releasing his work. He is nonetheless keen to avoid solely attributing new technology to him getting signed.
"I'd say the internet has been quite instrumental, although it's the same waiting game. I've just been fortunate to enjoy support from many people involved in the scene," he believes.  "My environment right now [in Berlin] grants me access to a lot of different technologies. It's still basic at the core but I can expand and reduce at will, so it gives me the freedom I need to explore. Technology isn't more important than ideas. At the same time though, it will enable you to step out of your comfort zone. I can't play the cello for instance, but I will use one just to see where it takes me." Certainly, Cosmin seems to have no shortage of ideas and one of his strengths has been his ability to shift between narratives and approaches.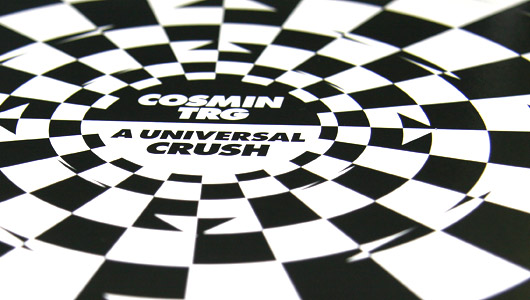 Even on earlier releases, there is a quite a difference between the Hessle and Tempa releases and cruder, more brutalist tracks like 2007's "Horny"/"Your Friends Like Techno" on Subway, that alternated between stepping rhythms and grinding techno, or the bass wobble and screeching stabs of "Killed It Dead" on Audio Freaks.  By 2008, Cosmin had changed again and released the dubbed out techno chords of "Generation" for Naked Lunch and the deeper techno/garage of "Missed Calls" for Subway. So does all this chopping and changing mean that his approach is the antithesis of purism?
"I don't know if I'm the opposite of a purist, I just make the sounds I want to make, and listen to the music I enjoy," he explains. "Sometimes purists can have a pretty miserable outlook on life in general and I wouldn't want to be a part of that crew. I don't dismiss a track just because it has the "wrong" hi-hat. So in that sense I'm not a purist, but at the same time I know what I like, and I stand by my principles."
Despite releasing music across the board, the use of sampling permeates Cosmin's work. From more blatant source uses like the Burial vocals on the Tempa release or the selector on 'Generation',  to the flurry of Chicago kettle drums on A Universal Crush, his new record for Rush Hour, Cosmin says sampling is at the heart of his work.
"I do love sampling and the fortunate accidents that happen when I put unrelated sounds together. I don't have a massive record collection, I'm really selective about my sources," he explains. On more recent releases, however, there is an identifiable trend, with the Romanian producer moving gradually but increasingly towards house and techno.
The Now You Know EP at the start of 2010 on Tempa saw him alternate between raucous house, the 90s techno-inspired "Purple Lights" and Lalo Schiffrin spy theme tunes on "Midnight Riddim", while "Groove Control" from the See Other People release on Rush Hour saw him embrace warbling acid bass and eerie synths, albeit with a more typical garage shuffle.
"I don't dismiss a track just because it has the "wrong" hi-hat. So in that sense I'm not a purist, but at the same time I know what I like, and I stand by my principles"
This development was pushed a few steps farther on Liebe Suende, also on Rush Hour from last year. The beats are straighter, the jazzy licks inspired by 90s Detroit techno, the gurgling acid from classic Chicago and yet there is a link with his past work with some evocative vocal samples. Cosmin says that veering more towards house and techno wasn't part of a master plan.
"It pretty much evolved into this, perhaps at some point it was a semi-conscious decision but it just felt more natural, more me," he says, before adding: "what I'm trying to put across is moods rather than stories – stories come a dime a dozen. Sometimes it's images and emotions filtered through sound, other times it's just dance floor tactics. I'd hate to over-theorise it".
Subsequent releases gave further vent to this shift, most notably the white noise-heavy techno of "Beton Brut" from his release on Hemlock late last year and this year's "Separat"/"Izolat" for Modeselektor's 50 Weapons label. While the latter record carries on with the dense drums initiated on Liebe Suende, it's the relentless low-end tones that ensure "Separat"/"Izolat" shares the same space as releases on Frozen Border, Fachwerk and Horizontal Ground.
"It is techno indeed, it was intended as one and it's hopefully one of many in the same vein," Cosmin explains. "I'm glad you dropped those names [Frozen Border, Fachwerk and Horizontal Ground] because I have a lot of respect for their work. I would say inspiration for that track goes a bit farther in time, to the Maurizio/ Basic Channel era. I think bass comes in many forms, and my favourite one is sometimes inaudible but physical, to be experienced on quality sound systems. There is no traditional bass line on "Separat" or "Izolat", just low frequencies."
Despite his recent move to the German capital and his hook-up with 50 Weapons, don't expect to hear a rake of anonymous-sounding techno records from him. Indeed, when Juno Plus asks him whether there is a danger that being at the hub of electronic music will stymie his creativity, he disagrees.
"When I was living in Bucharest people said I sound like London. When in London, I made music that sounded like Chicago, Detroit or Stockholm. My Berlin-sounding tracks were made back in Bucharest," he points out. "So I don't think Berlin is going to make me sound like Berlin, but I will definitely filter the vibe of the city through my own personality."
Certainly on the basis of his latest record, A Universal Crush, his creativity seems to be as hyperactive as ever. A melange of classic Detroit techno, 90s Warp electronics and the bassy thud of Frozen Border, it does feature a link to Cosmin's recent techno-centric music with the relentlessly dense and raw "Magnetic Bodies". However, he says that the tracks were recorded at different times and are not 100% representative of where his head is at right now.
"The tunes were made at different times. I didn't sit down to make an EP, but I think they feel right next to each other," he explains. "The influences you picked out are actually quite accurate, that's pretty much where I'm coming from with music. It has to be said though I don't own an impressive record collection, so the references in my music are more imaginary than factual."
One place that Cosmin will not be returning to is drum and bass. He readily admits that while they are "operating at the fringes of it", Instra:mental and Commix's music is "spectacular and genre-defying". However he says he himself won't be experimenting with it again: "It's not my scene anymore, particularly as D-Bridge has expressed everything I wanted to say at that tempo."
The next project that Cosmin is focusing his efforts on will be his forthcoming artist album (Universal Crush is a vinyl double pack). While he will adopt the same overall approach to production, the result may be less about functionality and more about a personalised view.
"My album is in the works, I have no idea what it will sound like, but the mission is to make it as personal as possible," he explains. "There is no template in mind – we all have our own little strategies but for me it's just about making it personal."
While it's in its early stages, Cosmin is nonetheless adamant that he won't be swayed by pressure to deliver a 'proper artist' album.
"If I feel like doing some more abstract stuff, then I'll do it, the same with dance floor stuff. I'm not really into those albums that feature the obligatory down tempo moment, or unfinished sketches posing as interludes, so whatever I put on the album is going to be there for a reason." By now, we should expect no less from Cosmin TRG.
Interview: Richard Brophy