Juno Plus Podcast 05: Orphan 101 & Bloodman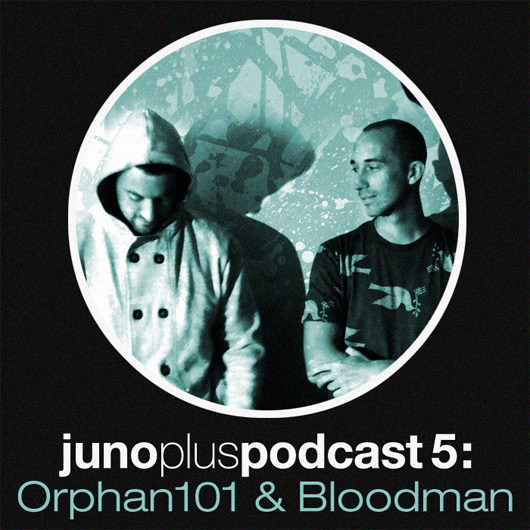 DecaRhythm duo Orphan 101 and Bloodman team up for the fifth Juno Plus podcast.
The Bristol-based pair launched the DecaRhythm imprint with Headhunter (aka Addison Groove) in 2010, with Orphan 101, real name Rob Davies, rising to prominence off the back of choice 12″s for Saigon Recordings and Appleblim's Apple Pips imprint.
It was on the former where we first heard the producer's idiosyncratic blend of techno and dubstep, with the brooding "Tribtek Part 1&2″, originally fifteen minutes long and subsequently split into two halves of vinyl. More recently, the Into You EP, also released on Saigon, once again brilliantly combined the sparse, mechanical atmospherics of techno with a dubstep sensibility.
Their Juno Plus mix keeps things, for the most part, in house. It was laid down in Bloodman's Bristol studio and contains a healthy sprinkling on Orphan 101 material (mostly unreleased) and some new Bloodman business, while tracks from Ramadanman & Appleblim, Gatekeeper and Arkist serve as the glue.
"There is no real set tempo for what goes in our mixes; just material that we really like and want other people to hear," Rob told Juno Plus.
He also gave us the low-down on what's coming up on the release front for the pair: "Ive got some more material coming out on Saigon later this year, but next up is an EP called Under The Radar on DecaRhythm which will feature four tracks from myself and a remix from Bloodman.
"Bloodman's been writing some amazing stuff and gaining some well deserved recognition. There will be a EP from him real soon too."
Juno Plus Podcast 05 – Orphan 101 & Bloodman by Juno Plus on Mixcloud
(The download of this mix has now been archived. You can still stream it via the Mixcloud player above)
Length: 01:06:29
Tracklisting:
1. Bloodman – Perception (unreleased)
2. Orphan 101 – Hart (unreleased)
3. Ramadanman & Appleblim – Void 23 (Aus Music)
4. Bloodman – Rafter (unreleased)
5. Orphan 101 – Under The Radar (Bloodman's Blunder the Radar Remix) (DecaRhythm)
6. Orphan 101 – Sus (DecaRhythm)
7. Orphan 101 – Pickile Me (unreleased)
8. Addison Groove – Make Um Bounce (Tectonic)
9. Bloodman – See (unreleased)
10. Arkist – Trapped in Tivoli (unreleased)
11. Addison Groove – Minutes Of Funk (3024)
12. Orphan 101 – Desto (unreleased)
13. Orphan 101 – This Junk (ILLO) (DecaRhythm)
14. Bloodman – Worn Smooth Into Forever (DecaRhythm)
15. Orphan 101 – Bop Gun (unreleased)
16. Orphan 101 – Time Lines (unreleased)
17. Gatekeeper – Rave End Credits (unreleased)
18. Orphan 101 – NI (DecaRhythm)
19. Orphan 101 & Bloodman feat. Soraya Saberi – Au-Dela (DecaRhythm)