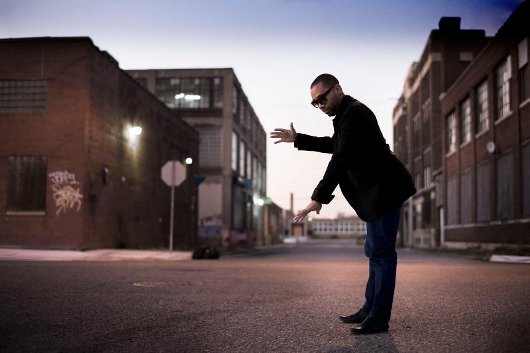 If ever there was a time for Carl Craig to sit back and reflect on his frankly dazzling career, it would be now. Planet E, the label he birthed as an aspiring producer in Detroit, turns 20 this year. As part of Detroit's lauded second wave, Craig followed in the footsteps of techno forefathers Juan Atkins, Kevin Saunderson and Derrick May, and came to prominence around the same time as the likes of Richie Hawtin and Jeff Mills.
From sweaty 10 hour basement sets to live jazz-techno performances at opera halls across Europe, Craig has seen and done it all before, and for this interview we honed in on the bridges he has built from his home city of Detroit to other musical styles and genres. Few can lay claim to have facilitated cross pollination between genres as much as him – from his seminal work in bringing an artful and jazzy element to techno, to re-editing and remixing artists affiliated to afrobeat, reggae, broken beat and indie, to his Innerzone Orchestra project, which served as a catalyst and inspiration for a nascent UK drum and bass scene in the 90s.
Planet E has been used both as a conduit for Craig's own productions under various pseudonyms, and a platform for a raft of other talent from Detroit and beyond. To celebrate two decades of releasing records, Craig will be taking Planet E on the road in 2011 – a simultaneous valedictory tour honoring the label's past and a showcase to promote its future. The tour kicks off this Friday night (March 4) in the auspicious surroundings of Berghain in Berlin, with the London showcase taking place the following evening.
I wanted to focus the first few questions on your achievements over the past two decades, specifically in terms of bridging the gap between Detroit techno and other musical styles and movements. What challenges did you face merging the seemingly disparate genres of techno and jazz, and how did the Detroit Experiment come to be?

The Detroit Experiment came to be because of what was happening with the Innerzone Orchestra. The idea of being able to cross these styles together was definitely a catalyst to bringing in Marcus Belgrave and all those other wonderful musicians that are on that (Detroit Experiment) album. Jazz and techno are very similar, but this is something I have been saying for 15 or more years, and when I first started saying it people thought I was out of my mind; a bit like, 'what the fuck is this guy talking about'? But because of the improvisation that goes into techno, and the mixing and the ad libs here and there, it really is like a slightly more restricted version of improvised music, like jazz.
The approach of guys like Miles Davis definitely foresaw the way techno producers work.

Yeah, Miles was an amazing conductor as well as an idealist, a visionary… and the way he controlled his band was almost like he was pressing buttons. He was so informed by James Brown and Sly Stone – all this music that was really funky at the time. When he did Bitches Brew, Get Up With It, and these kind of things, he would have his musicians play, and everyone would have to watch him to see what he was doing. And it's not like he was trying to show off and wave his arms and make all these passionate movements. They'd see him move his finger, and everybody would stop. It's almost like he was pressing the stop button on the sequencer. He would move his finger again and everyone would start playing at the same point.
There's also the oft discussed release of "Bug In A Bassbin" and it's influence on the early pioneers of drum and bass. What did you think when you first heard those early releases from the likes of 4hero and Goldie?
When I first heard Goldie's "Timeless" it was through Kodwo Eshun, he was doing an interview and he said, let me play you this track here, these guys are really influenced by what you're doing. And when I heard "Timeless" it was just incredible – it went far beyond what I had done with "Bug In The Bassbin". It was something that, even though he took some inspiration from us, he definitely got really deep in the arrangement of it, and the emotion of it. "Bug In The Bassbin" is a kid of voodoo, tribal thing with a relentless groove that you kind of fall into, but "Timeless" had this emotion and an amazing movement.
And then there was your forays into broken beat, especially that revered Incognoto remix. Tell me about that.
Well, Gilles (Peterson) asked me to do the mix and he did give me a little bit of an idea about what he wanted. He said, he'd love me to do a remix like the 69 I had been doing.  He gave me a direction with it and of course it's not like the fastest 69 stuff, it's probably closer to "Desire" and "Microlovr" and those kind of pieces I had done that were way more emotional. And I think it came out quite good in the end.
It certainly did! Then there was afrobeat, with the Tony Allen remixes…
Yeah the Tony Allen mix was a lot of fun to do. We had a summer in Italy where I was sitting with that album, my kids loved it, and I with my friend Moritz Von Oswald who had done mixes of the song. It was something that by the time I started working on it I had a connection with it already. It's strange because generally if I get too much of a connection with a track, it doesn't really work for me, but in this situation it just came together. I did the mix on the right day.
"My personal  success is judged by how much emotion I can get out of something when I listen to it 10 years later. I've had a concept about how I want to make classic music; that is timeless, and if I can listen back to something and feel what I felt when I made it, then it's definitely successful"
And you were recruited by London's Honest Jon's to re-edit The Congos' reggae classic "Congo Man", a Lee Perry production. How did that come about?

I did an edit of it to play out, and a couple of the guys from Honest Jon's heard me play it at Plastic People and I know Mark and Allen and all those guys from Honest Jon's and that's how it came together. They knew the guy who had the UK rights and they made it happen.
You mentioned Moritz before, and I wanted to ask about the working relationships you formed with European techno artists. I guess that was on obvious bridge to cross right?
For Detroit, we had a strong connection to the music of Kraftwerk, so there was always that German kind of relationship. Even with the English music – Human League and Yaz's "Don't Go" were being played on the radio. So there's always been this appreciation music from Germany and England. It feels like a natural thing, we're just into the music.
And how did you first meet Moritz?
Actually I met his old (Basic Channel) partner Mark (Ernestus) first. Mark was coming to Detroit and then Moritz arrived a little later. They did a Quadrant EP for Planet E, and that was the first contact I had with them.
You played together at the Royal Festival Hall last year – that must have been a special experience.
Yeah, definitely. We did that at the beginning of last year, which was such an amazing opportunity. The year before we had done these performances in operas houses across Italy, and it's really great to be able to take this music and present it in another way. It's another audience, instead of it being  'this is electronic music and it belongs in the clubs', it's good to help people to appreciate the music in a different way.
Most recently, you did a re-edit of Ramadanman and Appleblim's "Void 23" on Aus. Aus Music boss Will Saul described as a "landmark release", as it's the first time a Detroit legend has worked directly with UK dubstep producers, although the track in question was pretty much straight up techno.

I'm totally up for working with people and styles I've never worked with before, and when I do an edit or a remix or anything, to me it's a collaboration with the artist, it's not just me coming in and doing my thing. In the old terms of what a remix was, it was like fixing, and in my opinion, it's definitely collaboratory. I'm open all kinds of collaboration, and it's kind of fun to do, it's not a conscious effort of any sort to crossover. If I like it, I'll do it, and run with it.
Is it this same approach that's led to you remixing indie bands of late?
Yes. It has to be interesting for me to want to be involved with a remix or any kind of project, and whatever makes it interesting. There are remixes that I haven't done because I couldn't make the best of the situation. I don't want to finish something and say 'here, take it', when I haven't got my whole faith in it. I try to put 100 per cent of myself into everything I do musically.
Having gone through all that, which is just a small fraction of your achievements, is there anything you feel yourself, personally, that you haven't achieved yet? How do you judge your own success musically and in life?
My personal  success is judged by how much emotion I can get out of something when I listen to it 10 years later. I've had a concept about how I want to make classic music; that is timeless, and if I can listen back to something and feel what I felt when I made it, then it's definitely successful.
Of course the main reason we're chatting today is because your label Planet E is celebrating 20 years in existence. Can you tell me the circumstances and what was going on in your life when you decided to launch the label two decades ago? You were young but already established as a producer by that stage.
It was independence that I was after.  That is what I needed when I started Planet E – I needed to know that the music that I released was music I felt strongly about and was exactly what I wanted to release. I had a partner and another label and it felt like there was too much conflict in relation to what he thought the music should be and what I thought the music should be. I took it upon myself to start Planet E, and launching it was a very creative thing for me, because if you look at all the monikers that I used, for me to start a label was just like me making a Paperclip People record or a 69 record. It was just another form of expression.
What does it feel like to be embarking on a world tour at this stage of your career?
To do it now is more of a celebration than if I did it 10 years ago. Mentally, 10 years ago would I have been ready? I'm not totally sure, but I am I mentally ready to do it now? I'm not totally sure! I'll have to see if it's something that's gonna drive me nuts or if it's the first step to me doing world tours like Prince (laughs)…
"I've never been a hugely competitive guy. feel it doesn't work for my longevity to be extremely aggressive. You can start burning yourself  out – if you're really trying to make music to better somebody else, rather than just make music to simply better yourself."
Jeff Mills said there was a competition between the Detroit guys every time you were together – be it as DJs, or at a conference, playing squash, whatever. Is that something that's driven you all this time as a producer/label boss/DJ?
I've never been a hugely competitive guy. With Jeff, because he was on the radio, he had to be competitive. His show was competing against other people's radio shows. I'm sure he and Derrick  had a bit of healthy competition, Derrick and Juan had healthy competition, Derrick and Kevin had healthy competition. But I feel it doesn't work for my longevity to be extremely aggressive. You can start burning yourself  out – if you're really trying to make music to better somebody else, rather than just make music to simply better yourself.
Recently there was an interesting case where you bootlegged a bootlegger, so to speak. It's an interesting response, and one that I've certainly never seen before, especially from someone so high profile. Why did you choose to do it?
You know I don't have any problem with mash-ups, I don't have any problem with sampling, but I have a problem with bootleg of something or the original. With the Theo Parrish remix I did, that got bootlegged, "Sandstorms" got bootlegged. So when this thing came, it just really pissed me off. So I thought, fuck it, I'm gonna reclaim back some money borrowed from me. It's like a neighbour borrowed my hedge-clippers without asking so I went and took my hedge-clippers back.
Where do you see Planet E in 2011 and beyond?
Let's get through February 2011 first (laughs).
There's been a bit of talk about a Kyle Hall album on Planet E this year – can you tell us anything about that?

Kyle's great – he's not only talented but a nice guy too. I just wish there were more people coming from Detroit now doing what Kyle does. Kyle and I have discussed the future but I'm not going to comment, as there's nothing concrete just yet.
Interview: Aaron Coultate