Native Instruments unveil Traktor 2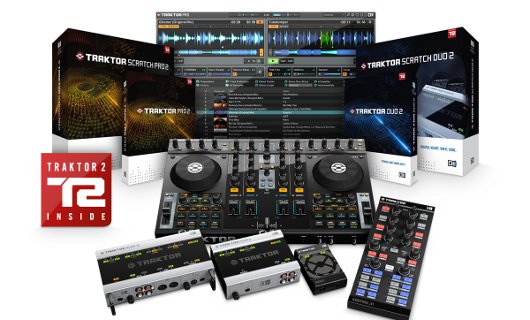 Native Instruments have announced a significant software and hardware update to their revolutionary Traktor series in the form of Traktor Scratch Pro 2 and Audio 6 and 10 interfaces.
On the software front they've redesigned the waveform display for greater accuracy and visibility, expanded the capabilities of the sample decks (up to four now available) with on the fly looping and sampling now being available as with the S4 edition.
The new "Truwave" technology displays tracks and samples on all four decks with high-res, multi-coloured waveforms offering extra-wide zoom range and subpixel-accuracy waveform rendering. The "Softsync" function allows you to keep the tempo of multiple tracks in sync without manipulating the phase and there are four additional effects including tape delay and "bouncer".
Hardware wise, The Audio 6 and 10 interfaces now give you their respective number of analogue inputs and outputs, including the addition of a direct thru which means you'll be able to pass the audio signal from a turntable or CDJ straight to the mixer without the aid of an attached laptop, making complicated DJ switchovers a thing of the past – not to mention the advent of clubs installing the units as standard with DJs plugging straight in.
When all decks of the Traktor software are routed to individual channels for external mixing, a further stereo I/O remains available for use with the "Loop Recorder" and "Sample Decks", as a dedicated effect send/return. The LED's have also been updated allowing for greater monitoring in low-light situations.
Traktor Scratch 2 and Audio 6 and 10 will hit the shelves in April. In the meantime check out the handy video NI posted on YouTube below.