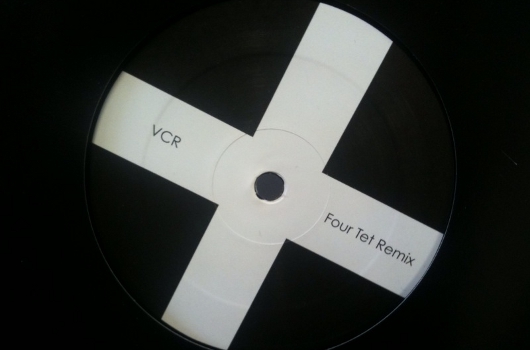 In a week that a fresh bout of rumours over the impending death of the humble 1210 surfaced, record labels across the world gave us plenty of reason to keep on loving the 12″ format with some huge releases.
Night Slugs finally released "Wut" by Girl Unit which is proving to be one of this years most divisive releases. Four Tet managed to slip through our web of cynicism about the six trillion remixes of The xx that have been released with a monumental refix of "VCR" . DFA and Planet E got their act together and finally endowed the LCD cover of Paperclip People's "Throw" with a 12  inch release that comes backed with the masterful original from Carl Craig. Mark E's Merc introduced us to the brilliance of Chicago Damn and we defy anyone to not fall immediately in love with "Be Your Man". Oh and Metalheadz dropped the second and very techno heavy Commix remix twelve which is ruled by Kassem Mosse's homage to man with an iron Goldie.
Away from this mass of vinyl hugeness there are some less immediate but ultimately just as rewarding releases this week. Edit Select gleaned some superlative techno retakes of Scottish producer Gary Beck from Mark Broom and Speedy J, whilst Vakula and San Proper did similarly magic to Jon McMillion. The mysterious MCML collective turned the clocks back to 1987 with an EP ruled by the raw brilliance of their LNR rework. Under The Shade added another  chapter to their annus mirablus with a third EP from Chamboche that includes dazzling remixes from Moscow and Runaway. The latter also provide a thumping rave refix of Barford & Bjorke's debut on Mirau that comes with a shining recommendation from Roy Dank of Wurst.
The battle for most releases in a week was played out between New Yorker Joe Claussel and Italy's Volcov, with the former dropping some throwback edits of Ron Hardy and Frankie Knuckles favourites. Not to be outdone, Volcov delivered the final edition of his Slam Jam edits as well as 10th Anniversary Neroli vinyl sampler that features Jus Ed's wife, 4Hero don Dego under his Nutmeg alias and a remarkable track from Prime Numbers alumni Be.
The pick of this week's download releases was led by a debut appearance from Londoner MODE whose "Lo Fi Odyssey" is a remarkably rich sojourn through the depths of slo-mo house. The addition of superlative remixes from The Stallions, Pete Herbert and In Flagranti make this another winning release from Codek. Rush Hour delivered a trio of excellent releases across the board in Awanto 3, Cosmin TRG and Marcello Napoletano whilst Phantasy Sound's second Babe, Terror EP featuring a stunningly unique take from Duke Dumont finally popped up.
Right, I'm off to soak my senses in the sonic richness of the COS MES album for the afternoon.
As always, happy hunting.