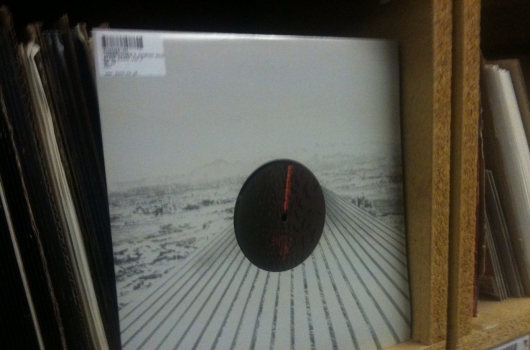 With Halloween around the corner there was a few releases this week that might be suitably menacing for your party needs.
Maurice Fulton's positively frightening cover version of the Jaws theme tune surfaced on one of two vinyl samplers from last year's rare as hens teeth Inner Film 70s compilation. There's also versions of cinematic soundtrack classics from Prins Thomas and Yukihiro Fukotomi to check though we're not so sure about that trance version of Star Wars. Elsewhere Black Disco enlisted Justin Vandervolgen to compile the ninth volume of their brilliant edit series, with the TBDer not dissapointing dropping two Giallo horror tinged haunted house throbbers.
Sonically different but no less menacing was Shackleton's remix of Kasai All Stars lifted from the forthcoming Congotronics remix project from Crammed. Shackleton's version of "Mukuba Special"  loops up the distinctive tribal vocals which reverberate cavernously beneath multi faceted percussion and a droning sense of impending peril. Sexing things up markedly was the Agoria and Carl Craig one sided 12″ which needs little in the way of additional hyperbole though it does feature some rather steamy vocal interplay between Mr Craig and La Scalars. In a good week for techno legends, we also got Robert Hood dropping some much overdue new Floorplan material as well as delvering two remixes of "Deep Blue Meanies" from JuJu & Jordash.
Another producer to have graced us with two releases this week is Omar S with one of the 12″s including a welcome reissue of Roy Davis Jnr's astoundingly raw Stevie Wonder cut up. Speaking of rawness, you should check the analog kick of Storm Queen, the new project from Morgan Geist on Environ that features some truly brilliant diva vocals from Damon C. Scott.And we cannot forget Space Dimension Controller's distinctly unique Temporary Thrillz EP for R & S which comes on two 12 inches and is the epitome of essential.
Turning attention towards bassier matters, Monkeytown delivered the second Modeselektion vinyl sampler with some real heat from 2562, Shed and SBTRKT who also featured on the long over due vinyl release of Tempa All Stars Vol 6 along with Falty DL and Benga. Lone's much anticapted "Once In A While" on Werk was in stock  for all of a day (thanks in no small part to remixes from Sinden and Midland) whilst Instra:mental's Alex Green adopted a new alias in Boddika for the Naked Lunch imprint and dropped two sides of vintage UR techno on a snow white ten inch – do seek out!
In the realms of digital downloads Tensnake's Mirau dropped the release of the week in Kasper Bjorke and Thomas Barford's Superbacon EP which is filled with rave and comes backed with a thumping effort from Marcus and Jacques Runaway. On a slightly more horizontal note, Bear Funk delivered a second album of contemporary Balearic bliss from Max Essa which is on a much more vocal tip whilst Brassica's reworking of JR Seaton on Relish is something fans of the more idiosyncratic disco sound should be checking.
Tresor's reissue of some seminal techno from the likes of Drexciya and Jeff Mills along with Apparat's induction into the DJ Kicks hall of fame are the highlights of a strangely muted week for album releases.