Ones To Watch (No 14) – San Soda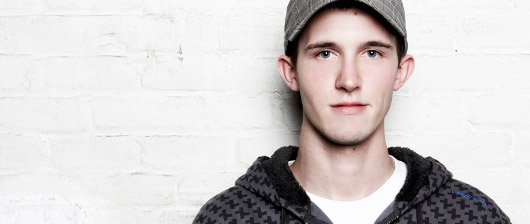 The fourteenth instalment of the Juno Plus Ones To Watch series takes us to Belgium, and the small city of Deinze. It's here that Nicolas Geysens, aka San Soda, had his house music epiphany, thanks to the music policy of resident DJs at the Clues nightspot. Flash forward a couple of years and one of those DJs – Red D, real name Bart Van Neste – is at the helm of the fledgling We Play House imprint, which has piqued the interest of house music cognoscenti, thanks in no small part to the contribution of 23-year-old Geysens. One of those guys who falls into the 'far too talented for someone so young' category, Juno Plus caught up with San Soda to discuss his upcoming debut album and the unlikely role of amateur football side FC Leiejongens in his nascent production career.
What were your early experiences with music and how did you get into production?
I joined a local radio station at the age of 15 and started taking care of the sports section on Sunday afternoons with a friend of mine. Later on we started a weekly radio show and played mainstream music. Fascinated by the 'real' DJs, we started to buy records and got the opportunity to play at some big parties thrown by the radio station. The music we played was mostly rubbish; I don't think I kept any more than 10 of the records I bought in that period – I sold all the bad stuff. I started to go to a small bar in Deinze called Clues where resident DJs were playing every Friday. After a couple of visits I started getting fascinated by their underground, non-mainstream music.
Was there a night, a DJ or a song that stood out at Clues?
One night Tyree Cooper was playing there; my friends left early but I stayed and found out what house was. I partied with fifteen people I barely knew, discovering classic after classic. I remember singing 'house your body, move your body' for days after that party until I found out what track it was. I started to go more regularly and became good friends with the resident DJs. Red D and Lenny taught me a lot about house, trance and new beat; Olivier Tsjoen and Ramses broadened the spectrum to soul, funk, disco and hip-hop. The step to producing music was a small one. I installed Reason on my PC and tried to imitate tracks and sounds that I liked.
And how did things develop from there?
Red D invited me to join FC Leiejongens, a local soccer team, and before that we didn't really know each other. After a couple of weeks I burned some of my tracks onto a CD and gave it to him in the dressing room after a game. A couple of days later he sent me a text saying he liked some of the tracks and was playing them. I couldn't believe it, but then he told me about his idea to release a 12" and start a record label.
"One night Tyree Cooper was playing in Deinze; my friends left early but I stayed and found out what house was. I partied with fifteen people I barely knew, discovering classic after classic"
Where does the name San Soda come from?
The monthly radio show I hosted for two years was called Soda Sessions; San was a nickname for me on a summer camp. The two together didn't sound bad. So it has nothing to do with Spain or me disliking alcohol!
Your debut album takes in an impressive range of tempos, with nods to styles reaching far beyond house music. What was your aim when you went into the studio to make this album?
It is more a collection of works from the past three years rather than every track being made especially for the album. The album as a whole however tells the story of me learning about music and music production from scratch three years ago to the point where I am now. I still have a long way to go but this represents the end of a period where everything was new to me and I didn't really think about what I was doing.

Your sound has a very classic feel to it – do you prefer using analogue equipment?
Definitely, I started to move away from my computer and started turning to hardware synths and an MPC. I just bought an analogue mixer recently too. There are loads of things on my wantlist, like an Emu SP 1200, Xoxbox, Vermona DRM and a decent microphone.
Where did you produce the tracks featured on the album?
I've built and made tracks in (sometimes miniature) studios in different places: at home, at Red D's place, the Red Bull Music Academy in Barcelona and four different places in Ghent I lived in or rented to make music. The tracks on the album range from 2007 until two months ago.
Tell us a bit about the FCL project – the Vocals For Everyone EP is one of Juno Plus's favourite releases for 2010. How do you and Red D work as a production duo?
The challenge when making a track together lies in translating our common musical visions and ideas into musical terms. Sometimes we start with a basic track and work it out together. With remixes we simply try some stuff out until we find something we both like and start from there. I take care of the technical stuff, but Bart is the word wizard so when vocals are needed, he takes care of the lyrics!
Have you DJed at Clues often, and, if so, what was your first gig like there?
I'm one of the residents there now and it's still so much fun to play there. I can't really remember my first time there, one of the coolest gigs however was with Antal from Rush Hour. He's one of the best DJ's I've heard so far.
Are you starting to get booked for more gigs outside Belgium? What do your sets encompass, in terms of track selection?
Yes, I'm getting more and more bookings outside of Belgium which is a dream come true. Places like St-Petersburg, Berlin and Arnhem have been amazing. In terms of track selection, it depends on the freedom I have to play what I feel like playing, which changes from venue to venue. It ranges from hip-hop, soul and funk to techno, disco, acid or even a bit of house (laughs).
"The album tells the story of me learning about music production from scratch three years ago to the point where I am now"
What other producers are you feeling at the moment?
There are loads. At the moment I really like Marcellus Pittman, Hunee, Deetron, MCDE, Floating Points, Caribou, Theo Parrish, Jakob Korn, Kyle Hall and Mano Le Tough…
Where is the best place you have heard one of your tracks played?
In summer 2007 I was studying for an exam in my room at night. I opened my window and heard one of my tracks in the distance! It turned out Bart was playing "Quilombo" at a beach party down the road…
What does the future hold for San Soda?
Some remix projects on We Play House, Composite Records, Trunkfunk and other labels, finishing some new FCL stuff, a couple of gigs a month, working out a live setup, finding a new place to live with understanding neighbours, finding a part time job, writing a thesis for school, going on a holiday with my girlfriend and deciding which of those to do first…