Model 500 EP art, tracklist revealed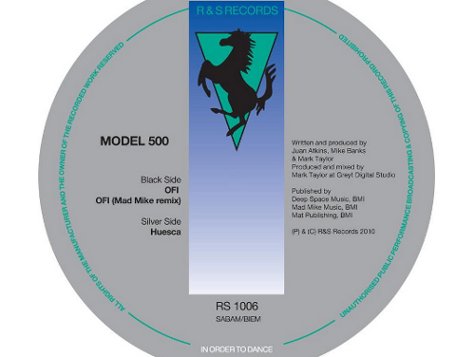 The artwork and tracklisting for Model 500's return to the production fold has been revealed.
As we reported back in July, the seminal Detroit outfit fronted by Juan Atkins will release its first new material in 11 years via Belgian imprint R&S Records (which released the last Model 500 material, 1999's Mind And Body).
Originally a solo project, Atkins has in recent times called on friends 'Mad' Mike Banks, DJ Skurge and Mark Taylor to form a live outfit, and the trio have performed at festivals across Europe and the US.
This single is the first music to come from the new look line-up, with Atkins, Banks and Taylor sharing writing credits. The EP consists of two original tracks plus a remix in which Mike Banks pops on his Mad Mike hat and goes all Underground Resistance on us.
The EP will be released on September 13 via R&S Records.
Tracklisting:
A1 OFI
A2 OFI (Mad Mike remix)
B Huesca