Juno Podcast: Disco 14 (mixed by Faze Action)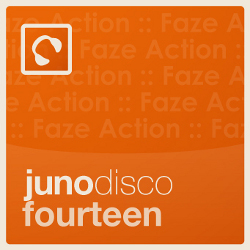 The Faze Action boys are back again with another killer disco podcast, featuring the likes of Prins Thomas, Jacques Renault, Diskjokke and Rudy's Midnight Machine.

As always, it's an impeccably mixed selection of the latest disco nuggets from a production duo very much in the know. It's usually an impossible task to pick a highlight from these podcasts, but this week the Juno Plus team has settled on a two way tie between Monsieur Renault's hands-up remix to Midnight Magic's "Beam Me Up" and the new Franc Spangler jam on the impressive Delusions Of Grandeur imprint.
You can subscribe to the mix for free in iTunes here, buy the featured tracks from Juno Download here, or stream/download it via the cheeky little Soundcloud player below. Enjoy!
Juno Disco 14 mixed by Faze Action – click "buy on juno" for full tracklisting by junodownload.com
Tracklisting:
1. SFPV: High On Da Boogie (Strangelove & Flamingo (SFPV) edit) – Par-Tay
2. Max Essa: Back To The Beach – Bear Funk
3. Kaine feat Kathy Diamond: Love Saves The Day (Mario Basanov dub) – Needwant
4. Presence feat Shara Nelson – Sense Of Danger (No Ears dub) – (Juno)
5. Franc Spangler: Forever & A Dub – (Delusions of Grandeur)
6. Dionigi: Electro Vibes (Havana mix) – (Quantistic Division)
7. Midnight Magic: Beam Me Up (Jacques Renault remix) – (Permanent Vacation Germany)
8. Rudys Midnight Machine: Street Museum – FAR
9. Connie Case: Connie Case – Get Down (extended) – (UTC)
10. Diskjokke: 1987 (Prins Thomas Diskomiks) – (Full Pupp Norway)
11. Partay: Berro E Sombaro (Strangelove & Flamingo (SFPV) edit) – Par-tay