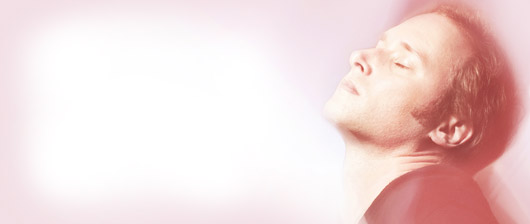 Michael Mayer is a founding member of Kompakt Recordings, the Cologne imprint borne out of Delirium, the record emporium he was involved with alongside fellow Kompakt founders Jurgen Paape and the brothers Voigt. Since establishing the brand in 1998, they have forged a signature "Cologne Sound". 2010 has been one of Kompakt's strongest years, with the third instalment of Mayer's Immer mix released alongside impressive albums from Walls and Thomas Fehlmann, with an 11th edition of the Kompakt Total series due later this month. Ahead of Michael's appearance at Eastern Electric's August party we got him on the phone to discuss the important things in life…
Hi Michael, how are things in Cologne?
It's very hot and there's no air conditioning in these offices, but we're expecting a thunderstorm later which will be nice!
Ah good, so label duties at Kompakt are split between yourself and the Voigt bros – who does what?
Wolfgang is the sort of Chairman and doesn't have much involvement in the day to day running as he has other projects he's working on, Reinhard looks after the accounts. Jurgen Paape oversees the record shop whilst I look after the label, the A & R and all that involves the distribution network.
And the distribution network seems to be really picking up.There's so many labels that go through Kompakt – Throne of Blood, Endless Flight etc.
Yes there's over 40 that we work with!
Is there a particular ethos behind the labels you choose?
Well it's always good if they are nice people to work with! But beyond that if they are fully committed to the label, then the relationship works much better. There's a world of difference between simply updating a MySpace page and actively promoting the labels releases. We try and shy away from anyone who simply sends through WAV files and expects us to do the rest.
Let's move on and discuss Kompakt in 2010, where would you say it is at musically?
Well we're not really focusing on club music at the moment; some of this year's releases such as the Walls album are definitely removed from the dancefloor. I think as a label it is a good thing to sometimes surprise our fans, and of course Kompakt has always been doing this.
You've recently unveiled the details of Kompakt Total 11, your annual compilation and the associated party. The majority of the double CD is unreleased material right with some interesting collaborations such as the Three Lions track. It seems that you've tried to bridge the gap between the familiar and not so familiar sounds on Kompakt with Gui Boratto and Matias Aguayo next to more recent additions in It's a Fine Line and Mugwump?
Other than usual, TOTAL 11 consists predominantly out of unreleased material. We've reduced the "Best of…" part to a minimum in favour of showcasing what our artist family is up to in 2010. After last year's 10th edition we felt that it was time to break with old habits. There's a quite a creative explosion happening these days. There's so much uninspired music out there – we hope to be able to offer some interesting alternatives.
"Immer 4? No not yet, I'm taking a break for a while!"
And there's even a track that features your saxophone playing skills? Is this something that might feature on future Mayer releases?
I don't think this will play a bigger role in my future career… I started learning saxophone at a time when every cool pop band had to have a sax player in it. When I finally succeeded to play it decently acid house made my efforts obsolete. Tough shit…
The Kompakt 11 party at Papierfabrik Ehrenfeld in Cologne looks suitably grandiose too. Who are you most excited to have on the bill?
I'm certainly happy to have Thomas Fehlmann on board. I adore his live shows… he's in a class of his own!
The venue sounds quite special too…
It's definitely the best venue in town at this point. It's rough, wild and it's got a beautiful outdoor area for the after party, too.
Kompakt have been responsible for one of my favourite albums of the year in the debut effort from Walls, how did you come to signing them up?
I already knew Sam on various levels, from working with him on promoting events to the Allez Allez site but I was never aware of him actually producing anything beyond a few Allez Allez remixes. And then one day there was a CD in my office! After listening to it, I was like 'okay let's do this'.
Sam and Alessio Walls are definitely two of the more interesting producers to emerge of late, what's your impression of electronic music in the UK?
Well there's just so much going on over there that it doesn't always filter through! I can't really get into dubstep as I've always been a four to the floor man, but there does seem to be a continuing passion for house music that stretches beyond just producers and into the underground with a lot of deep house parties. I am quite excited about Tri Angle Records, the label set up by Robin from 20 jazz funk greats though.
Moving on to your Immer 3 mix, I'm interested in how long it takes for you to select and mix together the tracks. Personally I hate doing mix CDs as I'm a perfectionist. What's your approach?
Oh I'd say I'm a perfectionist too! The thought process that goes into the selections for these mixes never stops really. I've been thinking about what tracks might fit in since Immer 2 was released, there'll always be a moment where I ask myself if this track might work. I'd say that from January to March this year was when I finally nuanced all the tracks into what makes the final selection.
So have you started on thinking about the tracks for Immer 4 yet?
Immer 4? No not yet, I'm taking a break for a while!
Let's talk a bit about Fright, your label that deals with dark tinged discoteria, to date you've only had two releases – Gatekeeper and Antoni Maiovvi, what's next?
Well Fright is sort of a hobby between me and Jon Berry who plays a very important role at Kompakt. It's not something we feel under a great deal of pressure to put out releases on – though the next thing might well be an album but I can't go into detail on that right now
It's probably something you get asked a lot but what are your thoughts on the current state of electronic music in the digital age meaning anyone with a laptop can feasibly class themselves as a DJ without any real skill or ability to mix?
I have no real qualm with people using digital technology to perform with, you should be encouraged to use any means possible. I'm still very much a vinyl man and probably use it 70% of the time when I DJ, along with CDs. It's piracy that really annoys me though, people using illegal downloading as their main source of music. It's having a truly damaging effect on labels abilities to release larger projects and is very worrying. As a caveat, I'm finding there is lots of music these days which you only really play for a limited time, it has no longevity. In these instances I think it's not worth pressing these tracks up on vinyl so these are the tracks I get digitally
You were over in London in March for the "A Night with Michael Mayer" event. How did it go and what did you end the mammoth set with?
Oh it was amazing, as a DJ it was perfect as I got to play an extended set to a crowd who were assembled to see me – it was very Mayer friendly! As for the last track I think it was a version of a Right Said Fred song…
"It's piracy that really annoys me though, people using illegal downloading as their main source of music. It's having a truly damaging effect on labels abilities to release larger projects and is very worrying"
And what can Eastern Electrics attendees expect from the Kompakt stage?
The Kompakt stage is going to be quite deep I imagine, with Thomas Fehlmann, Robag Wruhme and Jo Saurbier. Thomas is basically a club in himself, whilst we have Jo warming up and he's basically the best warm up DJ in the world. I'm very excited about it as the promoters have programmed the event very well.
I find it quite interesting to hear what people immersed in electronic music listen to outside of it, so what other music have you been digging of late?
I'm a big Broken Social Scene fan so their latest album Forgiveness Rock Record has been getting alot of play and look out for a Supermayer remix of "All To All". I've been trying to broaden my appreciation of jazz, a genre I've neglected over the years, so I've been picking up old jazz records based mostly on their covers which have proved to be interesting. Additionally I have been enjoying Martin Denny, a founding artist of Exotica from the 50s and also the Now Again compilation Forged From Chains which is a collection of amazing psychedelia from across the world.
Finally, what's to expect from Kompakt in the second half of 2010 and beyond?
Well there apart from Kompakt 11 There's a new Superpitcher album which is really different to what people expect from them which I'm really excited about. Kompakt are also releasing a debut album from Jatoma, two 17 year olds from Copenhagen which was done with some help from Thomas Barford of Whomadewho, which is really difficult to describe, it's quite psychedelic. If you can imagine a cross between Walls, DJ Koze and Flying Lotus? It's totally not what you'd expect from two seventeen year olds!
Interview: Tony Poland
Michael Mayer will be playing at the Eastern Electrics Bank Holiday party in London on August 29. More details here.