Juno Podcast: Disco 13 (Faze Action)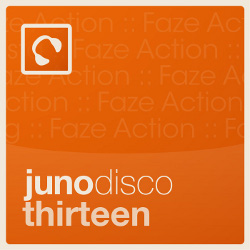 Ilija Rudman, Jay Shepheard and Morgan Geist all feature in the latest Juno disco podcast, which has once again been expertly curated by Faze Action.
For all you DJs, there are some lovely disco nuggets in here that you can pilfer for your own sets, while the rest of us can just sit back, listen and enjoy.
As always, you can subscribe for free in iTunes here, buy the featured tracks from Juno Download here or stream/download the mix via the Soundcloud player below.
Juno Disco 13 mixed by Faze Action – click 'buy on juno' for full tracklisting by junodownload.com
Tracklisting:
1. SFPV: Symptom Of The Universe – Space Truckin'
2. John Waynes: Falling Leaves (Social Disco Club edit) – Groovement Portugal
3. Ilija Rudman- Time & Time- Electric Minds
4. Rudy's Midnight Machine -Dib Dab- FAR
5. Hatchback/Command: Jetlag (Faze Action Remix) – Thisisnotanexit
6. Cyclades: Fire To Desire (HMD) Strut
7. Rudy's Midnight Machine: Open To your Love- FAR
8. Sare Havlicek: Deco Drive – Nang
9. Jay Shepheard -City To City – Dirt Crew Germany
10. Tracey Thorn: Why Does The Wind? (Morgan Geist mix) -Buzzin Fly