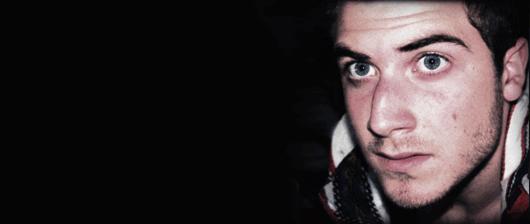 Based in New York City (by way of Chile), Nicolas Jaar first started making music at the age of 14 and had his first official releases out on Brooklyn label Wolf + Lamb at the tender age of 17. Now, still only 20, and with a handful of releases under his belt, the young producer has been turning many heads, including that of Seth Troxler who called him "one of the most talented minds dance music is about to see develop". While Jaar's releases appear on dance music labels, his music bends and crosses many genres, and it's impossible to put his sound into any neat little box. Juno Plus contributor Helen Luu caught up with Nicolas after his set at the Mutek Festival in Montreal and found out about how hip-hop influenced his new album, why he started his own label, and how both Karl Marx and his transnational childhood years helped shape his music.
Can you tell us a little bit about your music – how would you describe it?
Well, it's marketed as house music, but I never really made dance music at the beginning, and I never think about making it. I never think "Oh, I want to make minimal techno" or "I want to make house". I think that's the first important thing if I want to describe my music – I've never really tried making dance music. Dance music is a lot of genres and this and that, but the Beatles can make you dance. It doesn't have to be a 4/4 kick drum with a hi-hat in between and a sub-bass or whatever. A lot of things can make you dance, so I never stick to that – it's not interesting to me.
Although your musical influences are really varied and go beyond just techno or house, it seems like all these dance music crowds have really picked up on you. For example, Seth Troxler did a remix of one of your tracks and totally changed it. Why do you think you've been picked up by that kind of scene?
It's because I met the Wolf + Lamb guys when I was 17, and since then they've curated most of what has come out. They really liked "Time For Us," "El Bandido," and "Mi Mujer" so they put those out. I have a say, of course – it's completely 50/50 – but they're definitely the ones saying which tracks are good for the dance floor.
What are the key moments in your life that helped to shape who you are today as an artist?
I lived the first two years of my life in New York. Then my mother and I left for Chile, and I came back to New York when I was nine. So, I think having these crucial formative years in New York, then everything getting sort of shuffled in Chile and finally coming back to New York is the "key moment". I feel like that's what may happen in my music a lot. I'm talking in the sense that an idea is very much formed, but then there's chaos and a disconnection, and then there's a coming back. That's the biggest thing that happened in my life because your parents are everything.
Does Chile and New York appear in your music at all? How so?
"Time for Us" is very New York, for me at least. I made it at [Wolf + Lamb's] the Marcy while living there. Then you hear "El Bandido" which is like the soundtrack to a Puerto Rican soap opera, but it has nothing to do with my life in Santiago. It talks about this guy whose girlfriend cheated on him, and he's saying "Oh, that bandit of love". It's really cheesy… I'm sure Chile has something to do with it but I think everything influences, not just nationality.
You started your own label as well, called Clown and Sunset. Tell us a bit about that…
I started making music when I was 14 so I have at least a hundred unreleased tracks. I have a lot of unreleased music. I also met these two kids who are really young like me – no one knows them – making very beautiful music… and I thought, you know, I'm not going to be someone who is going to put out stuff on a lot of labels. Right now, it's Wolf + Lamb, Circus Company, and Clown and Sunset. So Clown and Sunset is the way for me to be independent and put out the music that I feel should not be on either Wolf + Lamb or Circus Company. Actually, in the fall I'm going to put out this girl called Iva Gocheva who makes this indie rock type of thing. It's not really electronic music. It's electronic rock or whatever.
I heard that you have a new full length coming out later this year on Circus Company. Can you tell us a little bit about the new album?
Since you saw the performance today, you realize that a lot of it – especially at the beginning – was very slow. Very slow, and I was playing with an MPC which is sort of the old school hip-hop machine. The album is very influenced by hip-hop.
Out of curiosity, what else do you listen to?
Right now, apart from instrumental hip-hop, I just got into Factory Records. Jazz also… the sound quality is sometimes out of this world. They know how to do good sound better than anyone. And African music. Latin music, always. Arab music.
Because your music is so interesting, I was just curious what goes through your head while you're making music? What do you see, if anything?
When I first started making music, I had these abstract thoughts and these emotions, and they translated very easily into music. That's what I could do at first. Then it became impossible to do that, to tell you the truth… you can't sustain it. There's a point where music is not up in the air anymore. I like the idea that thoughts stem from material existence. Music can be very up in the air and esoteric, and it is, but it also stems from real experience, like the architectural space I'm in. So, when I make music, I'm just a piece in that balance.
Besides the new album, can you tell us what else you have coming up in the next little while?
I have this 12-inch on Circus Company, which has just come out. It's called "Marks & Angles". The A Side is called "Marks" and the second side is "Angles," and the third track on Side B is "Materials." So, this has a lot to do with what I just said.
Did Marx and Engels influence these tracks?
Yeah, just thinking about the space I'm in when I make something. I made those tracks thinking about these things. Hip-hop has a lot to do with it too. Hip-hop culture is about a physical process. You have your samples and this process of having the vinyl, and then you're sampling into another machine, and then that's going somewhere else. That changes the music, no matter what. You really have to be careful with your context when you make music – what you use, where you are, what you're doing when you're not making music, what you're reading, who you're with. So "Marks and Angles," the 12-inch on Circus Company. It has a very pretty cover – I hope you see it. I'm very happy with it.
Interview: Helen Luu