Festival review: Mutek 2010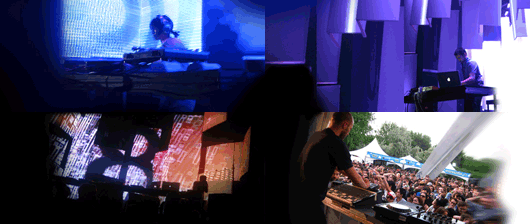 Mutek: Montreal, Canada. June 2-6, 2010
For the last 11 years, something electronically special has been brewing in Montreal. Throughout five adventurous days and nights, Mutek emphatically made a case for being quite possibly the world's premier showcase for forward-thinking, cutting edge electronic music and digital creativity.  Accompanied by its unmatchable array of stunning visual spectacles, this year brought a host of exciting North American artist premieres including King Midas Sound, Ikonika, Brandt Brauer Frick among many others As over 150 artists and acts converged to dazzle and challenge us, it was impossible to take in everything.  The following is what intrepid Juno Plus techno warrior Steve Phillips extracted from all the blissful madness.
Thursday June 3, 2010 Nocturne 2: Radical Connectors
Jon Hopkins, Mouse on Mars, Nathan Fake, Mossa
London-based musical shapeshifter Jon Hopkins tore things apart early as he tapped frantic beat patterns on drum pads while twisting and turning knobs with a squelchy abrasiveness that would make even Speedy J blush. Hopkins set the tone too high as veteran electronic wizards, Mouse on Mars had to work extra hard to get the polite head-nodding crowd going.  Their 2001 glitchy IDM vocal classic, "Actionist Respoke" received the biggest response to which the duo was equally appreciative of the crowd.
Nathan Fake, bathed in a storm of flickering pink light, played a live laptop set of his spacey brand of progressive-tinged techno with just enough dreamy crunch to separate it from the standard fare. With the main room crowd thinning, I wandered into the packed Savoy Room at Metropolis to be completely blown away by Montreal native Mossa and friends who undoubtedly threw down the performance of the night.  The energy level was off the radar as Mossa (aka, Jeremy Petrus) banged out solid tech-house groovers while performing live with vocalist/DJ/producer Qzen, vocalist on John Tejada's techno classic "Sweat (on the Walls)". Mossa is certainly one to watch as his new album Festine features collaborations with tech-heads Mathias Kaden, Mike Shannon, Dave Aju and Pezzner.
Friday June 4, 2010 Nocturne 3: Shedding the Past, Dubbing the Future
Friday night, held in two separate adjacent clubs was a night of firsts as most of the artists were making their Canadian debuts and for some, their North American premiers. At Club Soda, Actress- black hood pulled loosely over his head standing motionlessly over his laptop – played a chugging techy set occasionally dropping trails of acid.  After hearing several of his acclaimed remixes, I did not expect such a linear, straight-laced set, but it was ferocious nonetheless despite his lack of stage presence and connection to the people dancing it up. At the club next door, Demdike Stare took Mutekers on a dub-wise ambient journey of ethnically rich echoed beats complemented by stunning visuals…dopeness! King Midas Sound, the trio of Kevin Martin (The Bug) and vocalists Roger Robertson and Hitomi followed and made everyone's ears bleed while inducing near seizures with their intense strobe assault. The loud distorted bass and guitar sounds were unexpected considering the smooth balanced sound of their amazing album, Waiting For You.  Kevin Martin twitched and moved like a man possessed by bass (which made it extremely difficult to photograph clearly!) for nearly an hour before abruptly cutting the music and slamming his laptop shut.  Now that's stage presence- I hope Actress was watching. Hyperdub label mate Ikonika came on next and spun a brilliant set that delved into bass, UK funky, and wonky house.  Her skills on the decks were impeccable as she mixed and weaved fresh tracks that we in North America don't get to hear out that often.
I rushed back to Club Soda to see Shed, the purveyor of dub techno's futuristic spirit.  Personally, Shed's set was the Mutek highlight as he played dub washes over deep beats while rolling in some proper dirty electro.  He kept the house full right to the very end as no one wanted to leave after his set was finished.  Shed, all shy-faced and sheepish seemed as impressed with the Mutek crowd as they were with him.
Saturday June 5, Piknic 1: Respect is Burning
Minilogue, DJ Koze, Paul Kalkbrenner
The outdoor daytime piknics on Île St. Helène are always a highlight during each MUTEK.  The Swedish duo Minilogue played a flawless live set of fluttering tech-house, a perfect prelude to DJ Koze's beautiful house and techno selections.  Koze was one of the few performers (along with Theo Parrish) to mostly use vinyl records which brought a dare I say nostalgic reminder of warmth amidst the sometimes overloaded digital world.  During Koze's set, the sky opened up and it began to pour as the undeterred crowd continued to dance. The sun made an encore appearance just as Paul Kalkbrenner strutted on stage with his cool shades as the crowd instantly went off from track one roaring to a mass jumping frenzy when he played his remix of 2009's monster "La Mezcla" by Michel Cleis.  Kalkbrenner's tech anthems hyped the crowd big time for the night's prime time festivities back downtown.
The Electrolatino seven piece band rhythms of Senor Coconut & His Orchestra took over the projected light installation public space,  Place Des Festivals for a free outdoor concert.  Legendary German producer Uwe Schmidt led his big band to Latin-ized versions of Daft Punk's "Around the World" and Eurythmics "Sweet Dreams (Are Made Of This)" like only Senor Coconut can.
Saturday June 5, Nocturne 4: Bringing Down the House
Move D, Guilllaume Coutu Dumont & the Side Effects, Henrik Schwarz, Dixon
Saturday was dedicated to showcasing the jazzy, no holds barred side of house music.  Local Montreal hero, Guillaume Coutu Dumont rocked it with a live band featuring San Francisco eclectic man, Dave Aju on vocals.  Henrik Schwarz proceeded to jazz it up and throw it down big time- even including a hype version of MJ's "Wanna Be Startin' Something".  Fellow Innervisions man Dixon played a perfect 4am peak time set bringing things to a crescendo with a stunning remix of eternal 90's classic Unfinished Sympathy by Massive Attack before bringing the morning to a close with a hypnotic remix of, Seal's "Killer" –  weird, I know but way better than it sounds reading it, trust me!
Sunday June 6, Piknic 2: Be Like the Sun
Nicolas Jaar, Dave Aju, San Proper, Pépé Bradock
Rain brought the day's piknic festivities back indoors to the club Metropolis.  Unfortunately, not many people were on hand to catch Nicolas Jaar's unique set combining 4/4 with polyrhythmic beats laced with interesting melodies. The "hype-man enthusiastic lifeforce of the festival" award went to Dave Aju (of Circus Company) whose vocal play over techy rhythms brightened things up before giving way to Amsterdam funky dark groove man San Proper.  Proper's played a brilliant animated live set of quirky house and tech totally proving why his stock has been rising this year.  However, the indoor Piknic belonged to the elusive (at least in North America) Pépé Bradock who took us on a three hour edgy yet polished journey from house to disco to tech-house and even into leftfield terrain.  Pépé is a DJ's DJ- a professional electronic connoisseur who knew exactly how to keep the vibe rolling for hours.
Sunday June 6, Nocturne 5: Soul Control
Moritz von Oswald Trio, Brandt Brauer Frick, Theo Parrish
Closing night at past Mutek's have traditionally been a homegrown, winding-down kind of affair…not this year as three heavyweights took to the stage at the medium-sized venue, the SAT.  Having attended countless events, pulling off consecutive day parties after all–nighters, my partner in crime and I finally reached our fatigue limit.  Unfortunately we missed the much talked about performance by the Moritz von Oswald Trio, consisting of Basic Channel icon von Oswald himself, with fellow luminaries Vladislav Delay and Max Loderbauer.  Ever determined to make it back out, we ended up catching another trio, Germany's Brandt Brauer Frick who put on a solid show of "robot house and techno".  With their Kraftwerkian uniform shirts and skinny ties, these showroom gentlemen got us dancing despite our sleep deprived state. To end this year's festival, Detroit underground house legend Theo Parrish passionately played a personal set of vinyl delights that spanned a whole spectrum of good music: groove based rock (à la The Police), dirty thumping kick drums with acid lines, delicate soulful house and brave jazzy open-ended tech sounds. In essence, Theo summed up all what the Mutek festival was about this year.
Review: Steve Phillips
Photo credits: Actress, DJ Koze, Nicolas Jaar, Paul Kalkbrenner and Shed by Helen Luu. Ikonika and Mouse On Mars courtesy of Steve Phillips. Theo Parris courtesy of San Proper.