TINAE Records Announce Summer Sampler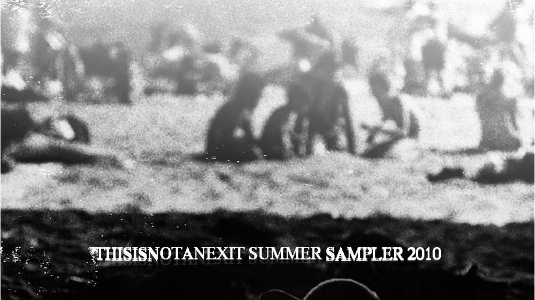 The splendid cold wave synth industrial sludge disco imprint ThisIsNotAnExit Recordings will release a summer sampler later this month and have announced details of an interesting project to see it released as a highly limited 12″ via the Pledge Music charity iniatiative.
Hot on the heels of their debut label retrospective Manifesto #1, TINAE give us a glimpse into the future of the imprint with a four track Summer Sampler which will be released on June 21st as a digital download and includes a Faze Action remix of Hatchback and the debut appearance of Command V (who feature members from iconic acts Bush Tetra's and the B-52s) remixed by Moscow.
It is the labels participation in the Pledge Music charity programme that has piqued our interest however. With your help  TINAE want to release the sampler as a very limited 12″ – potentially 100 copies – and want to make sure that there is demand for putting it out.
A commitment of £8 secures a digital download when the sampler is released and further financial commitment will ensure anything from a limited test pressing to a DJ set in your house from label boss Simon A Carr for the princely sum of £1000.00 (anyone who has been to a TINAE night can attest to this being money well spent)
If the campaign is successful you will receive your purchase w/c 9th August (this will allow us the time to press the records and ship).
As we write the label is some 11% towards it's goal of £1,200.oo with 25 days left. This concept of  engendering a collaborative approach between the label, acts and fans as well as offering up something super exclusive is wholly endorsed by Juno.
Get with the programme here.
This Is Not An Exit Summer Sampler 2010 will be released as an exclusive for two weeks on Juno Download from 21st June and you can sample all the tracks below.